ondes martenot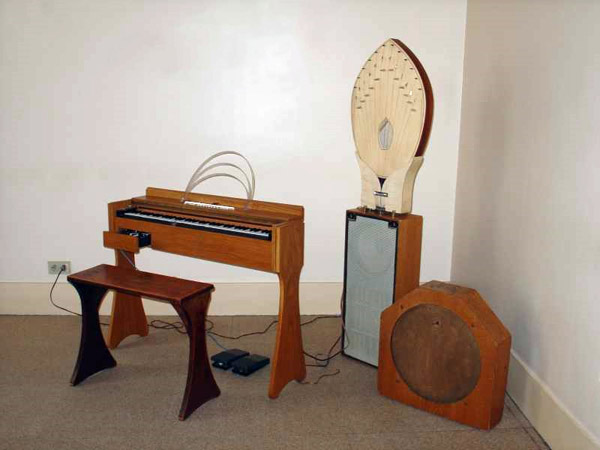 The ondes martenot ('martenot waves') was invented in 1928 by French inventor and cellist, Maurice Martenot.

Martenot had met his Russian counterpart, Leon Thermin, in 1923 and the two of them had discussed possible improvements to Theremin's eponymous instrument (see theremin). In fact, Martenot's instrument was patented under the name Perfectionnements aux instruments de musique electriques ('improvements to electronic music instruments').
Playing techinque
The ondes martenot has a haunting, portamento sound, similar to that of the thermin, but it is played by means of a finger-ring attached to a length of string, which is pulled up and down along a keyboard to determine pitch. The left had operates volume controls, and some examples of the instrument have additional control over filters and alternative loudspeakers.
The ondes in performance
The ondes artenot has had a diverse and illustrious career and is still called upon today for use in some orchestral repertoire. The classic ondes sound can clearly be heard in the original theme tune to the science-fiction television series Star Trek, and its character has lent itself to the soundtrack of countless other science-fiction and horror films. The instrument also found favor among numerous composers, including Olivier Messiaen (1908–92), who used it in his Turangalila Symphonie, Pierre Boulez (b. 1925) and Edgar Varese (1885–1965).
In contemporary music, there has been a resurgence of interest in the ondes martenot – thanks to musicians like Radiohead's Jonny Greenwood, who not only used it on the band's Kid A, Amenesiac and Hail to the Thief albums, but also wrote the piece 'Smear' for two ondes martenot and the London Sinfonietta.