reggae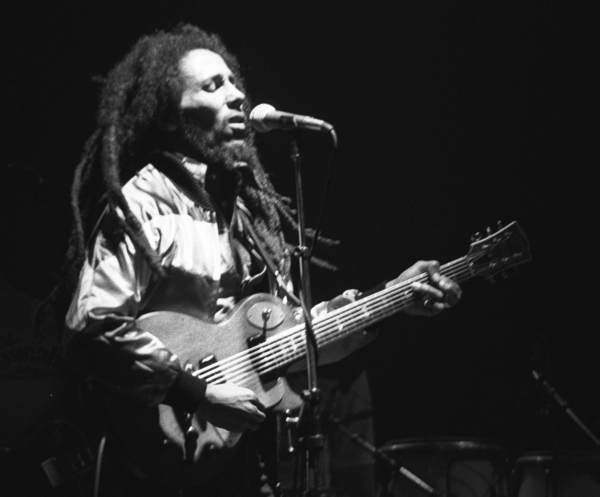 Bob Marley in concert in 1980 Zürich.
Reggae is a form of popular music that came to the fore in the late 1960s in Kingston, Jamaica, developing out of rhythm and blues. rocksteady, and ska music. The earliest recorded example of the genre is thought to be "Long Shot (Bus' Me Bet)", made in 1967 by Jamaican vocal trio The Pioneers. Jamaica had gained its independence in 1962 and, initially reggae lyrics were identified with raising black consciousness in the new country, in addition to attacking economic and social injustices from a black perspective.
The producers Duke Reid (1915–1975) and Coxsone Dodd (1932–2004) were influential in creating the reggae sound. Early reggae artists include Toots and the Maytals, Bob Marley & The Wailers, and Desmond Dekker. Reggae is based on a dance beat, being played in either 4/4 or swing time, and it is noticeable for its offbeat rhythms and staccato chords played on the offbeats of the musical measure. The rhythms is driven by a variety of instruments: drums, electric and bass guitars, and sometimes "scrapers" consisting of a corrugated stick being rubbed by a plain stick.
In 1972, Jamaican reggae musician and actor Jimmy Cliff (b. 1948–) starred in the film The Harder They Come, which helped reggae reach an international audience. The music spread to the United Kingdom and was adopted by bands such as UB40 and Aswad, as well as rock superstar Eric Clapton. Reggae has since become fused with local music genres around the world and various reggae subgenres have developed over the years, with names such as roots reggae, dub, ragamuffin, and reggaeton.