Scriabin, Alexander (1872–1915)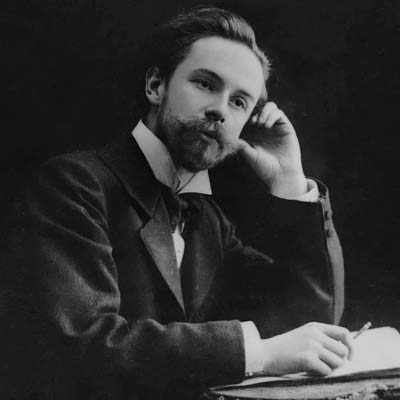 Alexander Scriabin's early career has many parallels with that of Rachmaninov. Like Rachmaninov, he was equally gifted as a composer and as a pianist. His mother (who died just over a year after he was born) had been a fine pianist, and he was brought up by female relatives.
Scriabin began his piano studies in Moscow with Nikolay Zverev – who also taught Rachmaninov – before entering the Conservatory in 1888, the same year as Rachmaninov. Shortly after graduating in 1892 with the second gold medal (Rachmaninov won the first), Scriabin came to the attention of the Russian millionaire publisher and philanthropist Belyayev, who began to publish his early works (including a set of 12 Studies), and sent him off on a European tour, playing his own music. From this period date several sets of piano Preludes, the Second Piano Sonata, and the Piano Concerto, which Scriabin composed on his return to Moscow
In 1897 he married the young pianist Vera isaakovich, with whom he had four children. But his intensely egotistical nature caused him to abandon her seven years later for another young admirer, his former pupil Tatiana Schloezer. At the same time, Scriabin gave up his teaching post at the Moscow Conservatory, and settled in Switzerland.
By 1903 he had already begun to compose orchestral music, including two symphonies, and was becoming increasingly involved in mysticism, dabbling in Nietzschean theories and the occult teachings of Madame Blavatsky, the founder of the Theosophical Society. Philosophical and mystical ideas began to influence his work from the Third Symphony (Le divin poème) onwards, particularly the sensuous Poème de l'extase (Poem of Ecstasy), and Prométhiée, subtitled Le poème du feu (The Poem of Fire), in which Scriabin developed the theory of synesthesia, according to which art that appealed to all the senses would trigger a cataclysmic effect. To this end, different keys were associated with specific colors, demonstrated in performance by the use of colored lighting. His Seventh and Ninth Piano Sonatas (1911 and 1912–1913) are subtitled respectively Messe blanche and Messe noire.
In 1908 Scriabin returned to Russia, where his works were received with enormous enthusiasm. His later music, mostly for piano, is highly chromatic. In 1914 he visited London for a concert of his works conducted by Henry Wood, and during his stay he developed an ulcer on his lip which would not heal. He died of septicemia on 27 April 1915.