swing and big band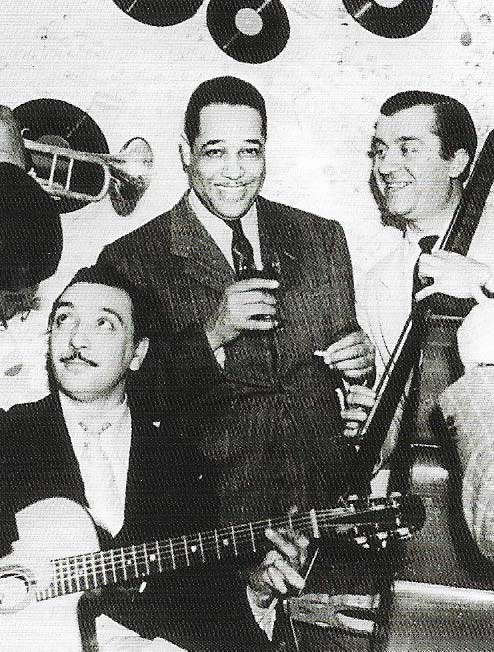 Duke Ellington (center), pictured in 1939, had a big hit in the 1930s with "It Don't Mean a Thing (If It Ain't Got That Swing)". It was probably the first song title to reference the music style.
Taken from the phrase "swing feel", which was used to describe an off-beat or weak musical pulse, swing music began to take shape in the United States in the early 1920s when subtle, stylistic rhythm changes started to surface from within the established jazz repertoire, most notable among stride pianists. By the mid-1930s, swing had become a musical style all of its own with a sort of rhythmic "bouncing groove", providing a new kind of energetic intensity that was a welcome relief from the everyday tribulations of the Great Depression. Some historians have traced swing music's stage debut to 1931 and the music of the Chick Webb Orchestra, the house band of Harlem's Savoy Ballroom in New York City.
The small ensembles common to jazz, often including a single clarinet, trombone, trumpet, piano, bass, and drums, had to be expanded to accommodate swing music's more powerful and complex sounds: instruments were doubled, trebled, or more to give a section three or four trumpeters and a similar number of trombonists and saxophonists. All of a sudden there was more of everything; the era of the Big Band (see below) had arrived.
More a style of music tha a genre, swing is more than the sum of its technical parts, more than music just comprised of triplet note subdivisions. Its definition is more cultural than technical, with a sound that still makes people want to get up and dance, to move their bodies with energy and rhythm. Swing bands had strong rhythm sections with an emphasis on basses and drums, which were used as an anchor for the woodwinds, brass, and occasional stringed such as violins or guitars. In the hands of later masters, such as Tommy Dorsey, it was loved by World War II's younger generation.
The clarinetist and bandleader Benny Goodman did much to bring swing bands to a mass audience in the mid-to-late 1930s, together with bandleaders such as Glenn Miller, Duke Ellington and Count Bassie. The Swing Era lasted from around 1928 to 1945.
Big band
The big band developed in the late 1920s as a cut-down version of the larger New York dance bands of bandleaders such as Paul Whiteman. Early big band pioneers, notably Fletcher Henderson, helped establish a standard instrumentation that eventually grew to three or four trumpets, three trombones, four saxophones and four rhythm-section instruments. In contrast to the small-scale jazz of the 1920s, the music, orchestrated by skilled arrangers and conducted or led by the bandleader, was written down, but still left opportunities for soloists to improvise over repeated melodic fragments, or 'riffs'. Many soloists of the bop era learnt their trade by performing in big bands, and vocalists such as Ella Fitzgerald and Billie Holliday gained their early solo experience with them.