Andøya Rocket Range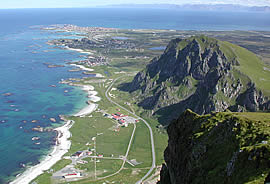 The Andøya Rocket Range is a launch facility established in the early 1960s in northern Norway at 69.3° N, 16.0° E and used initially for launching small American sounding rockets. The first launches of Nike Cajun rockets took place in 1962, and until 1965 the range was occupied only at the time of the launching campaigns.
In late 1962, ESRO (European Space Research Organisation), aware that the rocket range it had planned to build at Esrange, Sweden, would not be ready before the autumn of 1965, reached an agreement with Norway to use Andøya. The first six ESRO rockets were launched from there in the first quarter of 1966 and four were launched on behalf of CNES (the French space agency) the same year. In late 1966, Esrange opened and ESRO shifted its launches to this new location; however, Andøya continued to be used regularly for bilateral and international sounding rocket programs.
Since 1972 the range has been supported through a Special Project Agreement under which it is maintained by and made available to some ESA (European Space Agency) states, as has been operated for commercial and bilateral programs. Now managed by the Norwegian Space Center, the Andøya range comprises eight launch pads including a universal ramp able to launch rockets weighing up to 20 tons.