European Space Agency (ESA)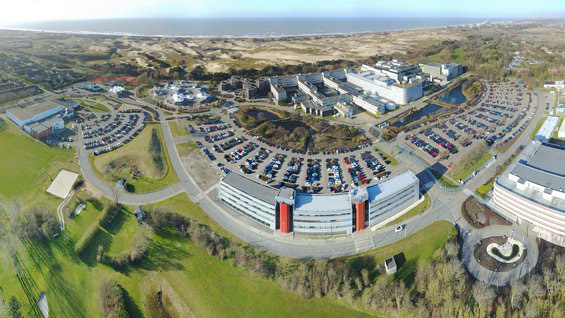 ESA's technical center, ESTEC, in Noordwijk, Netherlands.
The European Space Agency (ESA) is a multinational agency formed in 1975 through the merger of ESRO (European Space Research Organisation) and ELDO (European Launcher Development Organisation). ESA instigates and manages space activities on behalf of its 15 member states: Austria, Belgium, Denmark, Finland, France, Germany, the Republic of Ireland, Italy, the Netherlands, Norway, Portugal, Spain, Sweden, Switzerland, and the United Kingdom. Canada has a cooperative relationship with the Agency. While developing an independent capability for Europe in space technology, ESA also works closely with other space agencies, including NASA and the Russian Space Agency.

ESA has its headquarters in Paris and four major facilities in other countries: ESTEC (European Space Research and Technology Center), at Noordwijk, the Netherlands, the main center for research and management of satellite projects; ESOC (European Space Operations Center), at Darmstadt, Germany, responsible for satellite control, monitoring, and data retrieval; ESRIN (European Space Research Institute), at Frascati, Italy, which supports the ESA documentation service and manages the data collected by remote sensing satellites; and EAC (European Astronaut Center), at Cologne, Germany, responsible for selecting and training astronauts for space station missions. In addition, ESA operates the Guiana Space Centre for launching Ariane rockets, sounding rocket launch stations in Norway and Sweden, a meteorological program office at Toulon, France, and satellite tracking stations in Belgium, Germany, Italy, and Spain.
A major ESA program involves the development of the Ariane rocket which is used to launch most ESA spacecraft. Among other ESA successes have been the Spacelab scientific workshop, which was carried into orbit on numerous occasions by the Space Shuttle; the Giotto space probe to Halley's Comet; and the SOHO and ISO orbiting observatories. A system of meteorological satellites, called Meteosat, has also been established. Arianespace, the first commercial space transportation company and a division of ESA, now carries out more than half of the world's commercial satellite launches.
ESRIN
ESRIN is an ESA center in Frascati, Italy, responsible for analyzing and distributing remote sensing data from ESA (ERS and ENVISAT) and non-ESA (Landsat, NOAA-TIROS, MOS, JERS, SPOT) Earth observation missions.
ESTEC
ESTEC (European Space Research and Technology Centre) is an ESA (European Space Agency) establishment, at Noordwijk in the Netherlands, responsible for the study, development, and testing of ESA spacecraft. ESTEC is also the home of technological development programs that lay the groundwork for future missions.