space agencies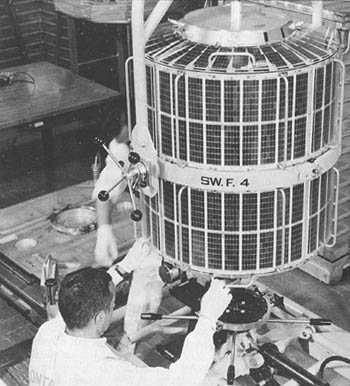 Fig 1. ESRO 1A (Aurora) being tested at the Western Test Range before launch
Brazilian space agency
Created on February 10, 1994, the Brazilian Space Agency (known by its initials AEB) is a civilian space agency, linked directly to the Office of the President of Brazil. As such, it is in charge of overseeing Brazilian activities in space. The AEB has given Brazil a leading role in space in the Latin American region, and has made Brazil into a valuable and dependable partner for cooperation in the International Space Station.
INPE
INPE (Instituto Nacional de Pesquisas Espacias) is Brazil's National Institute for Space Research, a government body that manages and coordinates the country's involvement in space-related activities. The Brazilian space program was founded by the Group of Organizations of the National Commission of Space Activities (GOCNAE), which was established on August 3, 1961. The Instituto Nacional de Pesquisas Espaciais (INPE) succeeded GOCNAE in October 1990. In cooperation with the Agencia Espacial Brasileira (AEB), INPE develops satellites (such as the SCD) and indigenous launch vehicles (such as the VLS).
British National Space Centre
The British National Space Centre (BNSC) is the United Kingdom's space agency. BNSC advises and acts on behalf of the British government, and provides a focus for British civilian space activities.
Canadian Space Agency
The Canadian Space Agency (CSA) is a federal organization, established in 1989, that contributes to the development of the Canadian civil space industry by procuring contracts from foreign space agencies such as ESA (the European Space Agency and NASA. CSA coordinates major Canadian space program activities including the Canadian Astronaut Office, the David Florida Laboratory (Canada's facility for assembling, integrating, and testing spacecraft and other space hardware), and Canadian contributions to the International Space Station.
European space agency
See ESA.
European Launcher Development Organisation
See main article.
European Space Research Organisation
ESRO (European Space Research Organisation) was an organization formed in 1962 by 10 European nations plus Australia, which made available its rocket-firing range at Woomera. Between 1968 and 1972, ESRO launched seven satellites – Iris (ESRO-2B), Aurora (ESRO-1A), HEOS-1, Boreas, HEOS-2, TD-1A, and ESRO-4 – using NASA rockets (Fig 1). In 1975, ESRO and its sister organization ELDO (European Launcher Development Organisation) merged to form ESA (European Space Agency).
French space agency
CNES (Centre National d'Etudes Spatiales), the French national space agency, was formed in 1962 to organize French space policy, coordinate major space projects, and promote French space science and technology. CNES has its headquarters in Paris.
German space agency
DARA (Deutsche Agentur für Raumfahrtangelegenheiten) is the present German space agency, formed through consolidation of the old West and East German space agencies. While DARA is instrumental in establishing space policy and goals and is the interface with ESA. The German Aerospace Research Establishment, DLR, conducts the technical and scientific research and provides the operational support to implement that policy.
Italian space agency
ASI (Agenzia Spaziale Italiano) is a government agency, formed in 1988, that identifies, coordinates, and manages Italian space programs and Italy's involvement with ESA.
Italian Aerospace Research Center
CIRA (Centro Italiano Richerche Aerospaziali) is the Italian Aerospace Research Center, established in 1984 and located in Capua. It is partly owned by ASI.
Japanese space agency
JAXA (Japan Aerospace Exploration Agency) is Japan's unified aerospace agency, formed on Ocr 1, 2003, from the merger of three previously separate organizations: ISAS (the Institute of Space and Astronautical Science), which was devoted to space and planetary research; NASDA (the National Space Development Agency of Japan), which was responsible for developing large-size launch vehicles and satellites; and NAL (the National Aerospace Laboratory of Japan), which focused on research and development of next-generation aviation.
ISAS
ISAS (Institute of Space and Astronautical Sciences) was one of Japan's two space agencies, the other being NASDA (National Space Development Agency), before the two were recently merged as JAXA. Based at the University of Tokyo, ISAS is responsible for the development and launch of Japanese astronomy and space science satellites, and lunar and interplanetary probes.
Successful past and ongoing ISAS space missions include, in chronological order: Osumi, Tansei-1, Shinsei, Denpa, Tansei-2, Taiyo, Tansei-3, Kyokko, Jikiken, Hakucho, Tansei-4, Hinotori, Tenma, Ohzora, Sakigake, Suisei, Ginga, Akebono, Hiten, Yohkoh, Geotail, ASCA, HALCA, and Nozomi. Other missions include Astro-F, Lunar-A, MUSES-C, SELENE, and Hinode (Solar-B).
ISAS launches took place from the Kagoshima (Uchinoura) Space Center using M-series rockets.
NASDA
NASDA (National Space Development Agency) is one of two Japanese space agencies – the other being ISAS – prior to their merger to form JAXA. Founded in October 1969 by the Space Activity Commission, NASDA replaced NSDC (the National Space Development Center). It was responsible for all of Japan's communications, weather, Earth observation, and technology demonstration satellites, together with the rockets used to launch them. NASDA satellites and spacecraft include: ADEOS, ALOS, BS-, COMETS, CS-, DRTS, ECS, EGS, ETS, GMS, ISS, JAS-1, JERS-1, MDS-1, MOS-1, OICETS, SELENE, SFU, TRMM.
Its launch vehicles included: N-series, H-series, and J-1.
NASA
See main article.
Russian space agency
The Russian Space Agency is an agency formed after the breakup of the former Soviet Union and the dissolution of the Soviet space program. RKA uses the technology and launch sites that belonged to the former Soviet space program and has centralized control of Russia's civilian space program, including all manned and unmanned nonmilitary spaceflights. The prime contractor used by the RKA is Energia Rocket & Space Corporation, which owns and operates the Mission Control Center in Kaliningrad. The military counterpart of RKA is the Military Space Forces (VKS) which controls the Plesetsk Cosmodrome. RKA and VKS share control of the Baikonur Cosmodrome, where the RKA reimburses the VKS for the wages of many of the flight controllers during civilian launches. RKA and VKS also share control of the Gagarin Cosmonaut Training Center.
Spanish space agency
INTA (Instituto Nacional de Tecnica Aeroespacial) is the Spanish space agency.