H series (Japanese rockets)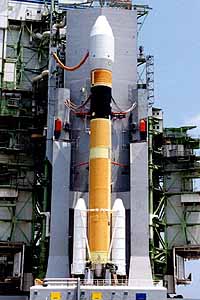 The H series is a family of Japanese launch vehicles used by NASDA (National Space Development Agency) which consists, in chronological order of development, of the H-1, H-2, and H-2A and their variants. The H-1 was a license-built version of the US Delta rocket, whereas the H-2, H-2A, and H-2B are entirely Japanese in design and construction.
H-1
The first stage of the H-1 was essentially the same as that of the N-2 (see N series) with a liquid oxygen (LOX)/kerosene main engine and 6–9 small solid-propellant strap-on boosters. The second stage was of Japanese origin, built by Mitsubishi Heavy Industries, and burned LOX/liquid hydrogen. A small solid-propellant third stage designed by Nissan enabled payloads of up to 1,100 kg to be placed in geostationary transfer orbit (GTO). The H-1 program was operational between 1986 concluded in 1992 with nine successes and no failures.
H-2
To provide greater payload capacity and to permit unencumbered commercial space transportation offerings (the Delta licensing agreement restricted the use of the H-1 for commercial flights), Japan developed the H-2 launch vehicle based on all-Japanese propulsion systems. The H-2, which made 7 successful flights between 1994 and 1999, could lift payloads four times heavier than those of the H-1 – up to 10 tons into low Earth orbit (LEO) or up to 4 tons in GTO – and opened the door to NASDA spacecraft designed to explore the Moon and planets.
The first mission, on 3 February 1994, deployed one payload into LEO and then carried an experimental package VEP (Vehicle Evaluation Payload) to GTO. Dwarfing its predecessor, the H-2 consisted of a two-stage core vehicle, burning LOX and liquid hydrogen in both stages, with two large solid-propellant strap-on boosters. Nissan produced the 4-segmented strap-on boosters which are considerably larger than the main stages of ISAS's (Institute of Space and Astronautical Science's) M-3 and M-5 vehicles (see M series). The LE-7 first-stage main engine overcame numerous developmental difficulties, while the LE-5A engine used by the second stage is an upgraded version of the proven LE-5 flown on the second stage of the H-1.
H-2A
An upgraded version of the H-2 currently in service; the first H-2A was launched successfully launched from Tanegashima on 29 August 2001. Intended to compete commercially on the world market, the H-2A builds upon its predecessor and incorporates a simplified design and upgraded avionics and engines. Although the core vehicle is similar to the H-2's, the H-2A uses new solid and liquid boosters to improve payload performance. Between 2001 and March 2009, the H-2A was successfully launched 14 times; one H-2A failed to orbit a pair of spy satellites during a 2003 flight.
There are five variants. The basic H-2A 202 configuration uses a core vehicle with two solid rocket boosters to place four tons into a 28.5° GTO. The H-2A 2022 and H-2A 2024 configurations add two and four solid strap-on boosters, respectively, to increase GTO capability to 4.5 tons. Adding liquid strap-on boosters (LRBs) to the basic H-2A 202 configuration creates the H-2A 212 (one LRB) and H-2A 222 (two LRBs) configurations that can place 7.5–9.5 tons into GTO.
H-2B
The H-2B takes advantage of parts proven by the less powerful H-2A. It uses a larger, "widebody" first stage with a diameter of about 17 ft – 4 ft more than the H-2A's first stage. The widebody stage houses larger propellant tanks that feed dual hydrogen-fueled LE-7A main engines. (The H-2A first stage is powered by an identical single main engine.) The H-2B's second stage and solid rocket boosters are unchanged from the designs used by the H-2A rocket. The first launch of the H-2B is tentatively scheduled for September 2009.