aerospace, rocket and spaceflight companies


Fig 3. Rendering of the CST-100 docking with the International Space Station.
Fig 4. Cutaway view of the CST-100.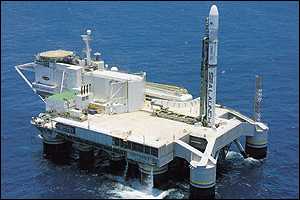 Fig 5. Sea Launch platform.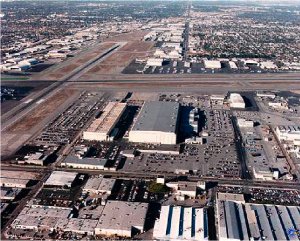 Fig 6. Lockheed Martin Skunk Works..
Fig 7. Space Adventures Explorer space plane.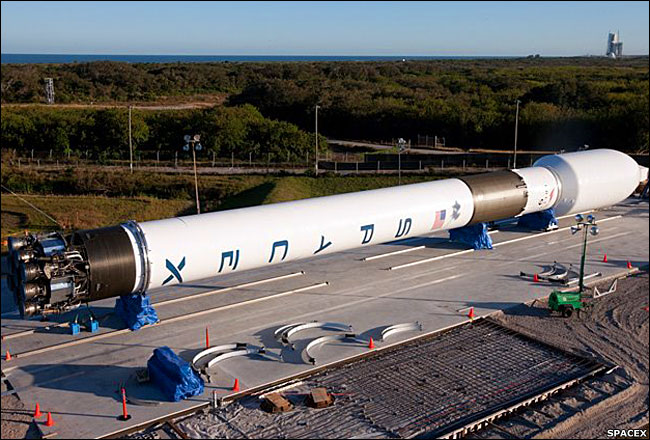 Fig 8. The SpaceX Falcon 9 heavy-lift launch vehicle which achieved a successful maiden launch from Cape Canaveral in June 2010. This rocket could soon be servicing the space station, as well as lofting commercial satellites. Image: SpaceX.
Fig 9. Virgin Galactic logo.
Ad Astra Rocket Company
Ad Astra Rocket company (Fig 1)is a rocket propulsion company set up to develop advanced plasma rocket propulsion technology. The company is continuing with development of VASIMR (the Variable Specific Impulse Magnetoplasma Rocket) and its associated technologies at its Advanced Space Propulsion Laboratory (ASPL). Ad Astra Rocket Company is located within the confines of the NASA Johnson Space Center, about 25 miles south of Houston, Texas.
AARC (formerly Ad Astra Technologies, Inc.) was incorporated on January 14, 2005 and officially organized on the July 15, 2005. Former Space Shuttle astronaut Franklin R. Chang Diaz serves as company President and CEO. Chang Diaz invented the VASIMR concept and has been working on its development since 1979, starting at The Charles Stark Draper Laboratory in Cambridge Massachusetts and continuing at the MIT Plasma Fusion Center before moving the project to the Johnson Space Center in 1994. In the development of the VASIMR engine, Ad Astra Rocket Company is teamed with NASA JSC, Oak Ridge National Laboratory, University of Texas at Austin, University of Houston and other various government space and research centers, industrial companies and academia including foreign universities.
Aerojet Corporation
Aerojet Corporation is a California-based aerospace/defense contractor specializing in missile and space propulsion, and defense and armaments. Aerojet has been or is responsible for the Aerobee rocket (retired in 1985), the Apollo Service Module's main engine, the Titan first- and second-stage liquid-propellant engines (including those on the current Titan IV), the Delta second-stage liquid engine, the Atlas V solid rocket motors, the Space Shuttle orbital maneuvering system, the NEAR-Shoemaker propulsion system, the X-33 reaction control system, the X-38 de-orbit propulsion stage, and the MESSENGER propulsion system. It is also involved in developments with NASA's Second Generation Reusable Launch Vehicle program – a major component of the Agency's Space Launch Initiative.
Aerojet was formed in 1942 as Aerojet Engineering Corp., by Theodore von Kármán; Frank Malina; Martin Summerfield, a PhD candidate at the California Institute of Technology; John W. Parsons, a self-taught chemist; and Ed Forman, a skilled mechanic. In its early years, Aerojet focused on building and developing rocket motors for JATO (Jet-Assisted Take-Off).
Arianespace
Arianespace (Fig 2) is a private company incorporated in 1980 with headquarters in Paris to produce, market, and launch Ariane launch vehicles and to operate and maintain the Guiana Space Centre. Arianespace has become a leading player in the $3.2 billion commercial-satellite-launching industry, accounting for about half of all the tonnage sent into orbit for business purposes each year.
Among the shareholders of Arianespace are 36 leading European space and electronics corporations, 13 major banks, and the French space agency, CNES. Twelve countries are represented in Arianespace: Belgium, Denmark, Germany, France, Ireland, Italy, the Netherlands, Norway, Spain, Sweden, Switzerland, and the United Kingdom.
Bigelow Aerospace
Bigelow Aerospace is an American space technology start-up company, with headquarters in Las Vegas, Nevada, which is pioneering work on inflatable space station modules. It was founded in 1999 by hotel tycoon Robert Bigelow and is funded by the fortune he made through his Budget Suites of America chain.
Bigelow Aerospace acquired the patent rights to TransHab, an inflatable space habitat concept that had been studied by NASA but then shelved by the agency in 2001 following Congressional budget cuts. Over the past few years, the company has been evolving NASA's ideas and on July 21, 2006 launched its first Genesis experimental inflatable spacecraft aboard a Russian Dnepr rocket. The craft was successfully deployed and is expected to remain in orbit for the next five years while engineers test the durability of the design.
Inflatable spacecraft are commercially attractive because they take up less space on their launch vehicle than solid components and therefore cost less to place into orbit. Bigelow Aerospace's stated intent is to "develop an affordable and flexible space complex architecture that can be adapted for any manned or unmanned mission requiring a large pressurized volume."
Boeing
Boeing is a major US aerospace company that, in addition to aircraft and other products, manufactures the modern Delta family of space launch vehicles, the Inertial Upper Stage, and a variety of rocket engines through its Rocketdyne subsidiary. It is also the prime contractor for the International Space Station (and the builder of the US Destiny laboratory module) and a partner in Sea Launch. Boeing was involved in the development of the Bomarc missile and of the design of the Dyna-Soar (X-20), and built the Lunar Orbiters, the first stage of the Saturn V, the Apollo lunar rover, and the Space Shuttle main engine.
CST-100
Boeing is one of four companies (the others are SpaceX, Sierra Nevada Corp., and Blue Origin) currently being funded by NASA to develop a smaller, more economical replacement for the Space Shuttle as part of NASA's Commercial Crew Development program. Servicing the International Space Station would be the main focus for the CST-100 (see Fig 3 and 4), although the company has said that the vehicle could also be used for space tourism and for excursions to the space station planned by Bigelow Aerospace.
CST-100 potential launch vehicles.
The CST-100 is slightly wider than the Apollo capsule, with a base about 4.5 m (15 ft) across, and has a maximum crew capacity of 7. It would be re-usable for up to 10 missions, be launched by an Atlas V, Delta IV, or a Falcon 9 rocket, and land using parachutes. The Boeing space capsule could be operational by 2015.
Boeing company history
Boeing was formed by the American industrialist William E. Boeing (1881–1956) a few months after he and a Navy officer, G. Conrad Westerveldt, developed the "B&W" seaplane – a two-seater aircraft with twin floats.
Originally incorporated as Pacific Aero Products Company (1916), Boeing, after two other incarnations, assumed its current name in 1961. The company pioneered the development of single-wing airplanes in the 1930s and also developed bomber aircraft – the B-17 Flying Fortress and the B-29 Superfortress – which played prominent roles in World War II. It produced America's first jet airliner, the Boeing 707 in 1954/55, and was the world's largest producer of commercial aircraft in the second half of the 20th century..
In 1996, it merged with Rockwell (which had evolved from North American Aviation and included Rocketdyne) and in 1997 merged with McDonnell Douglas.
Comsat (Communications Satellite Corporation)
Comsat (Communications Satellite Corporation) is an organization established by Act of Congress in 1962 to provide satellite services for the international transmission of data. Comsat was the driving force behind the creation of Intelsat and served as the United States signatory to Intelsat. In 2000, Comsat was acquired by Lockheed Martin which thus became the largest shareholder in Intelsat (privatized in 2001) and also Inmarsat (privatized in 1999).
Energia Rocket & Space Corporation
Energia Rocket & Space Corporation (RSC Energia) is a large Russian aerospace company which evolved from Sergei Korolev's design bureau, later known as Energia NPO and now as Energia RSC. It is currently involved in a variety of projects, including development of the Russian modules of the International Space Station, the second stage of the Angara rocket (led by the Khrunichev Center), and several series of communications satellites.
Energia RSC began as Department No. 3 of Special Design Bureau NII-88 which was given the task, in August 1946, of developing Soviet rockets based on the German V-2. Headed by Sergei Korolev, this was transformed in 1950 into OKB-1 and developed all Soviet long-range ballistic missiles until the competing OKB-586 design bureau was established in 1954 and, later, Chelomei's OKB-52. In 1956, OKB-1 was made independent of NII-88. After Korolev's death in 1966, his first deputy Vasiliy Mishin was appointed chief designer of the bureau and from the mid-1960s till 1974, OKB-1 focused on the Soviet manned lunar program. When the Moon race was lost to the United States, OKB-1's attention switched to the development of long-term Earth-orbiting stations. In 1974 Mishin was replaced by Valentin Glushko, at which point Glushko's old bureau merged with OKB-1 to form Energia NPO. Under government pressure, Energia NPO was directed to respond the American Space Shuttle by developing Buran and its massive booster. When this project collapsed, Energia NPO proposed evolving the Buran booster rocket into the Energia-M. Currently, this proposal too is in mothballs having been sidelined by Angara.
Reference
1. Godwin, Robert, comp. Rocket and Space Corporation Energia: The Legacy of S. P. Korolev. Burlington, Ontario: Apogee Books, 2001.
Khrunichev State Research and Production Space Center
Khrunichev State Research and Production Space Center is a major Russian aerospace enterprise, based in Moscow, that develops and builds Russian components for the International Space Station as well as a number of launch vehicles including the Proton, Rockot, and Angara. It was formed following a presidential decree in 1993 from the Krunichev Machine-building Plant (originally set up in 1916 to make cars) and the Salyut Design Bureau, which had been responsible for building all elements of the Salyut and Mir space stations.
Lockheed Martin
Lockheed Martin is a major US aerospace company formed from the 1995 merger of Lockheed and Martin-Marietta. Headquartered in Bethesda, Maryland, Lockheed Martin employs about 135,000 people worldwide and is principally engaged in the research, design, development, manufacture and integration of advanced technology systems, products and services. It is the Pentagon's No. 1 supplier.
The company traces its roots to 1909, when aviation pioneer Glenn L. Martin (1886–1955) organized a modest airplane construction business. The Martin company later developed the Vanguard rocket, which launched several early US satellites and the Titan I missile – the forerunner of the Titan family of space launch vehicles. Martin merged with the American Marietta Corporation in 1961 to form Martin-Marietta, which was chosen to develop the Titan II (used to launch Gemini and the Titan III, the Viking Mars landers/orbiters, the propulsion system for Voyager, the Space Shuttle External Tank, and the Manned Maneuvering Unit. In 1994, Martin-Marietta took over the Space Systems Division of General Dynamics, the manufacturer of the Atlas and Centaur families of launch vehicles, before itself becoming part of Lockheed Martin as the Lockheed Martin Missiles and Space Systems Company a year later.
Lockheed Martin is an equal partner with Boeing in a venture called United Space Alliance, which manages and conducts space operations for the Space Shuttle fleet.
On August 31, 2006, NASA awarded Lockheed Martin a five-year, $3.9-billion to design and build the Orion spacecraft, which will carry humans into orbit and to the Moon after the retirement of the Space Shuttle in 2010. This will be the first time that Lockheed has been given a lead role in manned spaceflight. It comes after the company failed in a 1996 attempt to design the X-33 space plane, which was to be a replacement for the quarter-century-old Shuttle fleet but was abandoned because of technical problems after NASA spent more than $900 million on it.
McDonnell Douglas
McDonnell Douglas is an American aerospace company formed from the 1967 merger of McDonnell Aircraft Corporation and Douglas Aircraft. Both Douglas Aircraft, founded in 1928 by Donal Willie Douglas (1892–1981), and Douglas Aircraft, founded in 1939 by James Smith McDonnell (1899–1980), made important contributions to the US space program. Douglas built the F5D Skylancer prototype used in the development of the Boeing X-20 Dyna-Soar, developed the Thor missile (precursor of the Delta, and built the third stage of the Saturn V. Douglas was chosen to build the Mercury and Gemini spacecraft. Following the merger of the two companies, McDonnell Douglas was contracted to convert of its Saturn V third stages into the Skylab space station. In 1997, McDonnell Douglas merged with Boeing.
North American Aviation
North American Aviation was a US aircraft and aerospace company, founded in 1928, that played a central role in the early American space program. It was responsible for the development of the X-15 rocket plane and, through its Rocketdyne Division, the propulsion system for the Redstone rocket, the Apollo Command and Service Modules, the second stage of the Saturn V, and the F-1 and J-2 rocket engines. Earlier, North American Aviation had provided some of the best-known combat planes of World War II and the postwar years, including the F-51 Mustang, the B-25 Mitchell bomber, and the F-86 Sabre. In 1966, North American Aviation merged with Rockwell Standard to form North American Rockwell, which, in 1976, was renamed Rockwell International. In 1996, Rockwell became part of Boeing.
Orbital Sciences Corporation
Orbital Sciences Corporation is an American aerospace company that specializes in manufacturing and launching satellites. Its launch vehicles include the Pegasus, Taurus, and Minotaur. Orbital Sciences Corporation, usually known simply as Orbital, was founded in 1982 and is headquartered in Dulles, Virginia.
Other projects with which Orbital has been involved included the X-34 autonomous pilotless craft (to have been powered by a Fastrac rocket engine, the X-43A hypersonic aircraft (which is air-launched by a Pegasus rocket), the Lockheed-Martin proposal for the Orion (Crew Exploration Vehicle), and NASA's Dawn program.
Rockwell
Rockwell was a major US aerospace company that was taken over by Boeing in 1996. It had evolved in 1966 from the merger of North American Aviation and Rockwell Standard to form North American Rockwell, which changed its name to Rockwell International in 1973. Rockwell is best known for having developed and built the Space Shuttle Orbiter.
Scaled Composites
Scaled Composites is an aerospace and specialty composites development company located in Mojave, California (about 80 miles north of Los Angeles). Founded in 1982 by Burt Rutan, Scaled has broad experience in air vehicle design, tooling, and manufacturing, specialty composite structure design, analysis and fabrication, and developmental flight test. It is best known for its design and manufacture of the SpaceShipOne space plane, which won the Ansari X Prize, and the super-fuel efficient, lightweight GlobalFlyer and Voyager aircraft, which hold the current and previous world non-stop distance records for powered planes. Among Scaled's current projects are development of the Virgin Galactic spaceship passenger-carrying space plane.
Sea Launch
Sea Launch (Fig. 5) is an international consortium, formed in Apr 1995, that places commercial satellites in orbit using Zenit 3SL rockets from a converted oil platform in the Pacific Ocean near the equator – the ideal location for launching into geostationary orbit. Sea Launch is a joint venture between the Boeing Commercial Space Company, Energia Rocket & Space Corporation of Moscow, Kvaerner Maritime of Oslo, and KB Yuzhnoye/PO Yuzhmash of Dnepropetrovsk, Ukraine. Kvaerner provides the Command Ship, KB Yuzhnoye provides the first two stages of the launch vehicle, Energia provides the third stage, and Boeing provides the payload fairing and systems integration.
Skunk Works
The Skunk Works (Fig 6) is the unofficial name for Lockheed Martin's Lockheed Advanced Development Projects Unit – the unit responsible for producing a number of famous aircraft, including the U-2, the SR-71 Blackbird, and the F-117. Among msot recents projects is the F-35 JSF (Joint Strike Fighter).
The Skunk Works originated during World War II, when the black projects of the Skunk Works were located near the Burbank Airport, now renamed Bob Hope Airport in Burbank, California. The legendary Kelly Johnson and team developed the P-80 Shooting Star in a circus tent set in the parking lot (as there was no existing secure area) in only 143 days. This aircraft was the US Air Force's first operational jet fighter. Kelly Johnson headed the Skunk Works until 1975, when Ben Rich took over leadership. At the end of the Cold War in 1989, Lockheed reorganized its operations and relocated the Skunk Works to Site 10 at US Air Force Plant 42 in Palmdale, California where it is still in operation today.
The Skunk Works has used the Groom Dry Lake Air Force Base for testing their secret aircraft prototypes.
Space Adventures
Space Adventures Ltd is an American company, founded in 1998 and based in Arlington, Virginia, which promotes space tourism and entertainment. It was responsible for organizing the flights of the first three space tourists in history – those of Dennis Tito in 2001, South African business Mark Shuttleworth in 2002, and American scientist and entrepreneur Gregory Olsen in 2005. As well as its involvement in arranging orbital flights, Space Adventures Ltd is developing a passenger suborbital space program, with licensed passenger flights scheduled to launch in 2007–2008. Its main rival in this field is Virgin Galactic. Space Adventures also offers a variety of training experiences that can either be booked separately or together as part of a spaceflight qualification program, zero-gravity parabolic flights, and high-performance, altitude, and g-force jet flights.
Explorer suborbital space plane
Space Adventures' suborbital fleet is likely to be based on the Russian Myasishchev Design Bureau's Cosmopolis 21 (C-21) vehicle. The Explorer vehicles will carry as many as five people into space, giving them an opportunity to peer back at their home planet for several minutes before returning to Earth. The C-21 is a rocket module that will hitch a ride on an aircraft called the M-55X to an altitude of about 20 km (12.5 mi). From there, it is air-launched and ignites its own engines to reach its maximum altitude.
SpaceDev, Inc
SpaceDev is an aerospace company, founded in 1997 and based in Poway, California, which is active in private spaceflight activities including small satellite construction, hybrid propulsion system development, and reusable space vehicle design. It provided key components and refueling services for the hybrid rocket engine used by SpaceShipOne and built CHIPSat for researchers at the University of California at Berkeley. SpaceDev was also hoping to receive funding from NASA to develop its concept for a small space plane called Dream Chaser. However, NASA announced in 2006 that the companies selected to receive the $500 million it was making available through its Commercial Orbital Transportation Services (COTS) demonstration program were SpaceX and Rocketplane Kistler.
SpaceX
The SpaceX Falcon 9 heavy-lift launch vehicle which achieved a successful maiden launch from Cape Canaveral in June 2010. This rocket could soon be servicing the space station, as well as lofting commercial satellites. Image: SpaceX.
SpaceX (Space Exploration Technologies Corporation) (Fig 8) is an aerospace company that develops and manufactures the Falcon family (see Falcon 1 and Falcon 9) of launch vehicles and the Dragon spacecraft with a stated goal to reduce the cost and increase the reliability of access to space. SpaceX was founded in 2002 by South African born entrepreneur Elon Musk and has its headquarters in Hawthorne, California.
Significant milestones
In August 2006, NASA announced that it would be give a combined total of about $500 million to SpaceX and Rocketplane Kistler to help fund the development of reliable, cost-effective access to low-Earth orbit and, in particular, to demonstrate the vehicles, systems, and operations needed to support a human facility such as the International Space Station. Payments to each company were to be incremental and based upon the partners' progress against a schedule of agreed performance milestones.
On December 8, 2010, SpaceX successfully launched its Dragon capsule atop a Falcon 9 from Cape Canaveral. The craft separated about 10 min after launch, reaching its 300-km-high orbit shortly after. After completing several maneuvers in orbit, the capsule splashed down in the Pacific. SpaceX thus became the first private launch company to place a vehicle in Earth orbit. In May 2012, a Dragon capsule became the first commercial spacecraft to dock with the ISS before returning to a successful splashdown on Earth.
In August 2012, NASA announced that it would be giving further funding of $440 million to progress the design of the Dragon capsule to include life-support systems and develop a safety system so that the capsule could return to Earth in the event of a failure of its Falcon launch vehicle. At the same time NASA also announced that it would provide further funding to two other aerospace companies – Sierra Nevada and Boeing – to develop their manned spacecraft, known as Dream Chaser and CST-100, respectively.
Starchaser Industries
Starchaser Industries is a British rocket development company, founded in 1992 by Steve Bennett and based in Hyde, Cheshire. Team Starchaser competed for the Ansari X Prize with a design called Thunderstar/Starchaser 5 until the competition was won SpaceShipOne.
The largest rocket launched by the company so far is the 11-m high Nova, which reached an altitude of more than 1,600 m over Morecambe Bay in November 2001. Nova is the largest private civilian rocket ever built and flown in Europe. Other rocket series developed by Starchaser Industries include Discovery, Tempest, and Sharp.
United Launch Alliance
United Launch Alliance (ULA) is a 50-50 joint venture owned by Boeing and Lockheed Martin and formed in December 2006. Through its Atlas V and Delta II and IV rockets, United Launch Alliance (ULA) provides space launch services for the US government, including NASA, the Department of Defense, and the National Reconnaissance Office.
ULA program management, engineering, test, and mission support functions are headquartered in Denver, Colorado. Manufacturing, assembly, and integration operations are located at Decatur, Alabama, Denver, Colorado, Harlingen, Texas, and San Diego, California. Launch operations are located at Cape Canaveral Air Force Station, Florida, and at Vandenberg Air Force Base, California.
In July 2011, while the final mission of the Space Shuttle was in progress, NASA signed an agreement with ULA to assess its Atlas V rocket for use in human missions. The work will determine which components on the Atlas already meet NASA's stringent requirements for human spaceflight and which elements might need to be upgraded if the rocket is to be certified for astronaut missions. In parallel with this assessment, ULA will continuie development on its Emergency Detection System that would be placed in the Atlas to give warning of a major malfunction. In such an event, the EDS would trigger the abort mechanism on the crewship atop the rocket, carrying this vehicle and its astronauts to a safe distance.
United Space Alliance
United Space Alliance (USA) was a joint venture between Boeing and Lockheed Martin, with headquarters in Houston, to conduct the Space Flight Operations Contract and Space Program Operations Contract for NASA.
United Space Alliance was formed in 1995 as a limited liability company as a joint venture between Rockwell International and Lockheed Martin in response to NASA's desire to consolidate many Space Shuttle program contracts to one prime contractor. USA signed the Space Flight Operations Contract with NASA in September 1996 to become the single prime contractor that NASA was seeking. USA supported the contract for 10 year through September 2006, and then with NASA agreed the Space Program Operations Contract (SPOC).
USA's major activities were the operation and processing of the Space Shuttle Fleet (now concluded) and the International Space Station, as defined by SPOC. The company was dissolved in 2019.
Virgin Galactic
Virgin Galactic (Fig 9) is a British company established by Richard Branson's Virgin Group which is the world's first private spaceline. It is playing a leading role in developing space tourism and low-cost access to space for both passengers and payload.
Virgin Galactic owns and operates privately-built passenger-carrying spacecraft, modeled on Burt Rutan's SpaceShipOne, winner of the Ansari X prize. In July 2012, it also announced that it was also developing a low-cost satellite launcher, called LauncherOne.
Access to space for all (with $200,000 to spare)
Virgin Galactic's first commercial, suborbital craft – Virgin Galactic spaceship – has eight seats, allowing room for two pilots and six passengers. Construction at Rutan's firm Scaled Composites in Mojave, California, began in March 2006. A series of so-far successful gliding tests began in 2012, and the first commercial flight is expected to take place in late 2013. More than 500 people have already paid their deposits and reserved a seat. They include a woman in her nineties (who learned to skydive when she was 85).
New Mexico spaceport
One of the launch sites for the Virgin Galactic spaceship will be a spaceport in New Mexico, called Spaceport America, built on 27 sq mi (70 sq km) of state-owned land. Virgin Galactic will be the spaceport's primary but not sole tenant. The region has an 4,700-ft (1,433-m) elevation, which will saves on the amount of jet fuel needed to get the spacecraft to the proper altitude for launch.
In 2007, Virgin announced it would use a spaceport in Sweden as one of the launch sites for its commercial space flights. The company is also eyeing several other locations, including a site near Barcelona, Spain.