Tito, Dennis (1941–)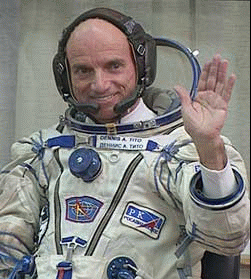 Dennis Tito was the world's first space tourist. Millionaire businessman Tito blasted off aboard a Soyuz supply ship on 28 April 2001, in the company of two veteran cosmonauts, for a 10-day stay at the International Space Station (ISS), having paid Russian space chiefs around $20 million (£14 million) for the privilege. The 60-year-old American become the 415th person in space and the first as a paying traveler.
Tito started his career in the 1960s as a space scientist with JPL (Jet Propulsion Laboratory), helping plan flight trajectories for several early Mars probes, before leaving to set up a finance company, through which he made his fortune. He first looked into a space vacation in 1991, on a trip to Moscow, and booked a berth aboard Mir – only to see it canceled when following the decision of Russian space officials to de-orbit the station. Instead Tito was offered a ride on a supply mission the ISS. Tito's former employer, NASA, objected to the trip, citing safety concerns, but begrudgingly agreed to his visit, subject to him signing contracts relieving all national space agencies of responsibility in the event of a tragedy and saying that he will pay for any breakages he causes.
Tito may be the first to pay for a trip into space but is not the first civilian to make the journey. One of NASA's early attempts to put a non-professional in orbit ended in disaster when teacher Christa McAuliffe and her fellow crew-members were killed in the Challenger disaster of 1986. Tito also follows confectionery scientist Helen Sharman, who in 1991 beat thousands to become Britain's first astronaut, and a Japanese journalist, Tokohiro Akiyama, and a member of the Saudi royal family who both went to Mir.