Angara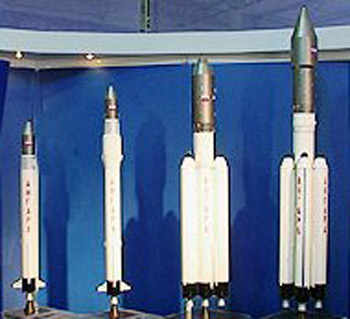 Scale models of Angara launchers displayed at MAKS 2001 air show. Left to right: Angara 1.1, Angara 1.2, Angara 3, and Angara 5. Image credit: Anatoly Zak.
Angara is a series of Russian launch vehicles intended to complement and eventually replace the existing line of Rockot and Proton boosters. The Angara family will range from a light rocket, capable of launching small telecommunications satellites into low Earth orbit (LEO) up to a powerful booster able to deliver a payload of 30 tons to LEO or 6 tons to geostationary orbit.
By using a liquid oxygen (LOX)/kerosene first stage and a LOX/liquid hydrogen second stage, Angara will avoid the environmental concerns of Proton's hypergolic propellants. In mid-1999 Lockheed Martin entered into agreement with the Khrunichev Space Research and Production Center to develop Angara – the first time a western company had consented to pay for the right to promote Russian space launchers in the international market. However, Lockheed pulled out of this joint venture in 2006.
The first Angara light booster launch had been expected to take place from Plesetsk Cosmodrome in 2003, but this has now been pushed back to 2010 or 2011.
| | | | | | |
| --- | --- | --- | --- | --- | --- |
| version | Angara 1.1 | Angara 1.2 | Angara A3 | Angara A5 | Angara A5/KVRB |
| first stage | 1×CRM, RD-191 | 1×CRM, RD-191 | 3×CRM, RD-191 | 5×CRM, RD-191 | 5×CRM, RD-191 |
| second stage | Breeze-KM | Block I, RD-0124A | Block I, RD-0124A | Block I, RD-0124A | Block I, RD-0124A |
| third stage | - | - | Breeze-M | Breeze-M | KVRB |
| thrust (Mgf) | 196 (1.92 MN) | 196 (1.92 MN) | 588 (5.77 MN) | 980 (9.61 MN) | 980 (9.61 MN) |
| launch mass | 149 t | 171.5 t | 478 t | 773 t | 790 t |
| height | 34.9 m | 41.5 m | 45.8 m | 55.4 m | 64 m |
| payload (LEO) | 2 t | 3.7 t | 14.6 t | 24.5 t | 24.5 t |
| payload (GTO) | - | - | 2.4 t | 5.4 t | 6.6 t |
| payload (GEO) | - | - | - | 2.8 t | 4 t |