Boulton, Matthew (1728–1809)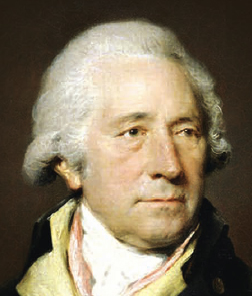 Matthew Boulton was an English manufacturer who, with his business partner, James Watt, was responsible for installing many steam engines in factories and mills up and down the country, thus playing an important role in the mechanization of industry at that time. He also applied modern techniques to the minting of coins and was a founding member of the Lunar Society of Birmingham.
Boulton was born on September 3, 1728, in Birmingham where his father had made a considerable fortune as a silver stamper and piercer. On the death of his father in 1759, Matthew took over the business and expanded it, extending it by the purchase of a piece of land, then a barren heath, at Soho, near his native town, his works there being opened in 1762. One of the first innovations at the new site was a new method of inlaying steel.
Boulton entered into partnership with James Watt, who had obtained a patent for the great improvements he'd made to the steam engine, and the two opened a factory for building steam engines, in 1769. It took 18 years for the Boulton & Watt business to become profitable but, when it did, it played a key role in the Industrial Revolution in Britain. Boulton and Watt also made big improvements to coining machinery, and so the perfection of coinage itself. A Boulton press at the Mint, Tower Hill, operated until 1882. In 1787 Boulton obtained a patent for his raising of water by impulse.
Boulton was a Fellow of the Royal Society, and member of the Lunar Society, and was on friendly terms with many of the chief scientific and literary people of his time. He died at Soho on April 18, 1809.