corn pellet stove
A corn pellet stove is a type of pellet stove designed specifically to burn corn pellets. Corn pellet stoves and wood pellet stoves look the same from the outside. Since they are highly efficient, they don't need a chimney; instead they can be vented outdoors by a four-inch pipe through an outside wall and so can be located in any room in the home. For more on installing, see pellet stove installation.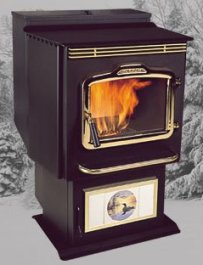 Harman PC45 corn stove
---
As in the case of a wood pellet stove, a corn stove has a small auger (screw) that slowly feeds the firepot; the speed of the auger is adjustable to control the heat output. Wall thermostats are also available for automatic use – you set the temperature you want and if the day warms up it will shut off then start up in the evening as the temperature falls. Optional glow plug igniters automatically light the fire. With up to an 85-pound hopper capacity, a heater can run for several days without refilling.
A draft blower draws combustion air through and over the pellets and forces it outdoors. This creates a slight vacuum inside the heater so that no smoke gets indoors.
Pros and cons
Corn burns so cleanly that no smoke is seen emerging from the pipe outdoors; however, corn stoves don't burn as cleanly as wood pellet stoves and need to be cleaned out more often. Also, corn varies a lot more in its makeup and moisture content. Environmentally, corn burning stoves are friendly because the resource is renewable, although some of the chemicals used in growing the corn may add a slight toxicity to the exhaust.
Corn pellet stoves compare favorably with wood pellet stoves in terms of efficiency but don't give off as much radiant heat as a conventional wood fire. The cost of running them depends very much on where you live. If you live in Massachusetts, for example, you might be hard-pressed to find a reliable, economical local supply. For more on availability and cost, see corn pellets.
Choosing a corn pellet stove
The best units are very good indeed and can pay for themselves within a year or two, but there are also many inferior products on the market, so research thoroughly and ask existing users before going ahead with your purchase. Retail prices run from $1,600 to $3,000. Also be sure to research corn availability and prices in your area – if you live in the shadow of a Kansas grain elevator, then a corn stove makes an obvious choice!
You may also wish to consider the advantages of a multi-fuel pellet stove. Quadra-fire, for example, makes pellet stoves that can comfortably burn a 50/50 mix of corn and pellets. It's also true that any pellet stove will burn (though not always efficiently or cleanly) whatever combustible material can be fitted through its (roughly two-inch) auger, which may include anything from dried cherry pits to manure. Burn corn in a wood pellet stove, however, and you'll have a problem with clinkers.
Growing popularity of burning corn
In 2005, there were an estimated 65,000 corn pellet stoves in the US. A year later this had more than doubled to 150,000 and by 2007 it is expected to reach 350,000. The reason? Corn is among the cheapest fuels around – cheaper than natural gas, oil, or propane. Wood pellets are in short supply and wood pellet prices have more than doubled. However, the rapid rise in demand for corn stoves means they are hard to come by. Most corn stove makers have long waiting lists.