pellet stove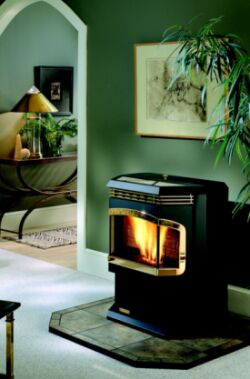 A pellet stove is a space heating device that burns small pieces of solid fuel known as pellets. Wood pellet stoves, which are the commonest type, burn wood pellets made mostly of wood sawdust that has been compacted under high pressure. An economical alternative may be a corn pellet stove if you happen to live where corn pellets are cheap and readily available. There are also multi-fuel pellet stoves capable of burning a lot of different biomass fuels.
Pellet stoves are somewhat more efficient, cleaner burning, and easier to use than conventional wood burning appliances (see wood stove). However, be aware that the environmental advantages of pellet stoves over wood stoves have been largely eroded since the introduction of clean-burning EPA-approved wood stoves in the early 1990s. Take into account, too, that they are signficantly more expensive to run. The cost of wood pellets has risen significantly over the past few years and will always be much higher in general than that of ordinary fuel wood. Also the number of pellet stoves sold since 2005 has led to regional shortages of pellets.
Think of a wood pellet stove as being like a normal wood stove but with lots of tiny logs, all the same size and consistency, that are automatically fed into the stove and burned efficiently at the same high temperature. Learn more about how pellet stoves work.
Unlike wood stoves, pellet stoves rely on convective, rather than radiant, heat. This means that they don't get too hot to touch – an important consideration for families with small children. Find out more about pellet stove pros and cons.
Pellet stoves come in a wide variety of sizes, styles, and finishes. All are equipped with a hopper, which may hold from about 40 to over 100 pounds of pellet fuel. Glass windows, giving a good view of the fire, also come as standard. Find out more about choosing and buying a pellet stove.
Free-standing pellet stoves
Most pellet stoves are free-standing and supported by legs or a pedestal. Designed for installation in almost any living area of a home (although restrictions may apply to sleeping areas), they have built-in heat shields that allow them to be situated very near to a wall – typically as close as one inch (2.5 centimeters) to a back wall or 3 inches to side walls. They also need to stand on a minimum 3/8-inch-thick non-combustible floor covering such as tile. Find out more about pellet stove installation.
Pellet stove inserts
Pellet stove inserts are available to convert an existing fireplace. A decorative panel fills the gap between the insert and the fireplace opening. Some units are designed to be installed in masonry fireplaces, while others are made for use in pre-fabricated metal fireplaces.
Pellet furnaces
Pellet furnaces are large units designed to heat an entire house via a system of duct work. They are usually installed in a basement or other non-living area of the house. Like pellet stoves, furnaces require venting to the outside.
Top feed and bottom feed designs
Another way to distinguish between pellet stoves is by how they deliver fuel from hopper to burn box. Top feed stoves send pellets down a chute or tube onto the fire, while bottom feed stoves deliver pellets from behind or beside the fire.
Bottom feeders tend to have the edge when using standard grade fuel because the feeding action moves ash and clinkers away from the burn area. This action helps keep air inlets open and so lengthens the time between cleanings of the burn box; in some top feed designs, special grates or rotating burn pots can also shift spent fuel from the inlets. Top feed stoves have a slight advantage in heating efficiency since pellets stay in the burn box until they are completely burned.
Maintenance
Although easy to use, pellet stoves need more service and maintenance than do most other hearth appliances. This is because they have a lot of moving parts, along with electrical and electronic controls. Day-to-day maintenance can easily be done by the owner, although a local professional may be called in to carry out an annual inspection and cleaning. For more details, see pellet stove maintenance.