Conrad, Charles "Pete" Jr. (1930–1999)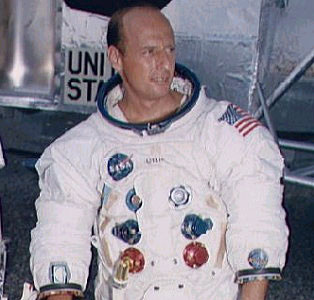 Charles "Pete" Conrad was an American astronaut, selected by NASA in September 1962, who served as pilot on Gemini 5 (becoming the first tattooed man in space – he had a blue anchor and stars on his right arm), command pilot on Gemini 11, commander on Apollo 12, and commander on Skylab 2. In Dec 1973, after serving for 20 years (including 11 during which he was also an astronaut), Conrad retired from the United States Navy to become vice president of operations and chief operating officer with American Television and Communications Corporation in Denver, Colorado. Three years later he joined McDonnell Douglas, in St. Louis, Missouri, where one of his projects involved working on the Delta Clipper. Conrad died on Jul 8, 1999, following a motorcycle accident.
Quote by Conrad on stepping onto the Moon
---
"Whoopie! Man, that may have been a small one for Neil, but it's a long one for me."