Doyle, Arthur Conan (1859–1930)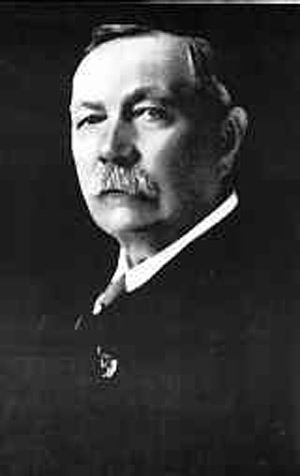 Arthur Conan was a Scottish physician and author, best known for his Sherlock Holmes stories, who occasionally wrote fiction about unusual forms of life. In "When the World Screamed" (1929) he envisions the Earth as a gigantic living organism (see planets, as living beings). The notion of refugia on a dramatic scale is the subject of his novel The Lost World (1912), while "The Horror of the Heights" takes as its (now obsolete) theme the idea of strange organisms inhabiting the upper atmosphere.
Doyle experimented with science fiction of the Jules Verne variety in a few forgotten early stories, including "The Great Brown Perichord Motor," which appeared in The Pictorial Magazine in January 1904 (less than a month after the success of the Wright brothers at Kitty Hawk, North Carolina) and predicts the invention of a flying machine.
The Challenger stories
The Holmes stories also sometimes approach the boundary of science fiction when dealing with bizarre and esoteric methods of murder. But it is primarily the invention of Professor George Challenger and the tales Doyle wrote about this intrepid explorer that make him an author of some stature in the development of science fiction. Brave, resourceful, alternately jovial and irascible, Challenger is one of the memorable characters of the genre, typifying some of the virtues and limitations of science fiction before the 1930s.
Thought to have been modeled on Professor William Rutherford of the University of Edinburgh, challenger first appears in The Lost World, a novel depicting an expedition that discovers an uncharted plateau in South America, where creatures from the Jurassic age still roam. Aside from telling an exciting tale, Doyle thus introduced into the genre the archetypical theme of confrontation with a primitive world of animals supposedly extinct. This use of a prehistoric realm prefigured the work of such writers as Edgar Rice Burroughs, especially in the Pellucidar stories and some of the later Tarzan novels. It also was one of the influences on such films as King Kong (1932).
Another Challenger novel, The Poison Belt (1913), describes a world apparently dying from poison in the upper atmosphere and probably owes its inspiration to M. P. Shiel's The Purple Cloud (1901) and H. G. Wells' fables of disaster. Nevertheless, an imaginative extrapolation of ecological disaster remains vivid and relevant even today.
Doyle wrote several other Challenger stories, most notably The Land of the Mist (1926), wherein Challenger becomes involved with the spiritualist ambience that preoccupied Doyle himself in the final years of his life.
Other science fiction by Doyle
Yet another late excursion into science fiction, though without Challenger is The Maracot Deep (1929), an impressive novel of undersea exploration. Two other noteworthy SF works by Doyle are "The Disintegration Machine" (1913) and "When the World Screamed."
Though limited in scope, Doyle's science fiction displays a number of admirable qualities: narrative verve, solid characterizations, an interest in ideas and the possibilities of science, and the exhilaration of exploring new territory.