Edwards Air Force Base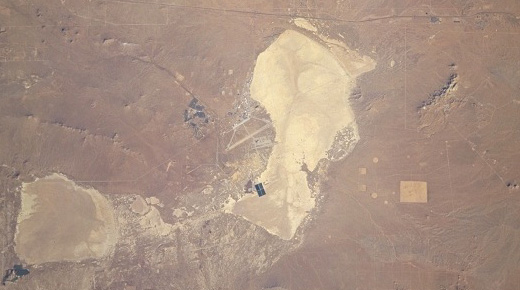 Satellite photo of Edwards AFB.
Edwards Air Force Base is a major American military installation, covering 122,000 ha, situated in Kern, Los Angeles, and San Bernardino counties, in southern California, northeast of Lancaster and approximately 160 km (100 miles) north of the city of Los Angeles. Established in 1933, it was originally known as the Muroc Army Air Field. In 1950, it was renamed in memory of test pilot Glen Edwards, who died while testing the Northrop YB-49. The base is strategically situated next to Rogers Lake, an endorheic desert salt pan, the hard playa surface of which provides a natural extension to Edwards' runways. This large landing area, combined with excellent year-round weather, make the base an ideal site for flight testing.
Edwards AFB is one of the largest air force bases in the United States and has the world's longest runway. The base is home to the Air Force Flight Test Cente (see below)r, which researches and develops aerospace weapons and rocket-propulsion systems, and NASA's Dryden Flight Research Center. It is a proving ground for military aircraft and has been the landing point for several Space Shuttle missions, including the first nighttime Shuttle landing by Challenger on Sep 5, 1983.
Air Force Flight Test Center
The Air Force Flight Test Center is a US Air Force facility at Edwards Air Force Base. The Test Center includes the Air Force Rocket Propulsion Laboratory, formed in 1952 and previously known as the Air Force's Astronautics Laboratory; the Air Force Propulsion Laboratory; and Air Force Phillips Laboratory, which is the development center for all Air Force rocket propulsion technologies including solid-propellant motors and liquid-propellant fuel systems and engines.