foundation insulation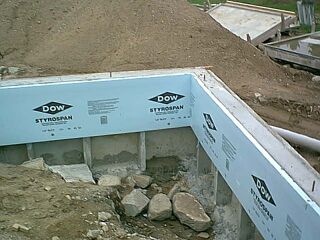 A properly insulated foundation can result in lower heating costs and more comfortable below-grade rooms, if you have any. It can also help prevent moisture problems, insect infestation, and radon infiltration in your home.
In the United States, the most common types of foundations include the following:
Some construction techniques lend themselves to both foundation structure and insulation, including these:
When insulating any type of foundation, it's also important to take into account moisture control and air sealing.
Installation cost and performance
Although you can achieve considerable savings in space conditioning costs by insulating the foundation, the installation costs can become relatively high, especially for retrofit projects. The type of materials used, the application method, and the extent of work all affect the overall cost. Simple payback is typically in the range of 6 months for a simple do-it-yourself installation to 20 years for professionally installed and more involved work. Adding foundation insulation during new construction is usually less expensive.
Field studies have found that foundation insulation for new houses (in the United States) have good economic outlooks, except for the warmest climates.