Gravitational Biology Facility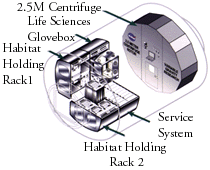 The Gravitational Biology Facility is a suite of habitats aboard the International Space Station to support organisms for research in cell, developmental, and plant biology. The habitats will provide food, water, light, air, humidity control, temperature control, and waste management for the organisms. The Gravitational Biology Facility includes a Cell Culture Unit, an Aquatic Habitat, an Advanced Animal Habitat, a Plant Research Unit, an Insect Habitat, and an Egg Incubator.
The Cell Culture Unit will be used for research in cell and tissue biology, able to maintain and monitor microbial, animal, aquatic, and plant cell and tissue cultures for up to 30 days. The Aquatic Habitat will accommodate small fresh water organisms, such as zebrafish, for up to 90 days to support egg-to-egg generation studies for examination of all life stages. The Advanced Animal Habitat will house up to six rats or a dozen mice and be compatible with a compartment called the Mouse Development Insert that will accommodate pregnant mice and subsequently their offspring from birth through weaning. The Plant Research Unit will support plant specimens up to 38cm in height (root + shoot) through all stages of growth and development. The Insect Habitat will house Drosophila melanagoster and other insects for multigenerational studies and for radiation biology, and the Egg Incubator will support the incubation and development of small reptilian and avian eggs prior to hatching. All of the Gravitational Biology Facility habitats will have the experimental capability of selectable gravity levels. The Aquatic Habitat, Cell Culture Unit, Advanced Animal Habitat, and Plant Research Unit will be used on the Centrifuge's Facility 2.5-m-diameter centrifuge when selectable gravity levels of up to 2g are needed. The Insect Habitat and Egg Incubator will be equipped with internal centrifuges which will provide selectable gravity levels from zero to 1.5g.