Griffith Observatory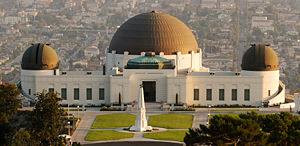 Griffith Observatory is a famous public observatory located on the southern slope of Mount Hollywood in Griffith Park, Los Angeles. It is 1,134 ft above sea level and is visible from many parts of the Los Angeles basin. Griffith Observatory is owned and operated by the City of Los Angeles, Department of Recreation and Parks. Its current director is Dr. E. C. Krupp.
Since opening in 1935, more than seven million people have put an eye to Griffith Observatory's original 12-in Zeiss refracting telescope. More people have looked though it than any other telescope in the world.
Griffith Observatory has appeared in scenes in a number of movies and television shows, including the two-part Star Trek Voyager episode Future's End. In this episode, the observatory is home to a SETI project, one of the astronomers of which picks up signals from Voyager as it orbits the Earth having traveled back in time to the 1990s.
This web site is a recipient of the Griffith Observatory's "Star Award".