grasses (Poaceae)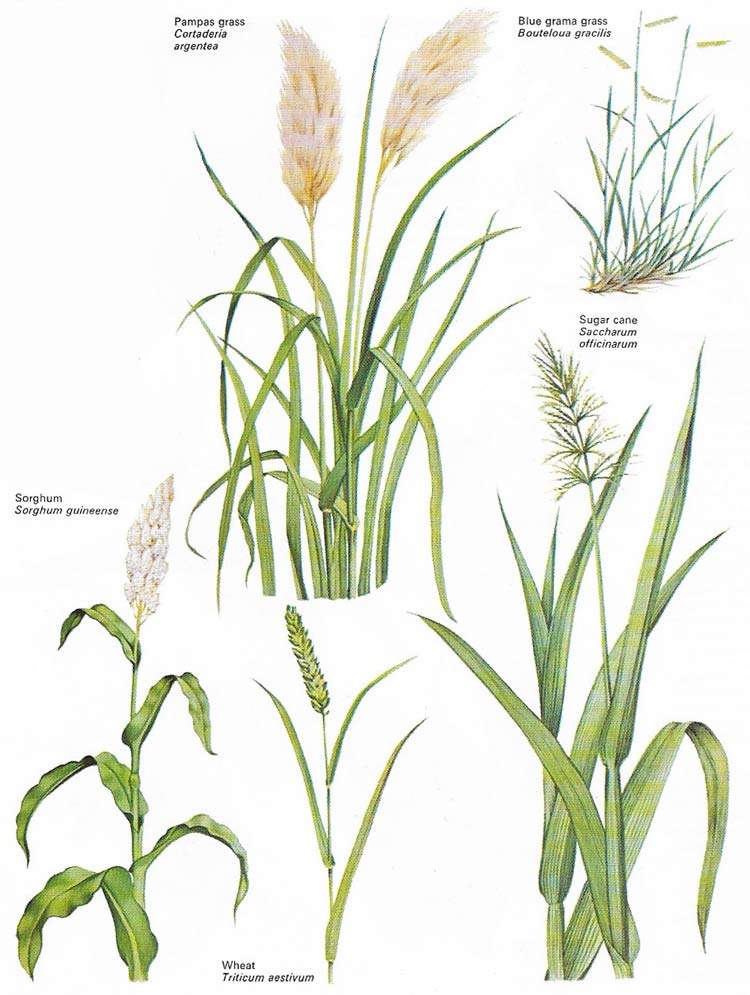 Fig 1. Of all the plants with one seed leaf, the grasses (family Poaceae) are the most important economically and many have been developed as crops. Pampas grass, often planted in gardens as an ornamental, comes from Argentina where it provides food for grazing animals. The same is true of the blue grams grass which is forage food on the North American prairies. Sorghum, or Indian millet, is cultivated in all tropical and subtropical areas as a food species. Wheat yields another human staple grain, while sugar cane provides sweetening from the juicy pith in a stem that may grow to 4.5 m (15 ft) tall.
Fig 2. Bamboos often grow in dense, impenetrable clumps in tropical regions, but some, such as Arundinaria alpina, grow on mountain sides and can withstand cold conditions. Because of their abundance, strength, and unusual stem structure (1) (woody and hollow with solid, stiffening cross joints), bamboos are used for many purposes, including the building of houses and furniture. Large canes are used as pipes in irrigation schemes. Young shoot scan be eaten and are regarded by many people as a delicacy.
The grass family, Poaceae, formerly known as Gramineae, is a large family of monocotyledonous flowering plants. It is the most economically important plant family, including as it does the cereal crops and bamboos, as well as the grasses of natural grassland and those cultivated for pasture and lawn.
Members of the grass family (Fig 1) are non-woody plants with fibrous roots and long, narrow leaves enclosing hollow, jointed stems. The stems may be upright or bent, lie on the ground, or grow underground. The flowers are small, with petals or sepals. The leaves grow from the base, and so removal of the tips does not inhibit growth. Cereal grasses, such as rice, millet, maize, and wheat, are cultivated for their edible seeds. Others are grown as food for animals and for erosion control and ornament.
The bamboos (Fig 2) are woody members of the grass family that vary in height from a few centimeters to several meters. Bamboo is a building material widely used in Asia.
Though they are commonly called "grasses", groups such as the seagrasses, rushes, and sedges fall outside this family. The rushes and sedges are related to the Poaceae, being members of the order Poales, but the seagrasses are members of the order Alismatales.