locomotive
The "Big Boy" class of the Union Pacific were the heaviest locomotives built (540 metric tons). With a 4-8-8-4 layout, they hauled heavy freight trains in the Rocky Mountains at up to 120 km/h (75 mph).
Fig 1. The first commercial locomotive was built by Richard Trevithick in 1804 for the Pen-y-Darran ironworks in South Wales. It had four driving wheels but no leading or trailing wheels. The flimsy track was not strong enough and broke frequently. But Trevithick had proved two important principles: locomotives with smooth wheels could run on smooth rails and they could haul substantial loads.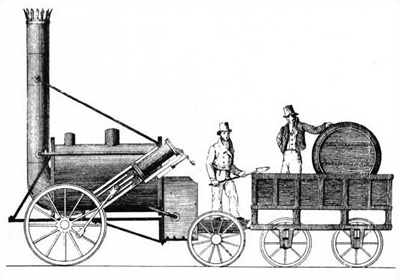 Fig 2. The Rocket was the first mechanically propelled vehicle to become world famous. Designed by George Stephenson, it had a 0-2-2 wheel arrangement and a more advanced type of boiler with heating tubes. It won trials held by the new Liverpool and Manchester Railway in 1829 and, without a train, set a record speed of 47 km/h (29 mph).
Fig 3. The General, built for the Western and Atlantic Railroad in 1855, typifies the engines that opened up America's West. A 4-4-0, it could run on poor, unfenced track. A cowcatched deflected animals and a huge funnel arrested sparks.
Fig 4. Class 53/6 of the Bavarian State Railway, dating from 1908 and used to pull prestige passenger trains, had a four-cylinder compound engine with a 4-6-2 "Pacific" wheel arrangement.

Fig 5. Britain's Mallard set the world steam speed record at 203 km/h (126 mph) in1938, pulling a seven-coach train.

Fig 6. The Beyer-Garratt of Rhodesia railways showed how articulated design could fit powerful locomotives to light track. The boiled supplied a pair of engines pivoted at their ends.

Fig 7. Tokaido trains began running between Tokyo and Osaka in 1964. With 12,000 hp per train, the electric route of 515 km (320 miles) was covered in three hours.
Fig 8. British Rail introduced high speed trains in 1973, setting what was then a world record for diesel trains with a speed of 230 km/h (143 mph). The model put into general service in 1976 had a light but powerful diesel at each end and with 4,500 hp could carry passengers at 200 km/h (125 mph). For speed, these were overtaken by the French TGV, introduced into service in 1981.
A locomotive, originally a locomotive engine, is a power unit used to haul railroad trains. The earliest development of the railroad locomotive took place in the United Kingdom, where Richard Trevithick (1771–1833) built his first engine in 1804 (Fig 1).
Early rail systems
The first steam locomotives to do useful work were ordered and used by coal mines in northeast England in 1813–1820. In 1825 a public railway was opened between the English towns of Stockton and Darlington. It had been planned for horse traction, but George Stephenson (1781–1848), a leading builder of colliery locomotives, persuaded the directors to operate a steam locomotive hauling trains heavier than horses could manage. The success of this line led to the much bigger and more important railway between Liverpool and Manchester. It was opened in 1830 after bitter opposition from landlords, coachmen, canal bargees and the large sector of the population that abhorred any change and considered smoke-spouting locomotives to be engines of Satan. Against spirited competition, Stephenson's Rocket (Fig 2) was chosen to provide the motive power. It was small and light enough to run on only four wheels without breaking the flimsy iron track, Thanks to steady improvements in manufacturing, it became possible to make boilers stronger, cylinders and pistons more accurate and better fitting, and the whole locomotive capable of developing more power at higher speeds.
For a century steam locomotives provided nearly all the traction for the world's railways. There were no dramatic technical advances but size, power and speed grew constantly. In Europe many rail systems used excellent track, capable of bearing 100-ton locomotives running at up to 160 km/h (100 mph). But in the United States in early days, and in most other young, developing countries, track was lighter, and often badly laid by men racing to complete more miles each day. This called for more wheels to spread the load. Engines came to be identified by their wheels, so that 4-6-2 designated the number of leading, driving and -trailing wheels. Speeds were limited and seldom exceeded 80 km/h (50 mph), apart from one or two short record-setting runs. The steam locomotive had reached its zenith by the 1930s. European "steamers" were clean, splendidly painted in the livery of their operating companies and, when designed for express passenger haulage, often capable of reaching 160 km/h (100 mph).
American locomotives tended to be more utilitarian. Demands for greater power led to increases in size until they became the biggest land vehicles in history. Locomotives built in the United States pioneered many new design features including the leading truck, a set of wheels preceding the main driving wheels, guiding the locomotives over the usually lightly-constructed American tracks Fig 3). For most of the rest of the 19th century, locomotives of the 'American' type (4-4-0) were standard on US passenger trains, though towards the end of the century, progressively larger types came to be built.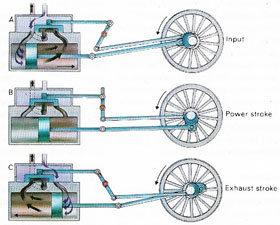 The double-action engine used to drive a steam locomotive uses superheated steam generated in a heating-tube boiler. Steam entering the cylinder (A) drives the piston back and exhaust steam from the other side of the piston. (B) shows the mid-position, with both inlet valves closed. In (C), steam is led to the other side of the piston and the cycle is repeated. The exhaust steam passes directly into the atmosphere, and this wasted energy, coupled with the design of the boiler, gives this type of steam engine the remarkably low efficiency of only eight percent.
Electric locomotives
The first rival to steam came in the form of the direct-current electric motor, adopted in cities (especially in underground railways), to avoid smoke pollution. The first electric train ran at an exhibition in Berlin in 1879. Soon countries such as Switzerland and Norway found that it was cheaper, with the development of hydroelectric power, to generate electricity than to burn brown coal or wood, and their networks became all-electric.
Today the electric motor, with its linear form under development, is regarded as the best form of traction for railways but the huge capital costs impede its introduction except on the busiest routes. As long ago as 1955, French Railways demonstrated that electric trains of conventional type could run at more than 320 km/h (200 mph), but average speeds of public trains have risen only slowly. The Japanese New Tokaido line (Fig 7) achieved a sudden jump in speed because the line was laid for high speed. Even so, track and trains need constant maintenance.
Diesel power
About 1920, the first diesel locomotives and railcars came into general use, powered by compression-ignition oil engines developed by the German Rudolph Diesel (1858–1913). Though often noisy, diesel engines pick up speed faster and convert 25 to 45 percent of their fuel energy into useful haulage, whereas the fuel efficiency of steam traction seldom exceeded eight per cent. Despite greater capital cost, diesel locomotives gradually ousted steam from 1935 onward. Diesels can be started and stopped easily, burn no fuel when not working, and can run at close to maximum power for hours at a time with no strain on either machines or crew (in contrast to the grimy slavery of the former stoker, or fireman, on the steam footplate). Many diesel locomotives run more than 160,000 km (100,000 miles) a year and modern examples are highly reliable, versatile, and relatively efficient, as well as being fast (Fig 8).
Only in the smallest sizes does the diesel engine drive the wheels through a mechanical gearbox, as on a lorry. Generally the two are linked hydraulically or electrically. Hydraulic transmissions are arrangements of turbines linked by oil under high pressure, and they can transmit smoothly 2.000 horsepower with any ratio between input and output speeds. In the diesel-electric locomotive the engine drives a generator or alternator. This is used to supply current to traction motors similar to those of electric locomotives.