micro wind turbine
A micro wind turbine is a very small wind turbine designed to provide electric power to a home or other local site for a variety of applications including:
AC power
DC direct supply to fluorescent lighting
DC supply for water heating
Battery charging (transport)
Hybrid ground source heat pump systems
Hybrid micro wind/ photovoltaic systems
Micro wind turbines are becoming rapidly more popular around the world. Especially when coupled with solar modules, they have already revolutionized living in remote homes off-the-utility grid. The increasing popularity of micro wind turbines has also opened up new applications previously considered off-limits to wind energy, such as charging electric fences and powering remote telephone call boxes, once the sole domain of solar cells.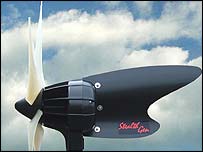 StealthGen wind micro turbine
---
Micro wind turbines have been around for decades for use on sailboats but gained increasing prominence in the 1990s as their broader potential for off-the-grid applications on land became more widely known. Over the next decade they promise to play a major role as a distributed energy resource.