Mount Stromlo and Siding Spring Observatories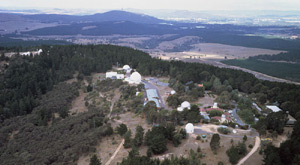 Mount Stromlo Observatory before the fire.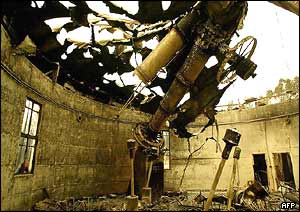 Inside one of the burned out domes.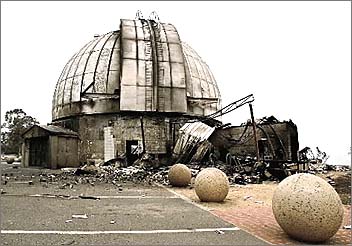 Exterior view of the main dome after the fire.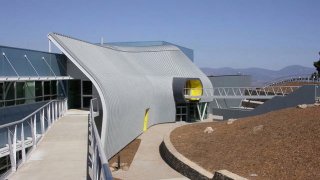 The new Advanced Instrumentation and Technology Center at Mt. Stromlo Observatory.
Mount Stromlo and Siding Spring Observatories is a telescope facility operated by the Australian National Observatories and located on Mount Stromlo, near Canberra, at an altitude of 770 m, and on Siding Spring Mountain, New South Wales, at an altitude of 1,150 m. The main instruments are (or were) a 1.9-m reflecting telescope (Mount Stromlo) and a 2.3-m reflecting telescope (Siding Spring). The Siding Spring site is shared by the Anglo-Australian Observatory.
Fire
Sadly, the historic Mount Stromlo Observatory was destroyed by the fierce bush fires around Canberra on January 19, 2003. The photos show the remains of the main dome from the outside (below right) and one of the smaller domes from the inside (below left). The flames destroyed six telescopes, a major equipment workshop, eight staff homes, and the main dome, causing more than $20 million in damage. None of the 80 staff-members or their families were harmed. The historic 1.3-m-diameter Great Melbourne Telescope, built in 1868 and upgraded a decade ago to become one of the most sophisticated in Australia, was lost, as was the larger, 1.9-m instrument. Also destroyed was a $5 million imaging spectrograph in Mount Stromlo's workshop that was almost ready to be installed in Hawaii's Gemini Observatory. The main office buildings, containing computer databases, escaped the blaze. The loss of Stromlo temporarily cut Australia's astronomy research by about one third and brought to a halt a digital survey of the southern hemisphere sky that had only just begun.
Reconstruction
Mount Stromlo Observatory has begun to reemerge from the ashes. A new facility, called the Advanced Instrumentation and Technology Centre (AITC), was opened in 2006. This replaces the engineering workshops lost in the fire and is expected to supply components and instruments for what will be the world's most powerful telescope, the Giant Magellan Telescope.
Other plans call for the restoration of the 23-cm 'Oddie' telescope, an important part of Mount Stromlo's heritage and the reconstruction and restoration of the Administration Building, which was on Australia's list of Heritage sites. New staff offices and housing will also be built, and public outreach will also be expanded to include a new Virtual Reality theatre.