Rosen, Milton W. (1915–2014)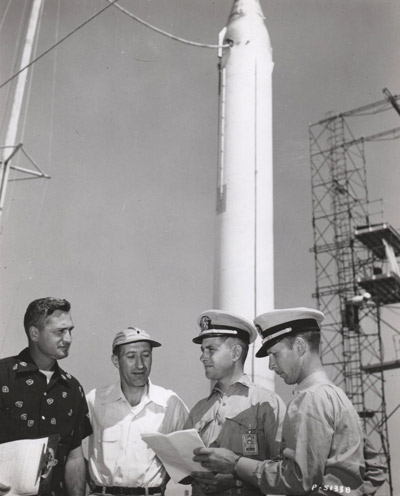 Milton W. Rosen, second from left. Credit: Martin Aircraft Co.
Milton Rosen was a key figure in the development of the Viking rocket and Vanguard programs. He trained as an electrical engineer and joined the staff of the Naval Research Laboratory in 1940, where he worked on guidance systems for missiles during World War II.
At the end of 1945, Rosen began collaborating with nuclear physicist Ernst H. Krause to establish the NRL's first rocket development program. From 1947 to 1955, he was in charge of Viking rocket development and subsequently was technical director of Project Vanguard, until he joined NASA in October 1958 as director of launch vehicles and propulsion in the Office of Manned Space Flight. In 1963 he became senior scientist in NASA's Office of the Deputy Associate Administrator for Defense Affairs and was later appointed deputy associate administrator for space science (engineering). In 1974 Rosen retired from NASA to become executive secretary of the National Academy of Science's Space Science Board.