South African Large Telescope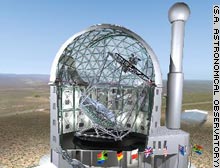 The South African Large Telescope (SALT) is an 11-m-aperture telescope – the largest single telescope in the southern hemisphere. It is set on a desolate plateau four hours drive from Cape Town, near the town of Sutherland. SALT now dominates the Sutherland observing station of the South African Astronomical Observatory (SAAO), which has been the home of South Africa's main observatories for more than half a century. The new telescope was inaugerated in November 2005 and was financed by South Africa together with universities and research bodies around the world, including Germany, Poland, the United States, and New Zealand. Built using an array of 91 hexagonal mirrors, SALT is similar to the Hobby-Eberly Telescope in Texas and is decided to work at longer wavelengths than most other optical telescopes.
The South African Astronomical Observatory is located at an altitude of 1,760 m an is owned and operated by the government's Foundation for Research Development. The SAAO was founded in 1972 by combining the resources of the Royal Observatory at the Cape of Good Hope (founded in 1820) and those of the Republic Observatory, Johannesburg (founded in 1905). In addition to SALT, it operates several other reflecting telescopes ranging in aperture from 0.5 m to 1.88 m.