tunicate (sea squirt)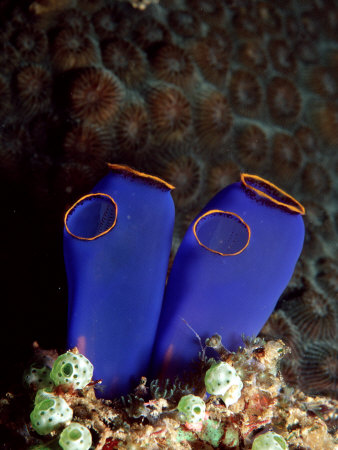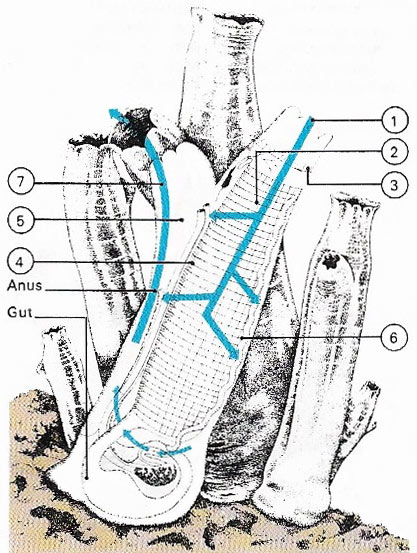 The sedentary sea squirt feeds by a filter mechanism. Water containing food and oxygen is drawn in a steady stream through one siphon (1). It then enters the pharynx (2) whose aperture is protected by a ring of tentacles (3). The internal water current is created by hair-like cilia lining the gill slits (4) and passes through them into the atrium (5) and out via the atrial siphon (7). Mucus, secreted by the endostyle (6), traps food particles. This mucus is then rolled into a rope and passed into the gut for digestion. The anus discharges waste into the atrial siphon.

Larva of a sea squirt showing the basic features of a chordate.
A tunicate is a member of the subphylum Tunicata of the phylum Chordate (see chordate). The name comes from their inert cellulose sac or tunic. Tunicates are also known commonly as sea squirts because many of them push out a jet of water when they are disturbed. They are marine and have sac-shaped bodies with two openings, a mouth and an atrial port. Water is constantly sucked in through the mouth, filtered for food particles and oxygen , and passed out through the atrial port. Many tunicates, however, have a larva that is free-swimming and exhibits all the characteristics of chordates.
Sea squirts spend their sedentary lives attached to the seabed, have few typically chordate features except for gill slits. It is the free-swimming sea squirt larval stage that reveals the sea squirt's place in the chordate line, for some zoologists argue that vertebrates may have risen by a process, known as neoteny, in which the larva did not mature into an adult but developed sex organs of its own.
The adult sea squirt (C) is formed through metamorphosis of the 'tadpole' larva which attaches itself (A) to a firm substrate then undergoes gradual maturation (B) using the yolk (1) for food.
---