Bernstein, Leonard (1918–1990)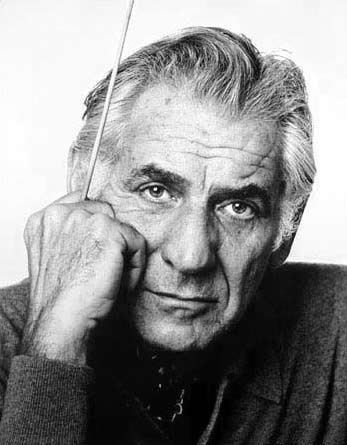 Portrait of Bach by E. G. Haussmann, 1748
Leonard Bernstein was one of the most flamboyant figures of 20th-century music. A talented pianist, composer of both "serious" works and extremely popular Broadway musicals, and one of the finest conductors of his age, he excelled in every field he tackled (one of his fellow students remarked that he was "doomed to success"). He studied composition at Harvard University with Walter Piston (1894–1976), and conducting with Fritz Reiner (1888–1963) at the Curtis Institute in Philadelphia; in the early 1940s he attended summer schools at Tanglewood, Massachusetts, where he became Serge Koussevitzsky's assistant. He was then invited to become assistant conductor of the New York Philharmonic Orchestra, and his big break came in November 1943, when he took over a concert at short notice from the indisposed Bruno Walter. This triumphant performance launched his career, helped by his striking good looks and charismatic personality.
From 1946 onwards Bernstein began to conduct opera, beginning with the US premiere of Britten's Peter Grimes at Tanglewood. In 1953 he became the first American to conduct at La Scala in Milan. He made his debut at the Metropolitan Opera House in 1964, and from 1958–1969 he was principal conductor of the NewYork Philharmonic. He also guest-conducted many of the world's great orchestras.
Bernstein's parallel career as a composer began in 1944 with his ballet Fancy Free and his musical On the Town, which ran for 463 performances on Broadway. An adaptation of Voltaire's Candide (1954–1956) had a disappointing reception and was later revised, but West Side Story (1957) made Bernstein's name. Written in collaboration with Stephen Sondheim (1930–2021) and the choreographer Jerome Robbins (1918–1998), this brilliant adaptation of the Romeo and Juliet story to a modern New York slum setting captured the spirit of the age. The bisexual Bernstein was married to the Chilean actress Felicia Montealegre Cohn in 1951, and had three children.
Major works
On the Town (1944); Prelude, Fugue and Riffs for clarinet and jazz ensemble (1949); Candide (1956); West Side Story (1957); Chichester Psalms (1965); 1600 Pennsylvania Avenue (1976); three symphonies.