Britten, Benjamin (1913–1976)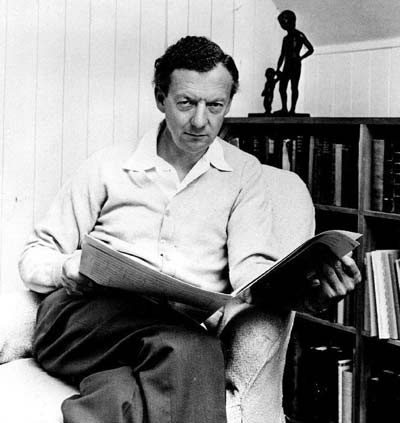 Benjamin Britten in the mid-1960s.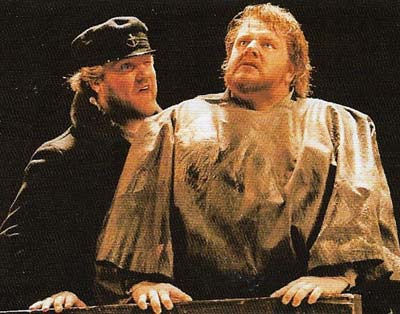 A scene from the 1995 Covent Garden production of Peter Grimes, with Bryn Terfel as Captain Balstrode and Ben Heppner as the fisherman Grimes.
Together with Michael Tippett, Benjamin Britten dominated the British musical scene from the 1930s onwards. His roots lay in the music of Mozart and Verdi, and he never abandoned tonality, but he developed a distinctive style with wide appeal. Much of his music was inspired by specific performers, particularly the tenor voice of his lifelong companion, Peter Pears (1910–1986).
Britten watt born on St Cecilia's Day, 22 November 1913. He went to boarding school, but studied composition privately with Frank Bridge (1879–1941) in school holidays. In 1930 he entered the Royal College of Music in London, where he studied composition with John Ireland and honed his already formidable skills as a pianist. He wanted to continue his studies in Vienna with Alban Berg, having heard Berg's opera Wozzeck in 1934, but was discouraged by his parents and teachers.
Early works
In 1935, by which time several early works including a Sinfonietta and an Oboe Quartet had already been performed, Britten began to work for the documentary film unit of the General Post Office, where he met the poet W. H. Auden. They shared left-wing political sympathies and collaborated on several works, including the orchestral song-cycle Our Hunting Fathers (1936) and the choral work Ballad of Heroes (1939). In that year Britten and Peter Pears followed Auden to the USA. By this time Britten's natural predilection for vocal music had already been confirmed with the Rimbaud song-cycle Les illuminations (1939), but the Seven Sonnets of Michelangelo of 1940 was the first of many works which Britten wrote expressly for Pears. Instrumental works of the late 1930s and early '40s included the charming Rossini pastiche Soirées musicales (1936), the brilliant Variations on a Theme of Frank Bridge for strings (1937), concertos for piano (1938) and violin (1940), and the Sinfonia da requiem (1940). From then onwards, Britten wrote few specifically orchestral works. Exceptions were the Young Person's Guide to the Orchestra (1946) and the exquisite Serenade for tenor, horn and strings (1943, written for Pears and the horn player Dennis Brain), two of his most popular works; the Cello Symphony for Rostropovich (1963); and two "occasional" works written to celebrate the respective openings of the Snape Makings concert hall and the Queen Elizabeth I Hall in London.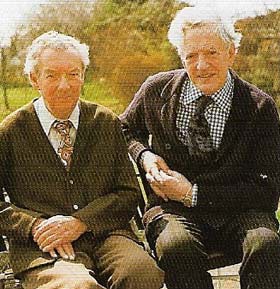 Britten (left) with his lifelong companion Peter Pears in the garden of their house at Aldeburgh, Suffolk. This was one of the last photographs of Britten.
Aldeburgh Festival
Britten decided to return home from America in 1942, having by chance read George Crabbe's 19th-century poem The Borough, an unflattering portrait of the Suffolk fishing village of Aldeburgh, which inspired his first major opera, Peter Grimes. Its premiere at Sadler's Wells on 7 June 1945 marked a milestone in British music, and in the history of opera. Britten and Pears settled first at Snape, a few miles inland, and then in Aldeburgh itself, where in 1947 they established the annual Aldeburgh Festival. Twenty years later, the festival's main venue moved from Aldeburgh's tiny jubilee Hall to a converted malthouse at Snape.
Opera and choral works
Three original chamber operas followed Peter Grimes: The Rape of Lucretia (1946), the comedy Albert Herring (1947), both performed at Glyndebourne, and The Little Sweep (1949). In 1951, Billy Budd (based on Herman Melville's nautical tragedy) was performed at Covent Garden, followed two years later by Britten's one failure, Gloriana (intended to celebrate Elizabeth II's accession in 1953): later productions have led to its reassessment. The Turn of the Screw, based on Henry James's ghost story, was premiered in Venice, the city which inspired Britten's operatic swansong (and the most direct expression of his love for Pears), Death in Venice, based on Thomas Mann's novella. Many people consider his operatic masterpiece to be the Shakespearean A Midsummer Night's Dream.
During the 1960s Britten temporarily eschewed conventional operas in favor of three "church parables" written for performance in Orford Church in Suffolk: Curlew River (1964, inspired by Japanese Noh drama), The Burning Fiery Furnace (1966), and The Prodigal Son (1968). His next opera, Owen Wingrave, was written for television in 1970, though it subsequently transferred successfully to the stage. In 1962 his War Requiem was performed at the newly opened Coventry Cathedral, with an international cast of soloists, in a spirit of post-war reconciliation. The Requiem text is interwoven with the poetry of Wilfred Owen (1893–1918), and the work is a powerful expression of Britten's pacifism.
Besides composing, Britten was a fine conductor and pianist, and often toured in recital with Pears. In 1973 he had heart surgery, which curtailed his activities, and shortly before his death in 1976 he became the first British composer to be made a life peer
Major works
Operas :
Peter Grimes
(1944-1955),
Billy Budd
(1951),
The Turn of the Screw
(1954),
A Midsummer Night's Dream
(1960), and
Death in Venice
(1973);
War Requiem
(1962); three "church parables"; chamber music and songs, including song-cycles and folk song arrangements.