Verdi, Giuseppe (1813–1901)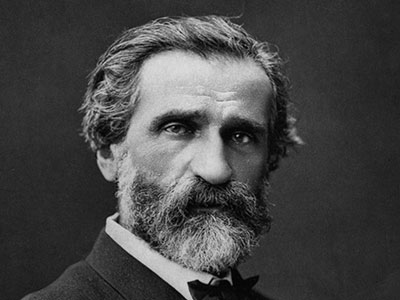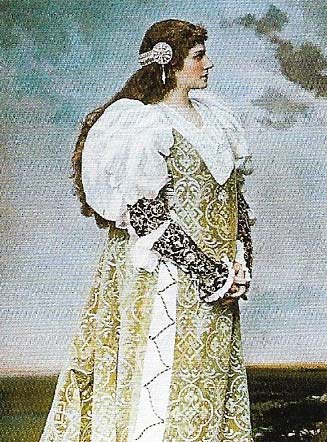 The French dramatic soprano Rose Caron as Desdemona in Verdi's Otello. She created the role in 1894.
A set design (c.1862) by Carlo Ferrario for Verdi's grand opera La forza del destino (The Force of Destiny).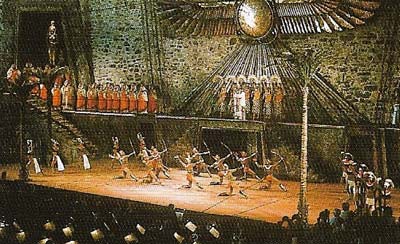 A scene from a performance of Verdi's Aida at the 1991 Savonlinna Opera Festival in Finland.
Verdi was the greatest Italian opera composer of the 19th century. Unlike Wagner, who strove to create a new type of music-drama, Verdi worked within the Italian tradition of his predecessors, but throughout his long career his technique became ever more fluent, his characterizations more rounded and expressive, and his response to the text increasingly refined. His masterpieces are the Shakespearean operas Otello (1887) and Falstaff (1893), written when he was in his 70s, but works from all periods of his life form the backbone of the present-day operatic repertoire.
Early years
Verdi was born in Lombardy, at a small village in the vicinity of Parma. He began to play the keyboard when he was three, and at ten he was sent to study in Busseto. In 1831 he became the protégé of a music-loving merchant, Antonio Barezzi, who financed his further musical education privately in Milan, Verdi having been rejected by the Milan Conservatory. Verdi then returned to Busseto as the town's music director. In 1836, aged 22, he married Barezzi's daughter Margherita. They had two children, who both died in infancy. In 1838 Verdi began work on his first opera, Oberto. He, his wife, and baby son moved to Milan, where the opera had been accepted for production at La Scala. It was premièred in November 1839, a few weeks after his son's death, and in June 1840 Verdi's wife also died. During this sad period, Verdi was working on a new opera, the comedy Un giorno di regno (King for a Day), which failed utterly at its première at La Scala in September 1840.
Verdi was so discouraged that he almost gave up composing, but a friend persuaded him to begin work on Nabucco, based on the biblical story of Nebuchadnezzar. This – his earliest well-known work, famous for its chorus of Hebrew slaves "Va, pensiero" – was a triumphant success, and was soon being performed all over Europe. Before long, Verdi's name was being linked with the emerging nationalist movement in Italy, as choruses such as "Va, pensiero" and the Scottish exiles' lament from Macbeth (1847) were interpreted as coded rallying-cries for the oppressed Italian nation.
Galley years
With Ernani (1844),Verdi entered on a period he later called his "galley years", producing a string of operas for Rome, Milan, Naples, Venice, Florence, Trieste, and even London (I masnadieri – The Brigands, 1847). His early operas, up to La battaglia di Legnano (The Battle of Legnano, 1849), were still influenced by Rossini, and generally dealt with historical subjects (including the Shakespearean opera Macbeth).
Luisa Miller (1849) was the first of a series of works in which the subject-matter became more personal and intimate. The finest operas of this period are Rigoletto – the tragic tale of a hunchbacked court jester who seeks to avenge his daughter's seduction but inadvertently causes her death; Il trovatore (The Troubadour), another tragedy with the motif of revenge at its heart; and La traviata (The Woman Gone Astray), Verdi's version of La dame aux camglias by Alexandre Dumas. The story of the courtesan who finds true love, sacrifices it for her lover's honor, and dies of consumption, is one one of the most popular operas ever written.
Grand opera
Verdi's third period began with Les vespres siciliennes (The Sicilian Vespers, Paris, 1855), and includes Simon Boccanegra, Un ballo in maschera (A Masked Bait), La forza del destino (The Force of Destiny, produced in St Petersburg in 1862), Don Carlos (Paris), and Aida (Cairo). During this period he spent much time on the country estate he had bought near his birthplace, with his second wife, the soprano Giuseppina Strepponi (1815–1897).
In 1861, after the Italian War of Independence, Verdi was elected to the new Italian parliament, and for the next four years mixed politics with composition. After Aida, he wrote little except his dramatic Requiem commemorating the death of the Italian nationalist poet Alessandro Manzoni (1785–1873).
Last works
The huge success of the Requiem prompted Verdi's publisher, Riconli, to suggest a collaboration with the composer-librettist Arrigo Boito (1842–1918), on an opera based on Shakespeare's Othello. It took Verdi another decade to begin work on Otello, which with Falstaff marked the culmination of his career. His last work, in 1898, was a set of Quattro pezzi sacri (Four Sacred Pieces), including a Te Deum and Stabat Mater. By then Verdi had lost his beloved second wife, he was over 80, and worn out. He died in Milan in January 1901, leaving his fortune to a home for aged musicians which he had built in Milan, and which he regarded as "his greatest work".