Rossini, Gioacchino (1792–1868)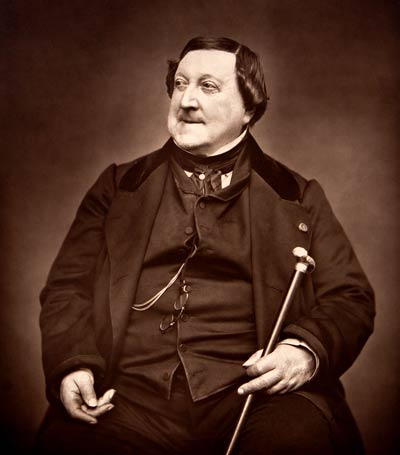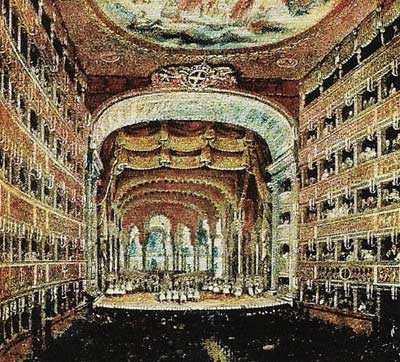 The interior of the Teatro San Carlo in Naples, where several of Rossini's operas were first performed.
A set for an 1830 production of Rossini's opera Le siège de Corinth (The Siege of Corinth) at the Berlin State Opera.
Towards the end of the 18th century, Italy was producing many composers of entertaining, accomplished, but undeniably ephemeral operas. Composers such as Giovanni Paisiello and Domenico Cimarosa wrote dozens of stage works, but very few survived for more than a season, and none could match the Italian masterpieces of Mozart. Opera in Italy had become stereotypical, subject to the tyrannical demands of audiences for a constant stream of hurriedly composed new works, and of singers for arias to show off their vocal technique, in defiance of dramatic exigencies. Italy needed an outstanding opera composer, and found one in the person of Gioacchino Rossini.
Rossini was the son of a horn player and a singer, and began to compose as a child. In 1806 he went to study at the Liceo Musicale in Bologna, and at the age of 15 was commissioned to write his first opera, Demetrio e Polibio. Further commissions followed, including several from the Teatro San Moise in Venice for a series of one-act farse including La scala di seta (The Silken Ladder, 1811) and Il Signor Bruschino (1813).
Productive years
Rossini was able to work at high speed, and between 1810 and 1822 he turned out a steady flow of works, both comic and serious, for production in Venice, Milan, Naples, and Rome, none of which took him more than a few weeks to write. Among them were the serious operas Tancredi, Elisabetta, Regina d'Inghilterra, and Otello (based on Shakespeare's play), and the comic operas L'italiana in Algeri (The Italian Girl in Algiers), II barbiere di Siviglia (The Barber of Seville – Rossini's comic masterpiece), La cenerentola (Cinderella), and La gazza ladra (The Thieving Magpie). Of these, The Barber of Seville (based on Beaumarchais's prequel to The Marriage of Figaro) was a disappointing failure at its Roman premiere in 1816, thanks to a catalog of onstage disasters, though by its third performance it had recovered from its initial setback. In one version of a famous story about Rossini, who was a notorious gourmet, he was asked by a journalist whether it was true that he had cried in public only twice in his life – the first time after the première of The Barber, and the second when a particularly delicious piece of turkey stuffed with truffles had fallen in the river during a picnic. Rossini pondered, and then answered: "No, only once, and that was when the turkey fell in the river?'
Rossini's greatest opere serie were written for the Teatro San Carlo in Naples between 1817 and 1823: they included Mosè in Egitto (Moses in Egypt), La donna del logo (based on Walter Scott's The Lady of the Lake), Maometto II, and Semiramide, the last of his Italian operas. In 1822 he married the singer Isabella Colbran, who had created the soprano roles in many of his operas, and after trips to Vienna and London, he settled in Paris as director of the Théâtre-Italien. He was still only 31 years old, rich and famous, with 34 operas to his credit.
Later life
Over the next six years he wrote several more operas for Paris, but after Guiallame Tell (William Tell), arguable his finest work, he effectively retired. In 1836 he returned to Italy, where he suffered proloned periods of ill-health, but finally settled in Paris again with his second wife Olympe Pélissier, devoting himself to entertaining friends and eating (he invented, among other dishes, tournedos Rossini). The only musical products of his later life are the delightful series of salon pieces which he called "the sins of my old age", and two sacred works, a Stabat Mater and the Petite messe solennelle.
Rossini's music
In the operatic field, Rossini's innovations included the replacement of keyboard-accompanied recitative by orchestral accompaniment, the expansion of the chorus and its dramatic integration, the development of the coloratura aria, and the revitalization of opera buffa; his characters, such as Figaro and the delightful Rosina, are real people with whom audiences of all ages can identify. His brilliant opera overtures (characterized by their famous, whipped-up crescendo endings) are still often performed in the concert repertoire today.
Major works
Il barbiere di Siviglia (1816); La cenerenola (1817); Semiramide (1823); Guillaume Tell (1829); Stabat Mater (1832–1841); Petite mess solennelle (1863).