Mozart, Wolfgang Amadeus (1756–1791)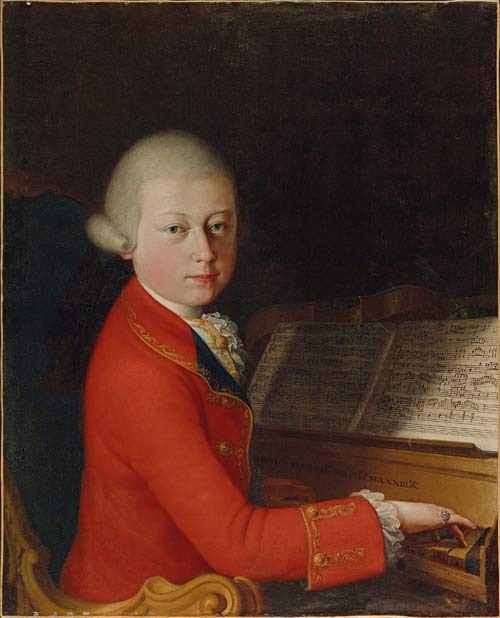 Portrait of Mozart, aged 13, in Verona, 1770, attributed to Giambettino Cignaroli.
A concert given by the young Mozart in the Redoubtensaal (ballroom) of the Schönbrunn Palace in Vienna.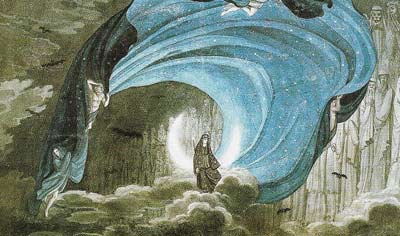 Stage set for The Magic Flute, designed by Simon Quadligo for a performance in Munich on 27 November 1818.
Wolfgang Amadeus Mozart, born in Salzburg (now in Austria, then in the Holy Roman Empire) on 22 January 1756, was one of the most gifted and influential composers of the Classical period. The works of Mozart and Beethoven stand at the heart of Western art music. Until the mid 20th century, Beethoven was perhaps the more revered as a heroic figure, battling against personal misfortune to produce his visionary and powerfully original music; while Mozart's music tended to be dismissed as "galant" and superficial. But over the past half-century, the re-evaluation of Mozart, together with the performance and recording of many of his lesser-known works, has revealed a composer of inestimable profundity and infinite variety, whose music has enriched the lives of performers and listeners alike.
Family background
The "miracle whom God let be born in Salzburg" made his appearance on 27 January 1756, the last of seven children born to Leopold Mozart and his wife Anna Maria, and one of only two to survive infancy. Leopold Mozart – a talented violinist, and the author of a successful treatise on violin technique – played in the court orchestra of the Archbishop of Salzburg, one of the most powerful prelates in Austria.
Mozart's relationship with his father was central to his life. Leopold Mozart has been vilified as the archetypal domineering father, dragging his prodigiously talented son around the courts of Europe at an early age, not only subjecting him to the rigors of prolonged travel, but forcing him to display his skills on the keyboard to any bored aristocrat who would pay money to listen; then hectoring him when he grew older, trying to obstruct him from leaving a miserable existence in Salzburg for the excitements of Vienna, and interfering in his personal life.
In fact, there is no evidence to suggest that Leopold was motivated by anything other than love and solicitude for his son. The Mozart family was very close, and their voluminous correspondence is full of protestations of affection. Leopold's only concern was for Wolfgang's well-being and success. He was one of the few people who fully recognized his son's unique gift, and he took every step to prevent it being squandered.
Childhood
At the age of four, Wolfgang began to study keyboard and composition with his father. Wolfgang's elder sister Maria Anna (Nannerl) was also a talented pianist, though once she reached adulthood, the conventions of the time obliged her to confine her talents to the domestic sphere. Leopold saw it as his duty to exhibit his exceptional children to the world. When they were six and 11 respectively, he took them to perform before the Elector of Bavaria at Munich, and the Empress Maria Theresa in Vienna.
In 1763 the whole family undertook a trip to Paris and London, where Wolfgang played to both French and English monarchs. By this time he was already composing: four early keyboard sonatas were published in Paris, and he wrote his first symphonies in London. The family arrived back in Salzburg in November 1766. A further trip to Vienna failed to result in a hoped-for opera commission, but on returning home Mozart wrote one anyway, and La finta semplice (The Pretend Simpleton) was performed at the Archbishop's palace in May 1769.
Years of travel
In December 1769 Leopold took Wolfgang to Italy for the first time. After visits to Milan, Florence, Rome, and Naples, Mozart received his first opera commission. Mitridate, rè di ponto was performed at Christmas 1770 at the Milanese court; but although both it and a further opera, Lucio Silla, were well received, Mozart's request for a job was turned down.
Back in Salzburg, Mozart settled down reluctantly as Konzertmeister to the court orchestra of a new (and less tolerant) Archbishop, and continued to compose. In January 1775 he and his father traveled together for the last time, to Munich, for the performance of Mozart's comic opera, La finta giardiniera (The Pretend Gardener). Two years later he asked for another period of leave, for an extended trip to Paris. The Archbishop promptly dismissed him, and Leopold, realizing that his own position was now in jeopardy, decided not to go. Mozart set out with his mother as chaperone.
The trip was a disaster. After a prolonged stay in Mannheim, where Wolfgang fell madly in love with a young singer called Aloysia Weber, he was peremptorily ordered by Leopold on to Paris. There he found the sophisticated French capital totally uninterested in an unknown provincial composer, now too old to be interesting as a prodigy. Although the Paris experience did produce some fine works – the Paris Symphony (No. 31) and a concerto for flute and harp (both fashionable French instruments) – there was no financial gain and a severe loss, when Mozart's mother died suddenly. Saddened and disillusioned, Mozart returned home.
Idomeneo
For the next 18 months he buried himself in his official court duties, writing sacred music for the Salzburg court, as well as symphonies, serenades, the Sinfonia Concertante for violin and viola (inspired by the French model), and a double piano concerto for himself and Nannerl. Then, in the summer of 1780, he was commissioned to write a new opera for Munich, on the subject of Idomeneus, king of Crete. Idomeneo is Mozart's first great opera – the first in which he demonstrated his extraordinary talent for bringing characters to life, allowing them to express real human emotions through the medium of music.
Vienna: early years
After being fêted in Munich, Mozart felt stifled by the petty humiliations of life in Salzburg. In March 1781 he was summoned to Vienna in the Archbishop's retinue, and took advantage of the rising antagonism between himself and his employer to engineer his own dismissal – albeit "with a box on the ear and a kick on the backside".
To Leopold's dismay, Mozart announced his intention of remaining in Vienna, where he would teach, compose, and give concerts. It was a bold idea, but ultimately an unsuccessful one. Austria was at war with the Turkish Empire, money was short, and fashions ephemeral, but for a few years, Mozart's novelty value paid dividends.
During his first year in Vienna he composed a group of three new piano concertos to play at his own subscription concerts, three magnificent wind serenades, and a new opera, Die Entführung aus dem Serail (The Abduction from the Seraglio), with a German text and spoken dialogue (a type known as a Singspiel). Its success was marred only by the laconic remark of the emperor that it seemed to have "too many notes".
In 1782 Mozart got married, against his father's wishes. His bride, Constanze Weber, was the younger sister of his first love, Aloysia, who had turned him down. Constance was an amateur singer: Mozart described her as "kind-natured...not ugly, but no beauty either". She has often been accused of ruining her husband's life by her bad housekeeping, but the accusation seems to have been unfounded, and the marriage – which produced two surviving sons (four other children died in infancy) – was very happy. When Leopold Mozart finally visited his son in 1785, he was much impressed with Wolfgang's fine apartment and high standard of living. Indeed Wolfgang lived lavishly off his success, almost to the point of ruin. To earn enough he continued to compose and perform prolifically.
Vienna: middle years
For several years Mozart's new career proved successful. He had a busy teaching and concert program, for which he turned out a string of piano concertos, raising the genre to new heights of virtuosity, passion, and expression. Among these may be singled out the Concerto in D minor (K466), a highly emotional work in the Sturm und Drang ("storm and stress") style; and its companion in C major (K467), whose exquisite slow movement featured in the 1967 film Elvira Madigan.
Mozart's first love, however, was for opera – the genre which could make or break a composer – and in 1785 he began work on a daring new operatic venture, based on Pierre Beaumarchais's notorious French play La folle journée, ou le mariage de Figaro, which had been produced the previous year. This attack on aristocratic morals, disguised as a comedy, had already been banned in Vienna. Mozart's literary collaborator was the Italian adventurer, ex-priest, and poet Lorenzo Da Poste (1749–1838), with whom Mozart also worked on two later operas, Don Giovanni and Cosi fin tutti.
Le nozze di Figaro (The Marriage of Figaro) is one of the great monuments of Western art – a masterpiece of characterization, quicksilver wit, and emotional depth. But Vienna failed to appreciate it. By this time, Mozart's arrogance had made him many enemies, including the powerful court composer, Antonio Salieri. Salieri and his friends were intensely jealous of Mozart's abundant talent, and did all they could to sabotage the opera's production. (Salieri may not literally have poisoned Mozart, as some later claimed, but he certainly stifled his rival's career.) However, the music-lovers of Prague, where Figaro was produced in 1787, took the opera to their hearts (the city went "Figaro-mad"), and immediately commissioned a new opera, Don Giovanni. Mozart's visit to Prague also produced a new symphony (No. 38), known as the Prague.
Vienna: last years
The final years of Mozart's brief life were a dismal catalog of financial worry, constant moves to cheaper apartments, and failing health. He finally achieved his desire of a court appointment, but only as chamber composer, writing dance music for court balls, for a meagre salary. By June 1788 he was writing begging letters to his fellow Freemasons, asking for loans. Don Giovanni had been performed with even less success than Figaro.
In the summer of 1788, Mozart wrote his last three symphonies, including the Jupiter (No. 41), in the space of a few weeks; it is not known if he ever heard them performed. A third opera written with Da Ponte, Cosi fan tutte (literally ,"so do all women"), was premiered in the autumn of 1789, but the emperor died shortly afterwards and all theaters were closed. Two trips to Berlin and Frankfurt to give concerts failed to make any money, and by the end of 1790 Mozart was deeply depressed.
In the spring of 1791, he busied himself with dance music and pieces for mechanical organ and glass harmonica, several works for clarinet, including a fine concerto and quintet, and also with the serious and beautiful Piano Concerto in B flat (K595), a work tinged with melancholy.Hie also began work on another Singspiel, written for an actor-manager friend who ran a small suburban theater. On the surface, Die Zauberflöte (The Magic Flute) appears to be an amusing pantomime with glorious music attached. But closer inspection reveals that the piece is infused with Masonic symbolism, including thinly disguised versions of Masonic rites and initiation ceremonies. Mozart was taking an enormous risk, and it has been suggested – probably wrongly – that he paid for his presumption with his life.
While working on The Magic Flute, he received two more commissions, one for an opera seria, La clemenza di Tito (The Clemency of Titus), which was produced in Prague in September 1791 and was to be the last major work of this type, and another for a Requiem Mass. The latter was commissioned anonymously, via an emissary dressed in gray, by a Viennese nobleman whose young wife had died. Mozart's own health was failing by this time, and as he worked on the Requiem, he became obsessed by the idea that it would he his own, and that he was being poisoned. In fact he had advanced kidney disease. He died on the morning of 5 December in his wife's arms. Because he left little money, he was given the cheapest possible funeral in an unmarked grave. Few mourners accompanied the cortage.The unfinished Requiem was completed after his death by Franz Siissmayr, one of his pupils. At the age of just 35, Mozart had composed more than 600 superbly crafted pieces in what was effectively half a lifetime.
Major works
Le nozze di Figaro (1786); Don Giovanni (1787); Cosi fan tutte (1790); Die Zauberflöte (1791); 21 piano concertos; five violin concertos; concertos for clarinet and other wind instruments; 41 symphonies; 24 string quartets and other chamber music; 17 Masses.