Beethoven, Ludwig von (1770–1827)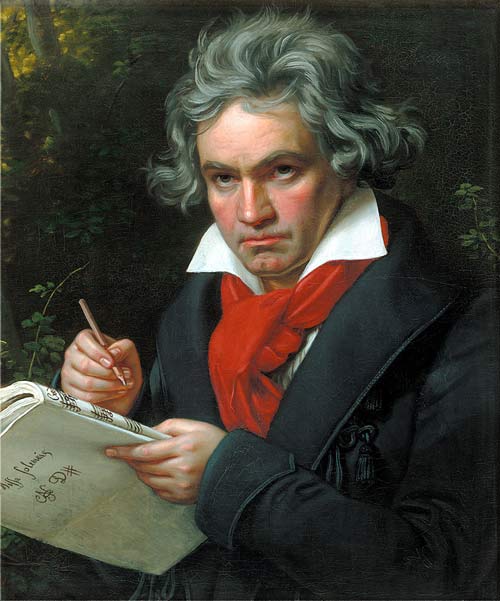 Portrait of Beethoven by Joseph Karl Stieler, 1820,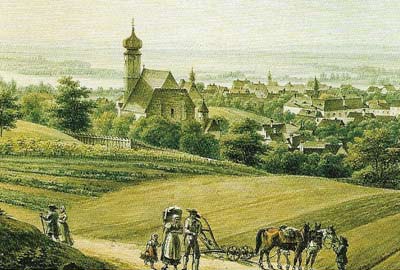 A view of rural Heiligenstadt, where Beethoven escaped from city life to compose and recuperate, and where he wrote the "Heiligenstadt Testament".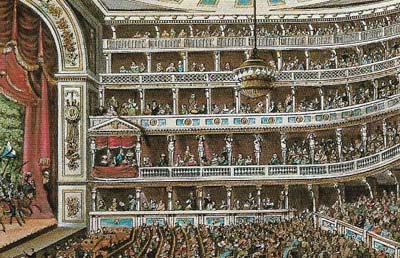 The premiere of Beethoven's opera Fidelio at the Theatre an der Wien in Vienna, 1805.
Ludwig van Beethoven was a German composer and pianist, considered one of the greatest composers in Western music. Among his chief works are nine symphonies, including the famous Ninth Symphony, whose fourth movement features the choral adaptation of Schiller's "Ode to Joy", five piano concertos, one opera (Fidelio), 16 string quartets, 32 piano sonatas, one violin concerto, and his Mass in C, "Missa solemnis".
Early years
Beethoven grew up a musical family. His grandfather had been music director to the Archbishop-Elector of Cologne, and his father was employed at the electoral court of Bonn, though in the lowlier position of singer and instrumentalist. The majority of the seven children born to Johann van Beethoven and his wife died in infancy. Three boys survived: Ludwig, born on 16 or 17 December 1770, and two younger brothers, Caspar Carl and Nikolaus.
Johann van Beethoven, an alcoholic bully, was determined that his eldest son should follow in the footsteps of young Mozart as a child prodigy. But Johann lacked Leopold Mozart's abilities as a teacher, and forced his son to practise the keyboard constantly at the expense of his general education. From around 1780 Beethoven received more kindly and sympathetic instruction from the court composer and organist Christian Neefe, who organized the publication of his pupil's first compositions – a set of keyboard variations. In 1783 a set of three piano sonatas appeared in print with a dedication to the elector, whose successor appointed Beethoven second court organist the following year.
In 1787 Neefe suggested that Beethoven should travel to Vienna to take lessons from Mozart, who was impressed with the young man's talent. But Beethoven's trip was cut short by news that his mother was seriously ill: she died of tuberculosis in the summer of that year, leaving him to cope with his father's violence and alcoholism. At the age of 18 Beethoven assumed responsibility for the family affairs, being granted half his father's court salary as well as his own. He also found an influential patron, Count Ferdinand Waldstein, who persuaded the elector to allow Beethoven leave to study with Haydn in Vienna. The elector agreed, and in 1792 Beethoven arrived in Vienna, the city which became his permanent home.
Vienna
Beethoven found that his lessons with Haydn were not a great success, but he quickly began to make a name as a pianist, with a formidable reputation for improvisation. "He is greatly admired for the velocity of his playing, and astounds everybody by the way he can master the greatest difficulties with ease," a local paper reported. He also found a new and powerful patron, Prince Lichnowsky (in whose mansion he had an apartment), and despite his unprepossessing appearance -- stocky, swarthy, with an ugly, red, pockmarked face – and rather boorish manners, he found himself tolerated by fashionable society.
He gave his first public concert, playing a new piano concerto of his own, at the Burgtheater on 29 March 1795, astonishing the audience with his fiery virtuosity and establishing a pattern which would continue for several years. By 1796 he had published a set of piano trios and three piano sonatas (a genre he would develop far beyond the Classical "galant" style of Mozart and Haydn), and had earned enough money to set himself up in his own apartment. Over the next four years he went on occasional concert tours, gave subscription concerts in Vienna, and issued his chamber works in print – sonatas for piano (including the magnificent Pathétique Sonata No. 8 in C minor), violin and cello, and the Op. 16 Quintet for piano and wind. All these works show Beethoven's desire to push at the boundaries of conventional compositional technique, to expand sonata form, and to infuse his work with unheard-of drama and passion.
These principles were already evident in the first of his nine symphonies (written in 1800), which, while conforming to the standard Classical four-movement format, relies not so much on lyrical themes as on rhythmic dynamism and the development of short melodic fragments, or motifs. Clearly, the old courtly "minuet and trio" which traditionally constituted the third movement of a symphony had outlived its purpose: from the Second Symphony onwards Beethoven replaced it with a faster, more dynamic and rhythmically propelled scherzo, while retaining a tripartite structure with a slower, more lyrical central section. "There is something revolutionary about that music," remarked the emperor.
The Heiligenstadt crisis
Around the turn of Beethoven's 30th year, just as his career seemed to he soaring, he was struck by an appalling personal crisis. He was forced to acknowledge the fact that he was going deaf. For several years he had tried to hide his hearing problems for both professional and social reasons, but it became clear that the affliction was incurable.
In the summer of 1802 he reached a nadir of despair, while staying at the country retreat of Heiligenstadt, just outside Vienna. He wrote a long letter (known as the "Heiligenstadt Testament") to his brothers, in which he described his utter misery: "For me there can be no pleasure in human society, no intelligent conversation, no mutual confidences. I most live like an outcast." But though he had contemplated suicide, Beethoven concluded that he most henceforth live for his art: "It seemed impossible to leave the world before I had accomplished al] I was destined to do." The letter was never sent, and was found among his effects after his death.
Beethoven's ear-trumpet
Years of struggle
Beethoven's inner struggle is reflected in the titanic works of the next few years. These included the massive Eroica Symphony (No. 3), originally dedicated to Napoleon, nearly twice as long as a conventional symphony, with a powerful and tragic funeral march as its slow movement; the Triple Concerto for piano, violin and cello; two piano sonatas (No. 21, the Waldstein and No. 23, the Appassionata); and his only opera, Fidelio.
The opera's plot was based on a French Revolutionary tale of a wife's heroic efforts to save her imprisoned husband. (For political reasons, Beethoven was obliged to move the action to 18th-century Spain.) By the time of the opera's production, in 1805, Napoleon's army had occupied Vienna and Fidelio received only two performances. It remains a lone masterpiece of its kind in Beethoven's output, perhaps lacking the innate sense of theater of Mozart's mature operas, but containing memorable dramatic moments such as Leonora's great "Abscheulicher aria, the quartet "Mir ist so wunderbar", and the moving chorus when the prisoners are brought from their cells and greet the light of day.
Disillusioned after Fidelio's failure, Beethoven concentrated on instrumental pieces, producing a set of three string quartets dedicated to the Russian ambassador to Austria, Count Andreas Razumovsky, the Fourth Symphony, the Violin Concerto (again a lone masterpiece), and his Fourth Piano Concerto. Just before Christmas 1808 the Fifth and Sixth Symphonies, both revolutionary in concept, were premiered at the same concert. The Fifth, with its progression from tragedy to hope, has been interpreted as representing Beethoven's own struggle against adversity, and is one of the first symphonic works to recycle thematic material between movements. The Sixth (the Pastoral) is a harbinger of Romanticism. One of the earliest symphonic examples of "tone-painting", it illustrates scenes of Austrian country life, including a realistic thunderstorm, birdsong, and a village festival.
By this time, Beethoven was enjoying a measure of financial security through the support of several wealthy patrons, including the Archduke Rudolph (to whom Beethoven dedicated his Fifth Piano Concerto, known as The Emperor). When Napoleon's troops invaded Vienna in 1809, the imperial family fled to safety: Beethoven celebrated their return from exile in 1810 with the Piano Sonata No. 26, Das Lebewohl (The Farewell). Seven years later Rudolph also received the dedication of the Hammerklavier Sonata (No. 29).
Disappointment in love
Apart from his deafness, Beethoven's life was marred by his failure to find a partner: the objects of his affection were usually either married, or else above him in social station (such as Countess Giulietta Guicciardi, the dedicatee of the Moonlight Sonata). An unsent letter written in 1812 reveals a deep attachment to an unspecified woman, "the immortal beloved", who may possibly have been Antonie Brentano, the wife of a Frankfurt businessman. She and Beethoven never met in later life, but many years later he dedicated to her his last work for piano, the Diabelli Variations.
Beethoven seems to have despised women of a lower social class: an attitude which led to acrimonious rows with his brothers over their "unsuitable" choice of wives. In 1820, after a long legal battle begun after his brother's death in 1815, he became sole guardian of his nephew Karl, perhaps fulfilling his own frustrated desire for an heir. Their relationship, however, proved a stormy one, and overshadowed the later years of Beethoven's life.
Last years
In 1813 Beethoven celebrated Napoleon's defeat on the Iberian Peninsula with his Battle Symphony. Originally written for a mechanical instrument called the "panharmonicon", the piece is far inferior to the contemporary Seventh and Eighth Symphonies. By this time Beethoven had more or less abandoned public performance, and by 1818 he was stone deaf. Yet his continued contribution to the progression of music is hard to overstate. His stubborn personality, tampering with the contemporary musical ideals, and lifelong commitment to perfection left such a mark on future composers that it led to Johannes Brahms delaying publication of his first symphony for 20 years for fear that it would never live up to what Beethoven had achieved.
Beethoven became increasingly withdrawn and anti-social, but continued to compose. Sacred music had never figured largely in his output, but in 1822 he completed the Missa solemnis, originally intended to celebrate Archduke Rudolph's enthronement as Archbishop of Olmiitz. This great work, written "from the heart to the heart", ranks with Bach's B minor Mass as one of the crowning achievements of its composer's career. Sections of it were performed in May 1824 at a concert which included the premiere of the Ninth Symphony, the result of Beethoven's desire to write a "choral symphony with voices". Within a traditional symphonic framework (except that the scherzo is placed second), Beethoven burst the bonds of convention by introducing into the finale a setting for solo voices and chorus of Schiller's An die Freude (Ode to Joy), with its ecstatic vision of an international brotherhood of man.
Beethoven's last instrumental compositions – the last three piano sonatas and the late string quartets (including the six-movement Op. 130, with its immense fugal finale) – have always been regarded as embodying Western musical art at a peak of perfection. They are introspective works, not intended to be "understood" or applauded in the conventional sense. They are the work of a man who had withdrawn into an inner life, which could only be expressed through the medium of pure, abstract music.
In 1826 Beethoven's nephew Karl attempted suicide. By this time the composer (a heavy drinker) was already mortally ill with liver disease. After months of suffering, Beethoven died on 26 March 1827. In contrast to Mozart's low-key burial, 10,000 people are estimated to have watched Beethoven's funeral procession. The poet Franz Grillparzer delivered the funeral oration, in honor of "the man who inherited and enriched the immortal fame of Handel and Bach, of Haydn and Mozart. Until his death he preserved a father's heart for mankind. Thus he was, thus he died, thus he will live to the end of time."
Major works
First period: Symphonies No. 1 (1800) and 2 (1802); six string quartets; Piano sonatas No. 8 (Pathétique) and No. 14 (Moonlight). Second period: Symphonies No. 3 (Eroica, 1803) to No. 7; Kreutzer Sonata for violin and piano (1803); Fidelio (1805); Violin Concerto (1806); Razumovsky Quartets (1806); Piano Concerto No. 5 (Emperor, 1809); Archduke Trio (1811). Third period: Diabelli Variations (1823); last piano sonatas and string quartets; Missa solemnis (1823); Symphony No.9 (Choral, 1824).