Brahms, Johannes (1833–1897)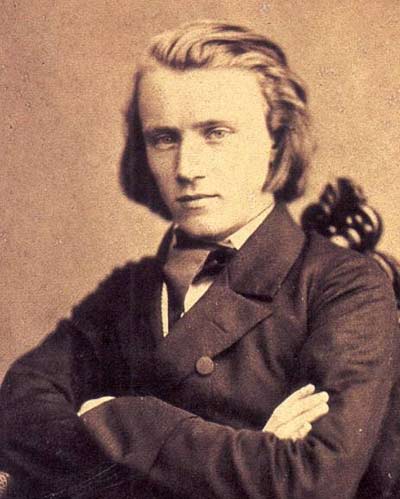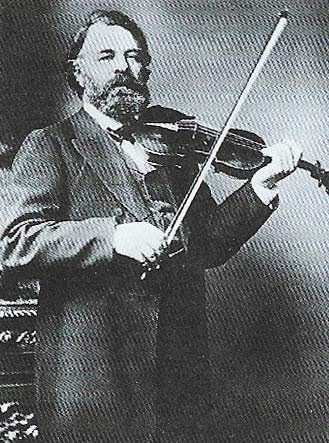 Fig 2. The influential Hungarian violinist Joseph Joachim (1831–1907), the dedicatee of Brahms's Violin Concerto..
Fig 3. Brahms (center) on the day of Clara Schumann's funeral 20 May 1896.
Fig 4. The sixth book of Brahms's "Collected Songs".
Fig 5. A silhouette of Brahms shows him going off to his favorite tavern, 'The Sign of the Red Hedgehog'.
Johannes Brahms was a late Romantic German composer who revitalized the tradition of classical forms that had culminated in Beethoven. Brahm's use of traditional devices such as the harmonic sequence and counterpoint, his emphasis on colorful harmony in structure and not only for effect, the stringent unity he sought within music, the independence of his pieces from poetic or literary interpretations, all show classical qualities. These, combined with his expansive rhythmic and lyrical romanticism – as in his songs – produced musical tension that is rich in feeling.
One of the greatest symphonic composers of the 19th century, Brahns came from a relatively humble background. His father, Johann Jakob, played the double bass in the Hamburg city orchestra. His mother, who was 17 years older than her husband, came from a middle-class family who had fallen upon hard times: she had been Johann Brahms's housekeeper. Their second child Johannes was born on 7 May 1833.
Early years
Brahms learnt the piano from the age of seven, and from 1846 onwards he also studied composition. In 1848 he gave his first public recital, and that year he also met the Hungarian violinist Eduard Reményi (1830–1898), a refugee from Austrian oppression in his homeland. Five years later Reményi and Brahms set off on a concert tour, during which they met another Hungarian violinist, Joseph Joachim, and stayed at Weimar with Liszt. Brahms also traveled to Dusseldorf to visit Robert and Clara Schumann, who were both deeply impressed with the pianistic and compositional talents of this "young eagle", as Schumann described him.
Shortly after their meeting, Schumann suffered a complete breakdown, and in 1854 Brahms returned to Dusseldorf to help Clara, with whom he fell deeply in love. Their relationship – whether physically consummated or not – was central to Brahms's life, and may have affected his attitude to other women: though he had close female friends, he never married. During her long widowhood, Clara acted as mentor to the young composer, encouraging him – as she had done with Schumann to push his art to the limits.
In 1857 Brahms spent some months in Detmold, where he tried out his first orchestral works (two serenades) with the court orchestra. Two years later he settled back in Hamburg, where he founded a women's choir and began to write choral music. In the meantime he had completed his First Piano Concerto, begun at the time he met the Schumanns. Brahms himself gave the première of this huge work in Hanover, where it met with success; but five days later, in Leipzig, the audience greeted it coolly. By this time Brahms was making himself unpopular by publicly dissociating himself from Liszt and the "New German School". His uncompromising stance probably caused the Leipzig publisher Breitkopf & Hartel to reject his manuscripts, including the Piano Concerto.
Vienna
In 1862, with several more compositions completed (including the Sextet in B flat, and sets of piano variations on themes by Handel and Schumann), Brahms left Hamburg for Vienna. Six months later he was appointed director of the Vienna Singakademie, where he indulged his awakening interest in early music, but he soon found the administrative burden of the new job tiresome, and resigned after a few months. In 1864 he returned home on hearing that his parents' marriage was in trouble – his mother was ill and his father resented having to look after her. Their separation, followed by his mother's death in January 1865, was a bitter blow (Brahms commemeorated her death in the slow movements of his powerful Horn Trio).
In 1868 Brahms decided to settle permanently in Vienna, but continued playing his own works on frequent concert tours. In 1872 be became conductor of the Vienna Gesellschaftskonzerte, but held the post for only three years. A new breed of professional virtuoso conductors such as Hans Richter (1843–1916), Hans von Bülow (1830–1894), and Hermann Levi (1839–1900) had arrived on the scene, and Brahms wisely realized his own limitations. In 1868, Brahms had already had a taste of critical vitriol when Wagner (fearing a new and talented rival) had viciously attacked him in an article entitled "On Conducting". From then onwards, Brahms devoted himself to composition.
After many years of work, in 1868, Brahms completed Deutsches Requiem (A German Requiem) for soloists, chorus, and orchestra – a deeply felt response to biblical passages on the subject of death, mourning, and consolation – and during the Franco-Prussian War he was hailed as a "patriot", having used material from the Lutheran Bible rather than the traditional Latin text of the Catholic liturgy. He responded by composing the Triumphlied (Song of Triumph) in the summer of 1871 to celebrate Germany's victory. By 1873, when he finished his popular St Anthony Variations (Variations on a Theme of Haydn) for orchestra, he was earning enough to be able to live on the income from his concerts and publications, and felt sufficiently secure to turn down a lifelong contract offered by the publisher Fritz Simrock (he also rejected an honorary doctorate offered by Cambridge University).
Symphonic success
Three years later, with Clara Schumann's constant encouragement, Brahms finally completed his First Symphony in C minor, begun over 20 years earlier. Its long gestation had been haunted by the ghost of Beethoven, and by Brahms's fear that the work would be rejected because it was not "programmatic". But the Viennese public received it with enthusiasm, and Brahms immediately began work on a second symphony.
In the late 1870s he adopted the habit of spending the summers in the Austrian countryside, at Portschach on Lake Worther in Carinthia. There he completed the Second Symphony in D, the brilliant Violin Concerto (whose gypsy finale pays homage to Joachim, its Hungarian dedicatee), the G major Violin Sonata, the two Rhapsodies, Op. 79, and the eight Piano Pieces, Op. 76. From 1880 onwards he found another summer refuge at Bad Ischl, where he wrote the Piano Trio in C, the Quintets in F and G, the Three Motets, Op. 110, and many of his late chamber and vocal works.
In 1881 Brahms concluded his satirical Akademische Festouvertüre (Academic Festival Overture), based on students' songs, in Breslau, where the University had awarded him a doctorate. He did not care for honors, and failed to attend the degree ceremony. That year he completed the Second Piano Concerto in B flat – a tour de force of power and vitality, and a milestone of pianistic virtuosity. He also had a major disagreement with Joachim, who was intending to divorce his wife. Brahms took Frau Joachim's side, and the violinist broke off all relations with Brahms. (They were eventually reconciled in 1887, when Brahms wrote the Double Concerto for Joachim and the cellist Robert Hausmann.)
Also from 1881, the conductor Hans von Billow – a great admirer of Brahms – offered the composer the use of the Meiningen court orchestra to try out his new works. These included the Third and Fourth Symphonies. The Third, in F, was written in Wiesbaden in 1883, and the Fourth, in E minor, during two summer holidays in southern Austria, and performed on a European tour with the Meiningen Orchestra in the autumn of 1885. In its passacaglia Brahms paid homage to another lifelong influence, that of J. S. Bach.
Last works
Brahms spent the following three summers at Hofstetten on Lake Thun, where he wrote his Second Cello Sonata in F major, two more violin sonatas, and the C minor Trio. By 1890 he had resolved to stop composing, but broke his resolution to write four clarinet works inspired by the brilliant playing of Richard Mühlfeld (1856–1907), principal clarinettist with the Meiningen Orchestra: the Clarinet Trio and Quintet and two clarinet sonatas. Clara Schumann's death in May 1896 prompted one final work – the Vier ernste Gesänge (Four Serious Songs) – but by then Brahms himself was mortally ill from liver cancer. He died on 3 April 1897, and was buried in Vienna's central cemetery.
Major works
Four symphonies; two piano concertos; Ein Deutsches Requiem (1868); Alto Rhapsody (1869); Violin Concerto (1878); chamber and piano works; about 200 songs.