Handel, George Frideric (1685–1759)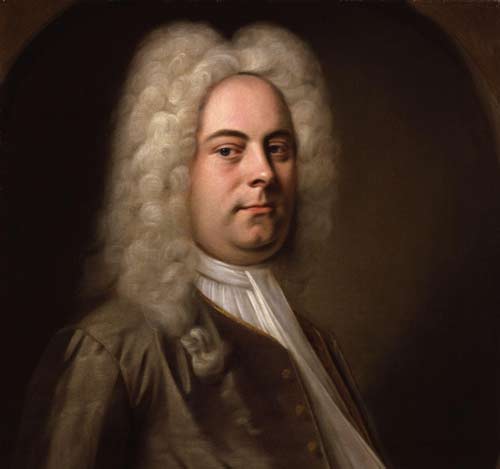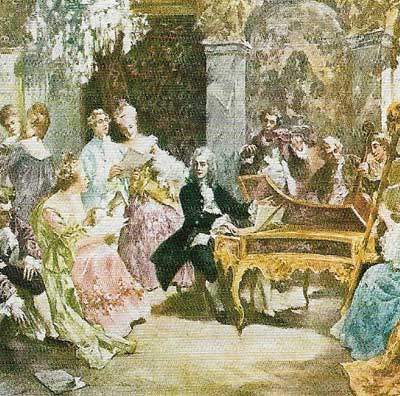 A romantic impression depicting Handel playing at a keyboard with friends.
Handel playing one of his organ concertos at the Covent Garden Theatre in London.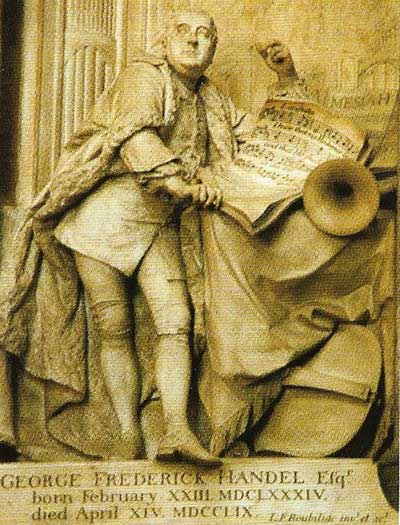 Handel's memorial in Westminster Abbey.
Handel and Bach were born in the same year, in much the same area of central Germany – Halle, Handel's birthplace in Saxony, is about 160 km (100 miles) north of Thuringia. Both men lived to a reasonable old age, and both had lost their sight when they died. But their respective careers could not have been more different.
Early years
While Bach was content to live and work within the musical tradition of his family, Handel had to struggle to make a career in music. His father wanted his son to study law, and tried to stifle the boy's interest in music. But Handel persisted, and was eventually allowed to study music as part of his general education. Only after his father's death did he take it up full-time and in 1703, aged 18, he set out for Hamburg in search of employment.
Hamburg
One of Hamburg's attractions was as a flourishing center of opera. Germany's first commercial opera house had opened there in 1678, and had scraped along financially under a succession of entrepreneurial directors with flair but no money. Here Handel found an ideal. proving-ground for his early attempts at the genre which would dominate his life. But he refused the offer of a permanent post, and instead departed for Italy – the birthplace of opera.
The Italian experience
Handel traveled to Italy under the patronage of Prince Ferdinando de Medici, and in 1707 his first mature opera, Rodrigo, was produced at a Florentine theater. It was a success, earning Handel the favors of the grand duke's mistress, the singer Vittoria Tarquini. Perhaps wisely, Handel quickly departed for Rome, where he found employment at the court of Cardinal Pietro Ottoboni, the immensely wealthy papal vice-chancellor. There he met celebrated musicians including Corelli and the Scarlattis, and tried his hand at music for the unfamiliar Catholic liturgy, including a setting of the Vespers. His first oratorio, a setting of the Resurrection story, was performed with great splendor on Easter Sunday 1708 at the Palazzo Bonelli.
From Rome Handel traveled on to Naples and then to Venice, where his opera Agrippina was performed during the 1710 carnival season. Then, ever eager for new experiences, he returned north to Hanover, to be appointed Kapellmeister to the elector at a good salary and with the promise of a year's sabbatical leave. He took it immediately, and promptly left with an invitation to London. His transformation from a German to an English composer had begun.
England
In Queen Anne's England, Handel stepped into a musical vacuum left by the deaths of John Blow and his gifted pupil Henry Purcell. He decided to fill it by satisfying the growing middle-class demand for opera. His opera Rinaldo scored a huge success at the Queen's Theatre in London, both musically and dramatically. Audiences were particularly intrigued by a dramatic masterstroke – the release of a flock of sparrows onstage to lend verisimilitude to the aria "Augelletti" ("Little Birds"). But Handel was under an obligation to return to Hanover, where he spent some 15 months perfecting his instrumental compositions – overtures and concerti grossi.
In the autumn of 1712 Handel obtained another period of leave from the indulgent Elector of Hanover, and returned to London, where his next opera, Il pastor fido (The Faithful Shepherd), was put on at the Haymarket Theatre. This time the public was disappointed. As one critic put it: "The habits [costumes] were old. The opera short." Handel immediately hit back with a full-length, five-act opera, based on the Greek myth of Theseus. At the same time he began to fulfil royal commissions, supplying royal odes and a triumphantly received Te Deum and Jubilate to celebrate the Treaty of Utrecht, which ended the War of the Spanish Succession.
Life under a new king
Handel had absented himself from his duties in Hanover for two years when in 1714 he received a rude shock: Queen Anne died childless, and the English throne passed to his neglected former employer the Elector of Hanover, now George I of England. It is said that the famous Water Music, written to accompany the king's triumphal procession up the Thames, was composed as a peace-offering (although it was probably written three years after George's accession). In any case, Handel was quickly forgiven, and remained a favored royal composer for the rest of his life. He also acquired a new patron, the Duke of Chandos, for whose magnificent estate in Edgeware Handel wrote the 11 Chandos Anthems, a Te Drum, the masque Aria and Galatea, and his first attempt at an English oratorio, Esther.
The Royal Academy
In 1719 the grandly named Royal Academy of Music came into being. This institution, supported by a group of 62 royal and noble subscribers, aimed to establish a regular opera company in London, with Handel as its composer-in-residence. Over the next eight years he supplied some 14 Italian operas for the company, including Radamisto, Rodelinda, Admeto, Giulio Cesare, and Tamerlano, and engaged some of the finest European singers to perform them. These included the great castrato Senesino, a man possessed of a "powerful, clear, equal and sweet contralto voice", and the sopranos Francesca Cumoni and Faustina Bordoni, all engaged at astronomical salaries. Apart from the entertainment of the operas themselves, London society was soon treated to the diverting spectacle of the two rival divas fighting on stage while Senesino spent his time sulking in the background.
Change to oratorio
George I died in 1727. For his successor, George II's, coronation Handel provided four anthems (including Zadok the Priest, which has been sung at British coronations ever since). By this time the Academy was in deep financial trouble, and Handel's own financial losses – combined with waning public enthusiasm for the "exotic and irrational entertainment", the unexpected popularity of John Gay's satirical Beggar's Opera in 1728, and a complete breakdown in health – prompted a change of direction. He was already writing instrumental music, especially organ concertos, for the London pleasure gardens, but although he continued to write Italian operas, including Ariodante and Serse, until 1740, he needed a new genre. He found it in the English oratorio, beginning with Deborah, Athaliah, Saul, and Israel in Egypt in the 1730s, but reaching its apogee in Messiah, written for performance in Dublin in 1742.
In setting these Biblical stories, Handel adapted elements from Italian opera, particularly the recitative-aria format; but reduced the soloists' importance in order to give more prominence to the chorus and orchestra. This clever ploy ensured the survival of his oratorios as a mainstay of the repertoire of British choral societies. Messiah was followed by some 15 further oratorios, including Samson (1741–1742), Semele (1743), which is more of an opera than an oratorio, Judas Maccabaeus (1746), Alexander Balue and Joshua (1747), Solomon (1748), and Jephtha (1751), all of which are still regularly performed.
Last years
Handel's fortunes were mixed in the last years of his life. He had amassed considerable wealth despite his losses, and used some of it to support philanthropic causes, such as the Foundling Hospital. In April 1749 he fulfilled his last royal commission: music to accompany a grand firework display in London's Green Park to mark the Peace of Aix-la-Chapelle an occasion marred when the firework pavilion burnt to the ground. But Handel's Music for the Royal Fireworks ranks with the Water Music among his most popular instrumental compositions.
Two years later his sight was failing. A painful operation to cure cataracts proved useless, and for the last seven years of his life he was totally blind. But the people of his adopted land had taken him to their hearts, and while Bach's death went largely unremarked, Handel was buried with full honors in Westminster Abbey. His epitaph summed up his extraordinary achievement: "The most Excellent Musician any Age ever produced: Whose Compositions were a Sentimental Language rather than mere Sounds; And surpassed the Power of Words In Expressing the various Passions of the Human Heart".
Major works
Water Music (1717); Acis and Galatea (1718) and 45 other operas; Chandos Anthems (1717–1720); 12 concerti grossi (1739); Messiah (1742); 15 other oratorios; Music for the Royal Fireworks (1749).