Purcell, Henry (1659–1695)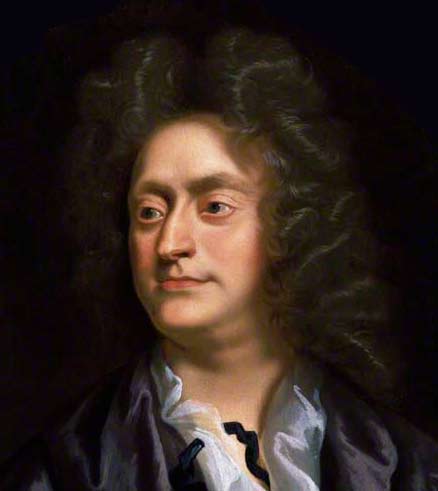 Portrait of Henry Purcell
The opening of Purcell's Golden Sonata for two violings and basso continuo.
The choir of Westminster Abbey, where Purcellwas buried at the foot of the organ,
Henry Purcell was a composer whose style was a uniquely English form of Baroque music. Unlike some European countries, which enjoyed a strong and continuing musical tradition from the Renaissance onwards, England – while strong on literature – suffered from a distinctly patchy musical heritage. After the Elizabethan flowering, only a few distinctive figures emerged in the early 17th century – notably the Lawes brothers, Henry (1596–1662) and William (1602–1645), and later John Blow (1649–1708); but England produced no composer of European stature until the brilliant but tragically short-lived Henry Purcell.
Occasional music
Purcell began his career as a chorister in the Chapel Royal; in 1679 he succeeded Blow as organist of Westminster Abbey. He seems to have married around 1680, and had several children, of whom a son and a daughter survived him. In 1682 he was appointed an organist of the Chapel Royal, and a year later became organ-maker and keeper of the king's instruments.
His court appointments were renewed after Charles II's death, and he continued to produce many odes and welcome songs (cantata-like compositions) for occasions such as royal birthdays, marriages and NewYear's Day. Most of these "occasional" works are now among the least known of his output, but the 1692 Ode for St Cecilia's Day, Hail, Bright Cecilia, is one of his best-loved works.
Stage works
During the last decade of his life, Purcell combined his court duties with writing music for the stage. Opera as such did not exist in England at the time, but between 1690 and 1695 Purcell provided incidental music for five major "semi-operas" put on at London theaters: Betterton's Dioclesian, King Arthur, and The Indian Queen (with texts by John Dryden), The Fairy Queen and The Tempest (both loosely based on Shakespeare).
Purcell's most famous stage work, however, is the opera Dido and Aeneas, long thought to have been written around 1689 for a girls' school in Chelsea, but possibly dating from several years earlier. He also provided individual musical items for over 40 other plays by the most notable playwrights of the time. The Rondeau from his music for Aphra Behn's 1695 play Abdelazer was used by Benjamin Britten as the theme of his Young Person's Guide to the Orchestra (1946).
Purcell's legacy
Apart from his dramatic music, Purcell wrote many exquisite anthems, a Magnificat and a Te Deum, a vast number of solo songs and partsongs (some with extremely bawdy texts which have only recently been been permitted to surface), instrumental music including fantasias for viol consort, a set of 12 trio sonatas for two violins and continuo, a set of 10 sonatas "in four parts", clearly influenced by Corelli, and some charming keyboard music, including eight suites. Among his last works was the moving Funeral Music for Queen Mary, written for the young and much-mourned queen: within a short while Purcell had followed her to the grave at the age of only 36. The music he had written for the queen was played at his own funeral.
Purcell's genius lay in his unique response to the setting of English words, whether sacred or secular, his gift for appealing melody, his assimilation of elements from both Italian and French music – notably Corelli's violin writing, and Laity's unusual effects (the Trost Scene" from King Arthur, in which each note is sung with a shiver, was borrowed from a similar scene in Lully's opera his) – and his forward-looking treatment of the orchestra, particularly the strings.
Though regarded as a "one-off" genius, the end of a tradition rather than an initiator, Purcell is still held in high esteem. Dido and Aeneas is often performed, and in the last decade of the 20th century, particularly during the tercentenary celebration of his death, most of his music was made widely available through high-quality performances and recordings.
Major works
Dido and Aeneas (1689); King Arthur (1691); The Fairy Queen (1692); Hail, Bright Cecilia (1692); Come, Ye Sons of Art (1694); Te Deum and Jubilate in D (1694); Funeral music for Queen Mary (1695).