Liszt, Franz (1811–1886)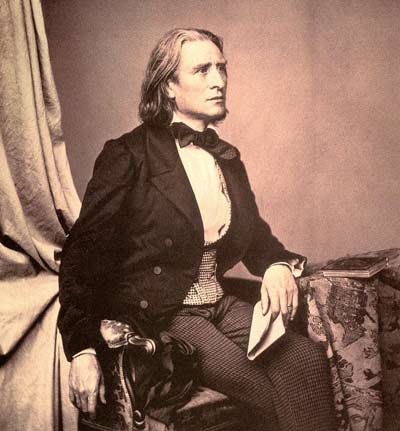 Franz Liszt n 1858 by Franz Hanfstaengl.
Liszt's summer residence on the corner of Ilm Park in Weimar.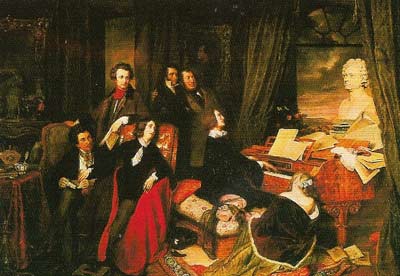 Liszt playing at a Parisian salon in 1840, possibly by Joseph Danhauser. Listening, left to right are: Alexandre Dumas, Victor Hugo, George Sand, Niccoló Paganini, Gioacchino Rossini, and Countess Marie d'Agoult, Liszt's mistress.
As a composer, Liszt tends to stand on the sidelines of music history, partly because he does not fall neatly into the German symphonic tradition, stretching from Beethoven and Schubert, through Schumann and Mendelssohn, to Brahms and Bruckner. But his influence on 19th-century music was enormous: he was a superlative performer (the pianistic equivalent of Paganini), an outstanding teacher, and a dedicated champion of the "music of the future", expressed both in his own innovative and highly individual work, and in his promotion of Wagner.
Liszt was the son of an official at the Hungarian court of Haydn's employer, Prince Nikolaus Esterházy. He showed prodigious talent as a pianist, giving his first piano recital at the age of nine, and Prince Nikolaus funded his education in Vienna, where he moved from an early age in aristocratic circles.
Paris
In the 1820s the flamboyant young virtuoso began to cause a sensation in Paris (where his family moved) and London, where he played for King George IV. Back in Paris in the early 1830s he met Berlioz and Paganini, and made piano transcriptions of some of their works, including Paganini's Caprices, which in Liszt's version became the Grandes études de Paganini. He was also greatly influenced by Chopin's Romantic style.
In 1834 he began a liaison with the Countess Marie d'Agoult, which produced three children (their second daughter Cosima later married Wagner).They began a peripatetic existence in Switzerland and Italy, during which time Liszt compiled his Années de pèlerinage (Years of Pilgrimage) for piano, and the Album d'un voyageur.
By 1839 the relationship was under strain, and Liszt resumed his touring career as a virtuoso. He and the countess finally separated in 1844, and Liszt began a period of wild womanizing, which contrasted oddly with his secret desire to become a priest. In 1848 he became music director to the ducal court at Weimar, where he eventually settled with his new companion, Princess Carolyn Sayn-Wittgenstein (who was trying to obtain a divorce from her husband). She shared Liszt's interest in religion and mysticism, and encouraged him to write his most ambitious works.
Weimar
The Weimar years (1848–1859) represent the zenith of Liszt's composing career. Most of his major works date from this period. They include two pieces inspired by the Faust legend the Faust Symphony (based on Goethe) and Episodes from Lenau's "Faust" – the Dante Symphony; over a dozen symphonic poems inspired by literary or pictorial models, including Tasso, Les préludes (after a poem by Alphonse de Lamartine), Mazeppa, Hamlet, and Hunnenschlacht (The Battle of the Huns); the E flat Piano Concerto, the Totentanz (Dance of Death) for piano and orchestra, and piano works including the Transcendental Studies, the B minor Sonata, many of the Hungarian Rhapsodies, and the Harmonies poétiques et religieuses. In addition, Liszt championed works by other up-and-coming composers, giving the premieres of operas by Wagner, Schumann, Berlioz, Verdi, and Donizetti, among others. During his tenure, Weimar became known as the haven of the "New German School".
Holy orders
By 1860, however, Liszt had fallen out with conservative Weimar society (which disapproved of his open affair with Camlyne Sayn-Wittgenstein, and his promotion of "avant-garde" music). He spent most of his later life in Rome, separated from the princess (who was never granted her divorce), and in 1865 he took minor holy orders.
A historian who saw him at the time described him as "Mephistopheles disguised as an abbe": his "diabolical" qualities, like Paganini's, were enhanced by his excessively tall, thin appearance, with long hair, originally blond, now white. He was still much sought-after as a teacher.
Liszt's later compositions are mostly sacred, and include the oratorios Die Iegende von der heilige Elisabeth (Legend of St Elisabeth, 1857–1862) and Christus (1862–1867). However, they also include the Second andThird Mephisto Waltzes, one for orchestra (1880) and one for piano (1883). Among his last works – which became increasingly impressionistic in style – was La lugubre gondola, inspired by a premonition of his son-in-law Richard Wagner's death in Venice in 1882. Liszt himself died of pneumonia four years later in Bayreuth, having traveled there to attend the music festival.
Major works
Années de pèlerinage (1836–1877); 19 Hungarian Rhapsodies (1846–1885); piano concertos; Funérailles for solo piano (1849); tone-poems Mazeppa, Tasso, Les préludes, and Orpheus (1851–1854); Piano Sonata in B minor (1853); Dante Symphony (1856); Faust Symphony (1857); Mephisto Waltz No. 1 (1861).