Mendelssohn, Felix (1809–1847)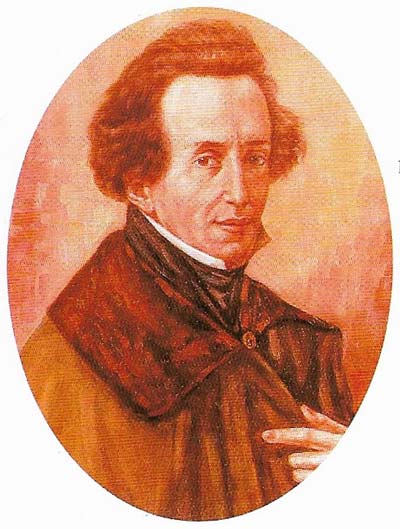 Fig 1. Felix Mendelssohn painted by Gustav Zerner.
Fig 2. Leipzig Conservatory of Music, founded by Mendelssohn in 1843.
Fig 3. An annotated drawing made by Mendelssohn during his 1829 tour of Scotland.
Felix Mendelssohn was a German composer, pianist, organist, and conductor of the early Romantic period. He was born into a wealthy and cultured Jewish family. His grandfather Moses was a liberal philosopher, and his father, Abraham, a prominent banker who fled from Hamburg (where Felix and his sister Fanny were born) to Berlin, to escape Napoleon's marauding troops.
The Mendelssohn family enjoyed a privileged middle-class existence in Berlin, where the children (two girls and two boys) were baptized as Christians, and their father became a town councillor. At the family home, the young Felix encountered many well-known philosophers, actors, artists, writers, and musicians, and showed precocious talent in music, drawing, and poetry.
By the age of 13 he was already an accomplished composer, and in 1821 he was introduced by his teacher Karl Zelter to Goethe. A strong friendship based on shared interests developed between the literary giant (then aged 70) and the talented boy. Mendelssohn dedicated his Third Piano Quartet to Goethe, who greatly appreciated the young man's frequent visits to his home in Weimar.

Musical impressions
Mendelssohn traveled a great deal as a young man, visiting Switzerland, Italy, and Britain. He responded passionately both to literature and to impressions of people and landscapes encountered on his travels, both of which influenced his essays in the Classical musical forms of his day – symphony, overture, concerto, sonata, and quartet.
At the age of 16 he composed the brilliant Octet for strings, whose scherzo was inspired by the "Witches' Sabbath" scene in Goethe's Faust; two early overtures were inspired respectively by Shakespeare (A Midsummer Night's Dream) and Goethe (Calm Sea and Prosperous Voyage). Two of his five mature symphonies – the Scottish (No. 3, dedicated to Queen Victoria) and the Italian (No. 4) – reflect his impressions of landscapes. His 1829 tour of Scotland also inspired the famous Hebrides overture, written after a visit to Fingal's Cave on the Isle of Staffa.
Classical style
In Mendelssohn's two piano concertos, the much-loved Violin Concerto and the Scottish Symphony, he made original experiments in form, such as the recycling of thematic material and the linking of movements, which later became a feature of much Romantic music. Yet, for all his Romantic traits, he was a worthy successor to Beethoven and Schubert in his fluent handling of musical material. Schumann called him "the Mozart of the 19th century – the one who sees most clearly through the contradictions of the period and for the first time reconciles them".
Mendelssohn's musical legacy
Through his tireless work as adminstrator and conductor, especially of the Lower Rhine Music Festival in Dusseldorf and the Leipzig Gewandhaus Orchestra, Mendelssohn was responsible for resurrecting buried treasures such as Bach's Passions and B minor Mass, and Handel's oratorios (on which he modeled his own St Paul and Elijah). He also helped to establish the role of the conductor, and raise standards of choral and orchestral performance. In addition, Mendelssohn promoted the careers of other composers and performers, including Robert and Clara Schumann, Berlioz, the violinists Joseph Joachim, Ferdinand David (1810–1873) and Henri Vieuxternps (1820–1881), and the pianist and composer Anton Rubinstein (1829–1894). Many of his protégés were invited by Mendelssohn to join the staff of the newly opened Leipzig Conservatory (inaugurated in 1843), which under his direction became one of the most respected musical institutions in Europe.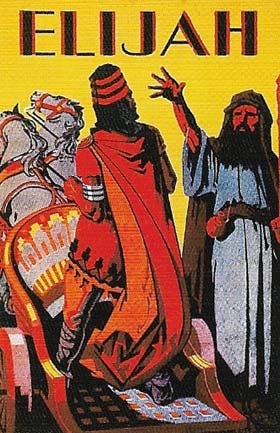 An Art Deco program cover for a dramatized pageant performance in London in 1936 of the oratorio Elijah by Mendelssohn.
In 1837 he married Cecile Jeanrenaud, daughter of a Lutheran pastor. They had five children and their marriage was happy but all too short: Mendelssohn died of overwork and grief in November 1847, aged only 38, shortly after hearing of the death of his beloved sister Fanny.
Major works
Five symphonies; incidental music to A Midsummer Night's Dream (1826–1842); Octet for strings (1825); Hebrides overture (1830); Violin Concerto (1844); two piano concertos; eight books of Lieder ohne Worte (Songs Without Words) for piano (1829–1845); Elijah.