concerto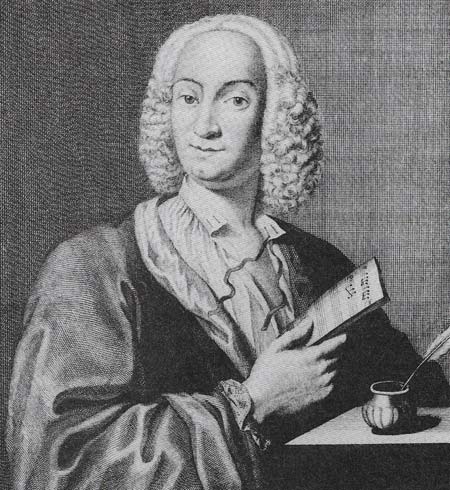 Antonio Vivaldi, surrounded himself with soloists. Eleven virtuoso parts were allocated in two of his concerti. (Royal College of Music.)
A concerto (from the Latin concertare meaning 'to contend or debate') is a multi-movement work for a soloist, or small group of soloists, and a large group of players, generally an orchestra, in which the soloist is accompanied by the orchestra. Generally, there are three movements. The majority of concertos have been written for piano, violin, or cello, although almost all modern instruments have attracted the attention of concerto writers: woodwind, from piccolo (Bucchi) to double bassoon (Badings); brass, from high trumpet (Blacher) to bass tuba (Vaughan Williams); strings from violino piccolo (Bach) to double bass (Dragonetti); and percussion of most types (Milhaud, Salzedo).
A concerto grosso is a type of concerto in which a group of soloists (concertino) is combined and contrasted with a larger group (ripieno).
The composer of by far the most concertos is Antonio Vivaldi, whose grand total of 488 includes 238 for violin. The largest corpus of concertos for the same instruments is 312 for flute by Johann Joseph Quantz (1697–1773), who wrote them while in the service of the flute-playing King Frederick the Great. It is said that the king played them in rotation, so many per night, and when he had been through them all he started again at the beginning.
Historical milestones
1607 – First 'concertos', so called, were written in Carinthia (a part of southern Austria abutting Italy) by the Italian Giulio Radino, who died prior to their publication in Venice in 1607. The title Concerti per sonore et cantare (concerti for instruments and voices) might lead one to believe that they were works combining these forces; actually, there are canzonas for voices and other works for instruments – but there is no trace of the later concerto style.
1627 – First Polish concerti were Canzoni e concerti by Adam Jarzqbski (?–1649?), but again the instrumental works are not of true concerto type, being 'fantasias' based on compositions of others.
1675 – Alessandro Stradella experimented with orchestral forces in his serenatas and cantatas, hitting upon a soloist-versus-main group in his serenata Qual prodigio é ch'io miri. He later extended the idea to introductory sinfonias and an independent sonata for two violins, lute and strings, in which the "concertino" group plays against a "concerto grosso" (main group). It is perverse of musical history to introduce the first true concerti as serenatas, sinfonias and sonatas!
1682 – Georg Muffat reported hearing Corelli's concerti grossi, although they were not published until 1714. They follow Stradella's format by setting a string trio (two violins and a cello) against a larger string group.
c. 1690 – First solo concerto was written by Giuseppe Torelli for the trumpeter at Bologna, Giovanni Pellegrino Brandi.
1698 First German concerti published: Muffat's Florilegium shows the clear influence of Corelli. The first concerti to include solo violin were published in Torelli's Concerti musicale, Op 6.
1701 – First cello concerti published. Amongst the ten concerti of Giuseppe Maria Jaccini published in Bologna, six contain parts for solo cello.
1727 – Boismortier was the first French composer to adopt the Italian name "concerto" (in his Op 15). Two years later he composed the first French solo concerto, for cello or viol or bassoon, Op 26.
1733 – First keyboard concerti. During a period of mourning at the Leipzig court where he worked, Bach took delivery of a new harpsichord. So impressed was he with its capabilities that he refurbished several of his old concerti for various instruments and turned them into harpsichord concerti. He also invited his 19-year-old son Carl Philipp Emanuel to compose for the instrument. J. S. Bach's modified works were the first harpsichord concerti, but C. P. E. Bach's A minor Concerto was the first original work in the genre. In about 1721 J. S. Bach had written the Brandenburg Concerto No 5 which has a prominent harpsichord solo (together with flute and violin); this may be antedated by Vivaldi's Concerto in C, RV 555, which employs two harpsichords along with nine other soloists and string orchestra.
c. 1735 – First Portuguese concerto: a harpsichord concerto in A by Carlos de Seixas (1704–1742).
c. 1750 – First Norwegian concerto: harpsichord concerto by Johan Daniel Berlin (1714–1787).
c. 1776 – First piano concerti. J. C. Bach's set of concerti Op 7, published about this time, were the first to specify Piano e Forte (pianoforte), although the alternative of harpsichord was prudently given.
1787 – First Russian concerto: a piano concerto by Dmitry Stepanovich Bortnyansky (1751–1827) .
c. 1808 – First Finnish concerto: a violin concerto by Erik Eriksson Tulindberg (1761–1814).
1834 – First American concerto: for Kent bugle by Anthony Philip Heinrich (1781–1861).
1902 – First Mexican concerto was a cello concerto by Ricardo Castro Herrera (1864–1907), but Gustavo Emilio Campa (1863–1934) wrote a Mélodie for violin and orchestra in 1890.
1915 – First Australian concerto: a trumpet concerto by Alfred Francis Hill (1870–1960).
?1929 – First Greek concerto may have been a concerto grosso for wind and timpani by Petros Petrides (1892–1979).
1932 – First Turkish concerto: a piano concertino by Ulvi Cemal Erkin (1906–1972).
c. 1965 – First Chinese concerto was the "Yellow River" Concerto for piano and orchestra, arranged by the Central Philharmonic Society of Peking from the "Yellow River" Cantata by Hsien Hsing-hai (1905–1945).
Concerti of Note
Vivaldi seems to have created the largest group of soloists in a concerto; or, in fact, in two, for both RV 555 and RV 558 boast 11 virtuoso parts: RV 555 in C, for violin, two violas, two flutes, oboe, cor anglais (or, more likely, a low oboe), two trumpets, two harpsichords, and string band; RV 558 in C, for two flutes, two salmoe, two violins in tromba marina, two mandolins, two theorbocs, cello, and string band.
John McCabe's "Mini-Concerto" (1966) has more solo players but they are hardly of the `virtuoso' variety: 485 penny whistles, with percussion and organ accompaniment.
The first piano concerto to include human voices was Daniel Steibelt's Concerto No 8 in E flat (1820), which concludes with a `Bacchanalian Rondo' for chorus with piano and orchestra. Better-known is Busoni's Concerto No 2, Op 39 (1904), a massive five-movement composition, the finale of which includes a male choir singing a text by the Danish poet A. G. Oehlenschlager. Mondonville wrote a concerto for violin and voice (1747) and another for violin, voice, orchestra, and choir (1752).
In the early 18th century Vivaldi, Albinoni, and some others wrote concerti for string group without any soloist at all; these are proto-symphonies which were given the name "concerti" because of the vague terminology of the period. More notable are a small number of concerti for soloists without orchestra:
Alkan: Concerto, Op 39/8–10 (1857) for piano; Concerto, Op 74 (c. 1872) for piano Bach: 'Italian' Concerto, BWV 971, for harpsichord Schumann: Concerto for Piano Without Orchestra, also called Sonata No 4 in F minor, Op 14 (1836).
The Danish composer Carl Nielsen composed three concerti. The first, for violin, is unremarkable, but the later two introduce additional and unexpected soloists. In the Clarinet Concerto (1928) a side drum takes a major role in the musical development, while a bass trombone joins the main soloist in the Flute Concerto (1926), its coarse-grained character complementing the sensitive nature of the flute.