Vivaldi, Antonio (1678–1741)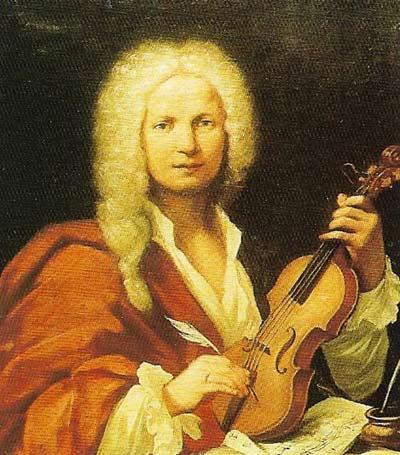 Antonio Vivaldi, painted by François Morellon La Cave.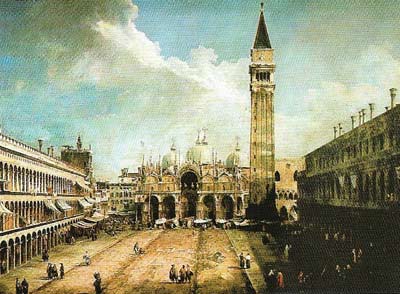 The Piazza San Marco in Venice, painted in 1723 during Vivaldi's lifetime by the Italian artist Canaletto.
Antonio Vivaldi was an Italian violinist and prolific composer in the Baroque era. For many people, the name Vivaldi is associated with just one piece of music – Le quattro stagioni (The Four Seasons) – which has been recorded countless times. But many other gems of Vivaldi's output are worth exploring: he was one of the most prolific and influential composers of his time, and without his contribution to the development of concerto form, the instrumental music of later composers such as Bach would have been the poorer.
The Red Priest
Vivaldi was born (during a minor earthquake) in Venice, to a baker turned professional violinist, with whom the young Antonio studied. In 1693 he began to train for the priesthood, while still living at home and continuing his violin studies. He was ordained in 1703, and his startling red hair earned him the nickname of il prete rosso (the Red Priest), but the ecclesiastical life did not entirely suit him, and several times he found himself at odds with the church authorities.
In the year of his ordination, Vivaldi was appointed violin teacher at the Conservatorio dell'Ospedale della Pietà, a Venetian orphanage which housed and educated young girls. Music was held in high esteem there, and its reputation was such that many leading performers took part in its concerts. Vivaldi was required to teach and rehearse the students and to maintain the instruments. His initial appointment lasted six years, during which time he published a set of 12 trio sonate da camera and a set of solo violin sonatas. He had already begun to write concertos, which became his favorite medium.
Vivaldi's concertos
In all Vivaldi wrote well over 200 violin concertos, around 27 cello concertos, around a dozen for flute, three for piccolo, 20 for oboe, 37 for bassoon (an instrument for which few other composers have written concertos), and many more double and multiple concertos, of which the E minor concerto for four violins, Op. 3 No. 4, is very well known.
The fanciful titles of some of his concertos gave Vivaldi plenty of opportunity for descriptive writing. As well as the famous Four Seasons, programmatically depicting seasonal activities such as skating on the ice (winter), hunting (autumn), and listening to birdsong (spring), their titles include La tempestà di mare (Storm at Sea), L'amoroso (The Lover), La caccia (The Hunt) and Il corneto di posta (The Posthorn).
A set of 12 concertos for one, two, or four solo violins was published in Amsterdam in 1711 under the title L'estro armonico, and instantly sold all over Europe (Bach made keyboard transcriptions of five of them). Another set of 12 (La stravaganza) appeared in 1714, and from then on Vivaldi's music was much in demand (the collection containing The Four Seasons was published in 1725). He also wrote around 60 concerti grossi for strings and bass.
In 1711 Vivaldi returned to the Pietà, where he took the opportunity to write sacred as well as instrumental music. His cheerful Gloria is still much performed today. He was associated with the institution until his death, although his frequent absences were not popular. He also began to write operas (about 45 in all) for various Italian courts and opera houses, including Mantua, Venice, and Rome. Several have recently been revived, although interest still tends to be academic.
Fall from grace
Vivaldi spent much of the last two decades of his life on the move. Around 1725 he became involved with his singing pupil, Anna Giraud. The church authorities cannot have been pleased with the whiff of scandal surrounding the "Red Priest" and in 1737 he was censured for unpriestly conduct. In 1741 Vivaldi undertook a mysterious journey to Vienna (perhaps connected with Anna's work as an opera singer). He arrived on 28 June, and a month later he was dead, apparently of unknown causes. His arrogance and egotism had made many enemies, but his posthumous influence was immense.
Major works
Over 400 concertoes published in sets, including L'estro armonico (1711); Il ci
nto dell'armonia dll'invention (1725) – 12 concertos of which the first four are Le quattro stagioni).