Chopin, Frédéric (1810–1849)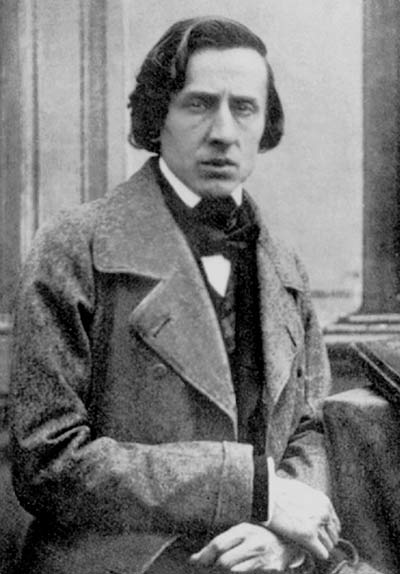 Chopin playing the piano in Prince Radziwill's salon in Pais, painted in 1887 by Hendrik Siemiradzki.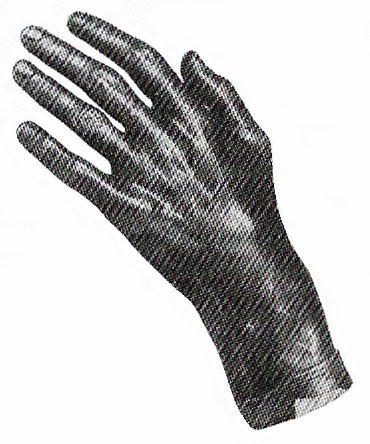 A cast of Chopin's left hand testifies to the public enthusiasm and administration evoked by his skill sensitivity.
Frédéric Chopin was a Polish composer and virtuoso of the Romantic era. He was pre-eminent among nineteenth-century composers in his command of the modern piano's improved dynamic and expressive possibilities, and has been called "the poet of the keyboard". Early in his career he wrote music for piano and orchestra as showpieces with which to establish his reputation, but from the time he settled in Paris at the age of 21, having left his troubled native Poland, he concentrated on composing and playing short solo works, in the main for salon audiences. In all he wrote more than 150 such pieces before his death at the early age of 39.
Chopin epitomizes the figure of the "Romantic artist": withdrawn, temperamental, talented, and doomed to a premature death from tuberculosis. Like Paganini, he was both composer and performer (although his concert-giving was actually very limited), but his music established the piano as the 19th century's most popular instrument. He was also an important figure in the early nationalist movement, drawing inspiration from the folk idioms of his native Poland.
Born of mixed French and Polish parentage, Chopin began to compose before he was seven, and made his first public appearances as a pianist. On leaving school at 16 he enrolled at the Warsaw Conservatory, where he began to compose in earnest, and on graduating three years later he decided to seek his fortune abroad. In August 1829 he made his debut in Vienna, playing two of his own piano works, including the set of Variations, Op. 2, whose publication Robert Schumann greeted with the immortal words, "Hats off, gentlemen, a genius!"
Polish themes
Chopin then returned to Warsaw, intending to leave soon afterwards on a European concert tour, but the tour was postponed owing to the volatile political situation and, meanwhile, Chopin fell in love. While he dallied in Warsaw, unwilling to leave, he worked simultaneously on two piano concertos. From his early youth he had been fascinated by the rhythms and melodic vitality of Polish folk music, and the finales of both concertos are strongly influenced by Polish dances – particularly the mazurka. After giving their premières with great success, Chopin left Poland for Paris. On the way, he composed the great Revolutionary Étude, in response to the devastating news that the Russians had captured Warsaw.
Paris
Chopin gave his first concert in Paris in February 1832. Although he was not a great success with the public, he was introduced to Parisian salon society, where his music was a triumph. From then onwards – although he rarely played in public – he became an instant celebrity. He was a sought-after teacher, consorted with the wealthy and powerful, and enjoyed the friendship of fellow composers (Liszt, Berlioz, Bellini, and Meyerbeer), writers such as Heinrich Heine and Honore de Balzac, and artists such as Eugene Delacroix.
Chopin also found lovers in this talented milieu – first the aristocratic singer Delfina Potocka, and then the writer Aurore Dudevant (George Sand), whom he met in 1836 at the home of Liszt's mistress. Their intense relationship lasted for nine years. They spent the winter of 1838 in Majorca, hoping to reap the benefits of peace and a warm climate; but inclement weather and local hostility forced them to take refuge in the derelict monastery of Valldemosa. There Chopin finished his Twenty-four Preludes and other works, including the C sharp minor Scherzo. From then on he spent the winters in Paris and the summers at George Sand's country estate, but the affair finally fizzled out in 1847. By this time Chopin was seriously ill with tuberculosis. In 1848, Chopin was persuaded to visit England, where he played privately for fashionable social occasions. His last public appearance was at a charity concert for the benefit of Polish refugees. He died at his Paris home on 17 October 1849.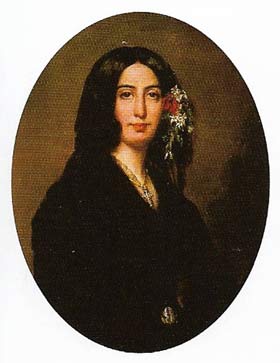 The writer Aurore Dudevant, alias George Sand (1804–1876), Chopin's lover during the 1840s.
Chopin's music
Apart from the concertos and a handful of pieces for cello and flute, Chopin's output is all for solo piano. He borrowed the Irish composer John Field's new form, the nocturne, and raised it to fresh heights of subtle expression. His études, preludes, waltzes, impromptus, and mazurkas were written to exploit and develop piano technique; while the later polonaises, the fantaisies, the scherzos, ballades, the Barcarolle, and the two sonatas, were all virtuoso works.
Contemporaries praised the "exquisite delicacy and liquid mellowness" of his tone, and the "pearly roundness of his passages of rapid articulation". These are still the hallmarks of great Chopin interpretation.
Major works
Two piano concertos; three sonatas; four scherzos; 27 preludes; 27 études; 19 nocturnes; 44 waltzes; 10 polonaises; 56 mazurkas; four ballades.