Bellini, Vincenzo (1801–1835)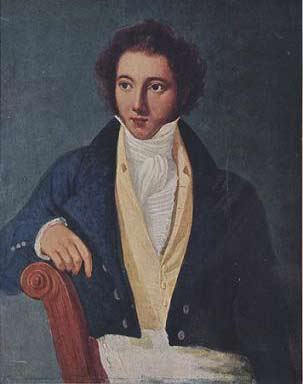 Viincenzo Bellini was the youngest member of the trio of early Romantic Italian opera composers. He was taught from an early age by his father and grandfather, both musicians, and at 18 went to study at the Royal Music Conservatory in Naples. The first of his ten operas was performed there in 1825, leading to further opera commissions from Naples and Milan.
Bellini achieved more or less instant success with Il pirata, produced at La Scala in 1827. It was written in collaboration with the librettist Felice Romani, who went on to supply the texts for six more Bellini operas, including I Capuleti ed i Montecchi (The Capulets and the Montagues, Venice, 1830), La sonnambula (The Sleepwalker) and Norma (both Milan, 1831), and Beatrice di Tenda (Venice, 1833). The failure of this last opera coincided with a rift with Romani, and the termination of a long-standing love affair with a married woman.
In the spring of 1833 Bellini visited London and Paris, where he was feted, and made many valuable social contacts. The Théâtre-Italien in Paris commissioned his last opera, I puritani (The Puritans, based on Walter Scott's Old Mortality), which was performed with huge success in January 1835. Eight months later the composer was dead, after a violent attack of gastroenteritis, less than two months short of his 34th birthday.
Coloratura
The hallmarks of Bellini's mellifluous, essentially lyrical art are expressive declamation and the close relationship of music and words. "Bellini's music comes from the heart and it is intimately bound up with the text," said Wagner. His operas, like those of Rossini and Donizetti, were written for the great voices of his time. They fell out of favor after the art of bel canto declined in the late 19th century, but enjoyed a revival in the 20th century with the emergence of a new breed of coloratura sopranos, such as Maria Callas (1923–1977) and Joan Sutherland (born 1926). The aria "Casta diva" from Norma became one of Callas's showpieces.