Paganini, Niccolò (1782–1840)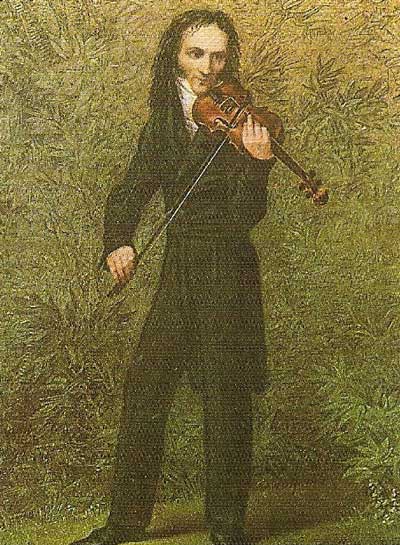 The legendary violinist Niccolò Paganini inspired composers and perfomers, including Schumann, Liszt, and Chopin.
The Italian violinist and composer Niccolò Paganini is still revered as the greatest virtuoso of all – a true "wizard of the violin" whose technical mastery has never been equalled. His brilliant Twenty-four Caprices for solo violin have spawned many imitations, and his concertos and variations are still part of the violin repertoire.
Born into a poor Genoese family, he was forced as a small child to practise the violin constantly by his bullying father. In 1795 he spent a year studying in Parma, and at 18 was appointed leader of the orchestra (and then solo violinist to the court) in Lucca. At one of his court concerts he improvised a musical "love scene" using only two strings of the violin, and he also wrote and performed a sonata entirely on the G string, demanding outstanding dexterity and accuracy.
From 1810 onwards, Paganini traveled Europe as a freelance virtuoso. After his 1813 debut concert at La Scala, Milan, a critic wrote: "He is without question the foremost and greatest violinist in the world. His playing is truly inconceivable. He performs certain passage-work, leaps, and double stops that have never been heard from any violinist..."
Pact with the Devil
The astonishing virtuosity of Paganini's playing, combined with his bizarre appearance – he was lean and gaunt, with a shock of long black hair, and very long, thin fingers – caused rumors that he was in league with the Devil. He never married, but a four-year relationship with a singer, Antonia Bianchi, produced one son, Achille, to whom he was devoted.
Between 1828 and 1834 Paganini's career as a touring virtuoso was at its height: he was acclaimed in Vienna, Berlin, Warsaw, Pari,s and London, but deteriorating health precipitated his retirement to Italy in 1834. Six years later he died, in Nice, of cancer of the larynx, but the church, having denounced him as a heretic, refused to allow his burial in consecrated ground. In 1845 his remains were transferred from the French Riviera to a private burial-ground in Parma, and were re-interred in Parma Cemetery in 1876. His Guarneri violin is preserved in the municipal museum in Genoa.
Paganini had enormous influence, both on composers (including Schumann), and performers: not only violinists, but also pianists. Both Liszt and Chopin were encouraged by his example to extend the frontiers of keyboard technique. Liszt's Transcendental Studies were directly inspired by Paganini's Caprices.
Major works
24 Caprices for unaccompanied violin (1820), violin concertos and shorter works, including Le streghe (Witches' Dance) and Moto perpetuo (Perpetual Motion).