Bruckner, Anton (1824–1896)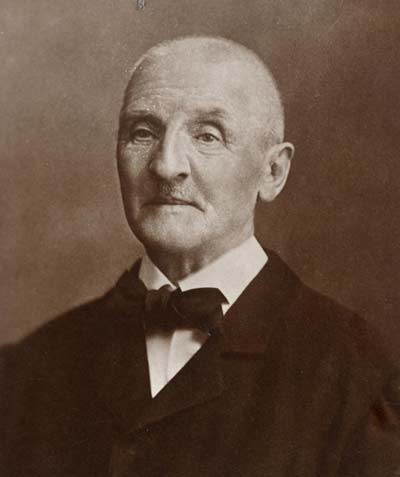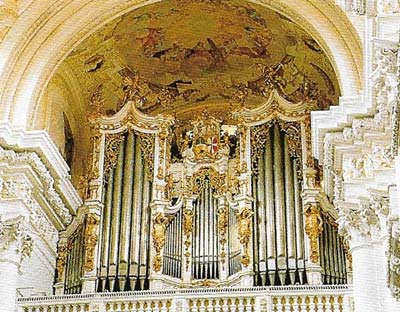 The organ at the Abbey Church of St Florian. Bruckner was a chorister and then organist there, and is buried beaneath the organ.
Buckner's name is often coupled with Mahler's – but for no other reason than that both were Austrian and both wrote important, large-scale symphonies. In all other respects they were very different.
Bruckner's father was the village schoolmaster and organist at Ansfelden in central Austria. Anton, the eldest of five surviving children, was taught by his father, and by the age of ten was already a proficient organist. He also came into contact with the Catholic musical tradition at the nearby monastery of St Florian, where he enrolled as a chorister at the age of 13, after his father's death. St Florian was to remain the focus of Bruckner's life, and he chose to be buried there, beneath the organ. Bruckner began his career as an ordinary schoolmaster in two provincial villages. Eventually, in 1845, he returned as a teacher and then as organist to St Florian. His first important compositions, including a Requiem Mass and the Missa solemnis in B flat, date from his early years there.
By 1855 Bruckner had decided he wanted to become a professional musician. While working as organist at Linz Cathedral, he enrolled on a correspondence course in harmony and counterpoint at the Vienna Conservatory. He graduated in 1861 at the advanced age of 37, with glowing references. But he still felt he lacked musical knowledge, and sought further tuition in symphonic form and orchestration with the principal cellist and conductor at the Linz municipal theater, who engaged him in a thorough study of Beethoven and Mendelssohn.
The impact of Wagner
Up to this point, Bruckner had been competent but characterless as a composer. Then, in 1863, he heard Wagner's Tannhäuser, and the experience changed his life. Overwhelmed by Wagner's genius, Bruckner immediately began to try his own hand at symphonic composition. During the mid 1860s he attended many performances of Wagner's music, and even met the great man, while his budding confidence led to the composition of three masses and the Symphony No. 1 in C minor (1865–1866).
After suffering a nervous breakdown brought on by intense overwork, Bruckner was eventually persuaded to apply for a professorship at the Vienna Conservatory, to which he was appointed in 1868. He also became organist at the Imperial Chapel in Vienna, and received a government grant to allow him to compose. He lived in Vienna until his death, leaving for occasional visits to Paris and London, where his organ recitals were greeted with huge acclaim. In Vienna (where he was appointed a lecturer at the University in 1875) he devoted much of his energy to composing symphonies. Between 1871 and his death, he turned out eight more (No. 9 remained unfinished).
Despite Bruckner's growing fame, he encountered enormous opposition and hostility from two anti-Wagnerite sources. The Vienna Philharmonic Orchestra either rejected his symphonies as "unplayable" or deliberately sabotaged their performances, and the influential critic Eduard Hanslick – a supporter of Brahms – took every opportunity to denounce Bruckner's symphonies, especially the Third (which Bruckner, in an enthusiastic fit of hero-worship, had unwisely dubbed his Wagner Symphony). Diffident by nature and fatally lacking in self-esteem, Bruckner also suffered from the interference of well-meaning but misguided "friends" who persuaded him to make cuts and alterations to the scores of his symphonies, in the interests of "accessibility". Many still exist in various hybrid versions.
Bruckner's first real success came at the age of 60, with the Leipzig premiere of his Seventh Symphony in 1884. He had finally found critical acceptance, although he continued to revise his scores obsessively. Official honors came his way during the last decade of his life. A simple, pious, old-fashioned man, he never married, although he proposed to a succession of astonished young women. He had a morbid obsession with dead bodies, and left instructions that his own should be embalmed.
Major works
Nine symphones, including No. 4 (The Romantic, 1874–1881), No. 7 (1883), No. 8 (1885–1890), and No. 9 (unfinished, 1896); Te Deum (1884).