Elgar and Enigma Variations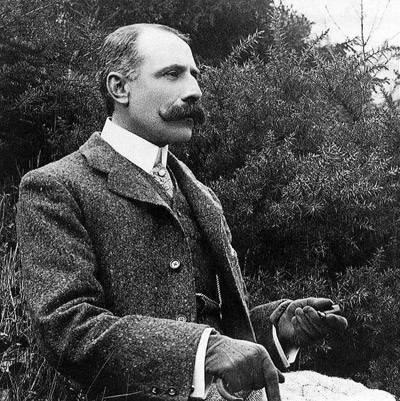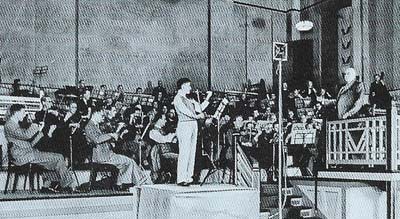 Yehudi Menuhon (aged 16) recording Elgar's Violin Concerto in 1932, with the composer conducting.
Edward Elgar was an English composer who is best known for his Enigma Variationsand his Pomp and Circumstance Marches, the first of which is generally played at the Last Night of the Proms, and various concertos and symphonies.
Like Arthur Sullivan (another composer knighted for his services to British music), Elgar transcended the class barriers of his age, rising from humble origins to epitomize – in musical terms – Britain at the height of her Imperial glory.
Early life
Elgar was born within sight of the Malvern Hills near Worcester, where his father ran a music shop and was organist at St George's Catholic Church. His first job on leaving school was to help his father in both capacities, and he also began to play the violin in local orchestras and chamber groups. In the early 1880s he began to make a living as a freelance player, teacher, conductor, and self-taught composer with instrumental groups in the Malvern area. His composing ambitions were stimulated by his marriage in 1889 to his piano pupil Alice Roberts, daughter of a retired major-general. Alice, who was 40 when she married the 31-year-old Elgar, had social pretensions, and she persuaded her husband to move to London, where their only daughter, Carice, was born in September 1890.
Success as a composer at first eluded Elgar, and the following year the family moved back to Malvern, where he resumed his teaching activities and strove to overcome a sense of social inferiority. His persistence paid off when his overture Froizart was published.
Creative period
By the mid 1890s Elgar was becoming known for the cantatas he had composed for provincial festivals, including The Black Knight (1893) and King Olaf (1896), and in 1897 he finally achieved a breakthrough in London with the Imperial March for Queen Victoria's Diamond Jubilee.
In 1899 his first truly original composition, the orchestral Enigma Variations, was performed at St James's Hall in London. The Variations – each a thinly-disguised character portrait of a friend (including Elgar himself and his wife) – were recognized as a work of genius, while the underlying "enigma" an unnamed theme which Elgar said "goes through and over the whole set" – has never been positively identified. The Variations encapsulate Elgar's musical style: noble, expansive, but tinged with plangent nostalgia for the English countryside.
In the autumn of 1899 the contralto Clara Butt sang Elgar's orchestral song-cycle Sea Pictures at the Norwich Festival, and he was commissioned to write an oratorio for the 1900 Birmingham Festival. The result was The Dream of Gerontius, based on a metaphysical Catholic text by Cardinal Henry Newman. Elgar was bitterly disappointed by the initial failure of this great work (which has since been recognized as a masterpiece), but the same year he was awarded an honorary doctorate by Cambridge University. His orchestral works were becoming popular, including the overture Cockaigne, inspired by London, and the first two Pomp and Circumstance Marches, of which the trio section from the first was later allied to the words of the verse "Land of Hope and Glory" written by A. C. Benson for the coronation of Edward VII. In 1904 Elgar was knighted.
The same year, the Elgars moved to a large house in Hereford, where over the next few years he wrote another oratorio (The Kingdom), the Introduction and Allegro for string orchestra (1905), and two symphonies. In 1910 Fritz Kreisler gave the premiére of Elgar's Violin Concerto, an eloquent work which bears an enigmatic dedication in Spanish: "Herein is enshrined the soul of..." This soul may have been that of John Everett Millais's daughter, Alice Stuart-Wortley, to whom Elgar seems to have been deeply attached.
In 1912 Elgar returned to London, to a grand house in Hampstead, where he wrote the cantata The Music Makers (1912) and the symphonic poem Falstaff (1913). He was greatly distressed by World War I, which he saw destroying the society in which his works were rooted, and his personal response was the elegiac Cello Concerto and three chamber works – a violin sonata, a string quartet, and a piano quintet (all 1919). These were to be his last major works.

Post-war years
After Lady Elgar's death in 1920, Elgar wrote little more. He was created Master of the King's Music in 1924, and in 1932, the year the young Yehudi Menuhin made his historic recording of the Violin Concerto, the BBC commissioned a third symphony. Elgar was still working on it when he died of cancer on 23 February 1934. His wish that no one should "tinker" with it was respected for over 60 years, until it was completed by Anthony Payne (born 1936) and performed in 1997.
Enigma Variations
Elgar was a keen amateur chemist and cryptologist – someone who makes and breaks codes. His most famous work, Enigma Variations, had its origins one evening in October 1898.
After a day of teaching, Elgar was doodling on the piano at home when his wife, Alice, said: "Play it again. I like that tune." He'd been daydreaming so he had to try a few different possibilities before Alice exclaimed: "That's the tune! What is it?" Elgar said it was nothing, just something he'd made up. But because Alice liked it so much he used the melody as the starting point for 14 different variations, each reflecting the character and personality of one of his friends.
Variation 1 "C.A.E." was for his wife, Caroline Alice Elgar. Variation IX "Nimrod" is a majestic adagio and the most famous part of the whole work. Its name refers to Augustus Jaeger, a music editor and close friend of Elgar's. Jaeger is German for hunter, and in the Old Testament Nimrod is described as being a mighty hunter.
Elgar never spells out the original melody that he played to his wife and from which all the variations are derived. In a programme note, he wrote: "The Enigma I will not explain – its 'dark saying' must be left unguessed, and I warn you that the connection between the Variations and the Theme is often of the slightest texture; further, through and over the whole set another and larger theme 'goes', but is not played…"
It's this last claim of Elgar's, that some other melody – possibly even a well-known song – is somehow hidden within the Variations that's kept musicologists guessing for more than a century. There've been a few clues as the nature of the mysterious theme.
For instance in 1905, Robert Buckley stated in his biography of Elgar, written in close cooperation with the composer: "The theme is a counterpoint on some well-known melody which is never heard."
Among the many suggestions as to what this melody might be is a recent one by the young composer Ed Newton-Rex. He thinks the hidden theme is Pegolesi's Stabat Mater, a popular choral piece from the 18th century. Apparently, the Enigma theme fits perfectly over the harmonies of the vocal parts of Stabat Mater and over its characteristic bass line. But it's just one more theory to add to the long list that music-lovers have come up with over the years.
There's another mystery surrounding a coded message that Elgar sent to a young woman in 1897. The tenth of his Enigma Variations is called Dorabella – Elgar's pet name for Dora Penny. She was the daughter of one of Alice Elgar's friends. In July 1897, the Penny's invited Edward and Alice to stay at their home – Wolverhampton Rectory – for a few days. Elgar was then 40 and still to make a mark on the world as a composer. Dora was in her early twenties. The two struck up a friendship, which was to become life-long, although there's no evidence to suggest it was ever romantic.
On returning home, Alice wrote to the Penny's thanking them for their hospitality and Edward included a cryptic note on which he pencilled the name "Miss Penny". It was made up of 87 squiggly characters – 24 distinct ones – spread across three lines. The secret message only came to light 40 years later when Dora published it in her memoir, Edward Elgar: Memories of a Variation.
So what does the message mean? At first glance, it might seem as if each different squiggle stood for a different letter of the alphabet but no analysis along those lines has come up with a credible solution. There's been speculation that it may have been in some kind of shorthand known only to Elgar and his friend. But Dora claimed in her memoir that she herself was in the dark as to its meaning.
In 2007, the Elgar Society ran a competition, offering a prize of £1,500 to anyone who could satisfactorily crack the so-called Dorabella Cipher. However, none of the entries received, despite their ingenuity, came up with anything like a convincing translation. It's been suggested that the cipher isn't a piece of writing at all but instead a series of notes or part of a score. Given that Elgar composed his Variations just over a year later, it's conceivable that it's a coded snatch of the very one he devoted to his friend.
Elgar took his secrets with him to the grave and left the music world with some great works and one or two enigmas that may never be solved.