Puccini, Giacomo (1858–1924)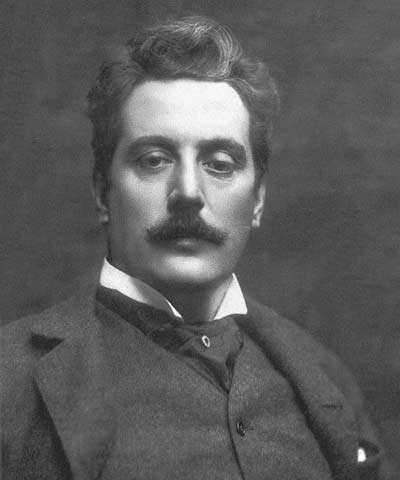 A poster for the original 1904 production of Madama Butterfly. Butterfly is shown bidding farewell to her child before killing herself.
Puccini was the last great exponent of Italian Romantic opera. His operas have always held a special place in the affections of audiences, and rival Verdi's in popularity. He was born into a dynasty of musicians who since the 18th century had been organists at the church of San Martino in Lucca. It had been intended that Puccini should follow the family tradition, but seeing a performance of Verdi's Aida at Pisa made him decide to become an opera composer.
Milan
In 1880 a scholarship enabled Puccini to enrol at the Milan Conservatory. He graduated in the summer of 1883, having entered a one-act opera, Le villi (The Witches), in a competition sponsored by a music publisher. It came nowhere, but the next year Puccini played it through at a party attended by Verdi's publisher Ricordi. Le villi was staged in 1884, and Ricordi immediately commissioned another opera, Edgar, from the young composer, and signed him up.
Edgar was performed at La Scala in Milan in 1889, but was not well received (the composer himself described it as a "mistake"). But his next opera, Manon Lescaut (based, like Massenet's opera Manon, on the novel by Abbé Prevost), was a huge success at its Turin premiere in 1893. Puccini had found a winning formula: that of the young, doomed heroine whose flawed character leads to an affecting early death. He repeated it with La Boheme (The Bohemian Girl), first performed at Turin in 1896 under Toscanini; but it took some time for this romantic drama of love and death in a Montmartre garret – now one of the world's most popular operas – to catch the public's imagination.
Puccini's next opera, Tosca, performed in Rome in 1900, was an excursion into the brutal world of verismo. Its "body count" – an attempted rape, a murder, a faked execution by firing squad which turns out to be real, and a final, dramatic suicide – has rarely been surpassed. Critics have always been snooty about Tosca (one described it memorably as "a shabby little shocker"), but Puccini's marvellous melodic gift and innate sense of drama save it from mere sensationalism.
Based on a real-life incident, as related in David Belasco's play, Madama Butterfly (La Scala, 1904) returned to the "weepie" genre. The tragic tale of a Japanese geisha, betrayed and abandoned by the American naval lieutenant she believes to be her husband, took the operatic world by storm after Puccini revised it into three acts. Another Belasco play, The Girl of the Golden West, provided the subject-matter for Puccini's next opera, La fanciulla del West, premiered at the NewYork Metropolitan Opera in December 1910 with Enrico Caruso and Emmy Destinn in the leading roles.
Puccini made a political mistake with his next opera, accepting a commission from the directors of a Viennese theater instead of an Italian one, drawing accusations of treachery. The little-known La rondine (The Swallow) was first performed during World War I, though in Monte Carlo rather than Vienna. Puccini worked simultaneously on a "Grand Guignol" triptych of one-act operas: the horrific Il tabarro (The Cloak), the sentimental tragedy Suor Angelica, and his one comedy, Gianni Schicchi, the most successful of the three. The triptych was premiered in New York in December 1918.
"Nessun dorma"
Puccini had lived since 1891 at his villa at Torre del Lago outside Lucca, with his wife Elvira (his married mistress until 1904). In 1909 their servant girl committed suicide when unjustly accused by the jealous Elvira of having an affair with Puccini. This tragedy may have inspired the character of Liù, the gentle, lovable slave girl in Puccini's last opera Turandot, based on an oriental fairy-tale. The work includes the aria "Nessun dorma", popularized by the "Three Tenors" at a concert staged in conjunction with the 1990 football World Cup in Italy. Turandot was destined to have a happy ending, when the cruel princess Turandot is outwitted by Prince Calaf and finally succumbs to love. But Puccini died of a heart attack during treatment for throat cancer in November 1924, leaving the final love duet unfinished.