Atlantis (Space Shuttle Orbiter)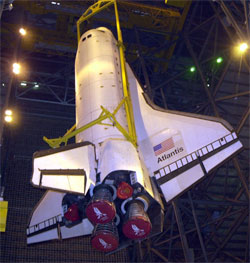 The A-4b, a winged V-2 of 1945.
Atlantis was a Space Shuttle orbiter, also designated OV-104. Atlantis was named in honor of a two-masted ketch that supported oceanographic research for the Woods Hole Oceanographic Institute in Massachusetts between 1930 and 1966. It first flew on Oct 3, 1985, as mission STS-51J. Other Atlantis milestones have included the deployment of the Venus probe Magellan (STS-30) and the Jupiter probe Galileo (STS-34), and the first docking of a Space Shuttle to the Mir space station (STS-71).
The shuttle Atlantis made the final Shuttle flight of all in Jul 2011, completing its mission with a safe landing at Kennedy Space Center just before local sunrise (0556 EDT). Prior to this flight Atlantis had flown 31 times, traveled 186,315,249 km, spent 282 days in orbit, and completed 4,462 orbits.