The Atomium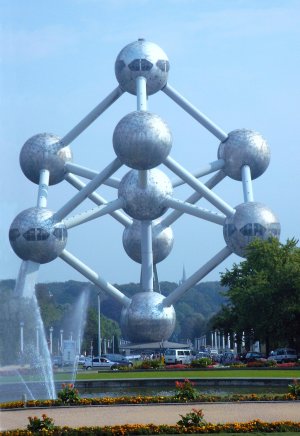 The Atomium is a giant steel monument in Heysel Park, Brussels, Belgium, consisting of nine spheres that represent the body-centered cubic structure of an iron crystal magnified 150 billion times. Designed by the architect André Waterkeyn and built for the 1958 World's Fair, the 103-m-high edifice was originally meant to stand for only 6 months. It may be the world's largest cube. Each of its spheres have a diameter of 18 m and are connected by escalators. Three of the upper spheres have no vertical support, and do for safety reasons are not open to the public. However, the top sphere offers a panoramic view of Brussels through its windows, and the lower spheres contain various exhibitions.
Did you know?
The Atomium weighs 2,177 tonnes – roughly the same as 115 million Brussels sprouts!
It takes five people three days to clean each sphere (surface area 1,000 square m). The whole process costs $150,000 year.
From the top sphere, 92 m above the ground, it's possible to see all the way to Antwerp. There's also a restaurant, Restaurant de L'Atomium is this sphere that seats 250 people.
Also inside the sphere's is an exhibition about the 1958 World's Fair and a kids' hotel where elementary school children can spend the night in specially designed bubble tents.
The Atomium can be rented for parties: about $1,000 for a 30-head dinner, or $16,000 per night for the whole place (800 capacity).
Opening hours: 10 am to 6 pm; annual visitors: 600,000.