Bradbury, Ray(mond) (Douglas) (1920–2012)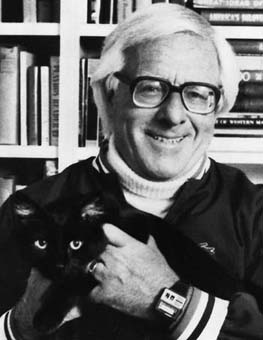 Ray Bradbury was an American science-fiction writer best known for his imaginative short stories and novels in which he blends social criticism with an acute appreciation of the hazards of runaway technology. He published his first short story "Hollerbochen's Dilemma" in Imagination!, an amateur fan magazine. After being paid for "Pendulum," in Super Science Stories (1941), and "The Lake" (1942), Bradbury found his voice. Among his better-known novels are The Martian Chronicles1 (1950), The Illustrated Man (1951), Fahrenheit 451 (1953), and Something Wicked This Way Comes (1962). Bradbury has also written books for children (Switch On the Night (1955), The Fog Horn: A Creative Classic (1987)), poetry (When Elephants Last in the Dooryard Bloomed (1973), When Robot Mice and Robot Men Run 'Round in Robot Towns (1977)), and plays (Pillar of Fire: A Drama (1972), Falling Upward (1988)).
The Martian Chronicles was originally published in the 1940s as a set of linked magazine stories. As a boy, Bradbury had been one of the millions who had hung on every word of the adventures of John Carter in the Mars books of Edgar Rice Burroughs. Chronicles is set against a similar Lowell-inspired backdrop, but Bradbury explores more seriously the nature and psychology of its aliens.
The landing site of Curiosity rover has been named Bradbury Landing after him.
References
1. Bradbury, Ray. The Martian Chronicles. New York: Doubleday (1950).
2. Bradbury, Ray. "A Serious Search for Weird Worlds," Life, 49, 116-130 (Oct. 24, 1960).