Crippen, Robert Laurel (1937–)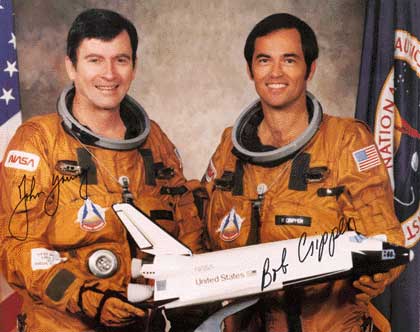 Bob Crippen (right) and John Young.
Robert Crippen is a retired American astronaut, who served as copilot, alongside John Young, on the maiden voyage of the Space Shuttle on 12 April 1981. Crippen earned a BS in aerospace engineering from the University of Texas at Austin in 1960 and went on to become a Navy captain. In 1966, he entered the Manned Orbiting Laboratory program of the Department of Defense, and in 1969 was recruited by NASA. Subsequently, he became commander of the Skylab Medical Experiments Altitude Test and was a member of the support crew for Skylab 2, Skylab 3, Skylab 4, and Apollo-Soyuz Test Project missions. After the historic first flight, Crippen flew the Shuttle again, this time as commander, on three more missions in 1983 and 1984. He is now deputy director of NASA Space Transportation System Operations.